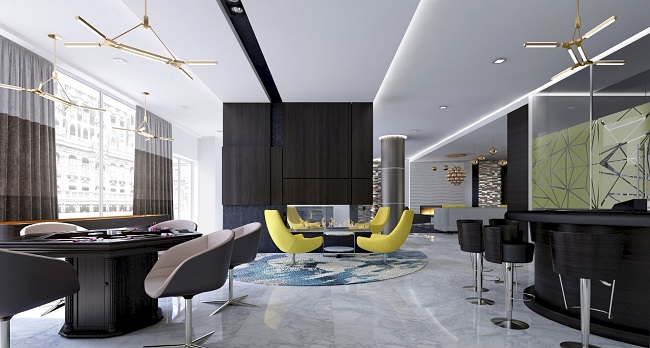 Missed walking around the shopping mall? Hold tight, the world is slowly beginning to open up again, and we are looking at new and intriguing designs that enrich our lives. "Reuse-reduce-recycle" is the new mantra in our ever-changing and challenging modern lifestyle. However, in the struggle between the want of luxury and the quest for sustainability, commercial sectors are also to face radical alterations. How do we combine both in the eye of interior design? Where is the golden middle ground? We are bringing to you top commercial interior design fads!
Commercial Services
Office Interior
Chained to your desk is a phrase no one wants to hear! Offices today, are keen to present flexible social spaces where their employees can swap ideas, form bonds, and stimulate creativity without compromising on privacy and order. We believe in an open and tranquil hybrid that bridges the gap between professional order and comfortable homely vibes, overall offering a balanced life. The global spotlight is currently on sustainability and natural elements. Weaving the ecosystem into the workspace, like with the inclusion of indoor plants, is linked with increased productivity and healthier individuals. Industrial lights when done right bring in exaggerated masculine energy as opposed to stoic fluorescent lights. It's time to dust the cobwebs off of old-fashioned offices with the right splashes of colors that usher in a young, contemporary update!
Retail Interior Design
With the boom in e-commerce, the hype surrounding experiential design is not an empty one. An immersive experience for the customer is what will directly impact the time spent in-store, and thus the sales. Few popular trends with retail interiors are the merging of plush with raw and hosting a café in-store to enhance the levels of contentment and coziness.
Hence, we aim at building a superior retail ambiance that combines advertising, ergonomics and outstanding graphics with brand identity. We deliver an end result where an elevated bond between the consumer, the employees and the brand is forged. An effective retail therapy today means a design that allows for the customer to comfortably appreciate tangible qualities of luxury, sustainability, human interaction, etc., with digital improvements such as in-store restock requests. Finally, we endeavor to bring forth brand style, journey and principles to the forefront of its spatial design.
Hospitality Interior Design
It's safe to say that bars, bistros, cafés, pubs, and restaurants will always remain popular and loved! Just as important as its gastronomy, every factor of hospitality design from the entrance and seating to the energy levels, is again experiential. The holistic satisfaction of a consumer is predominantly reliant on its interiors. With our experience of designing these businesses comes a profound grasp of their operations. Carefully curated versatile seating and lounges that serve formal meetings to friendly soirees are appreciated widely.
Fresh features like open kitchens that give a sneak-peek at "behind-the-scenes" make the diners feel included and the place spunky! How about cubicles and booths to up the solitude? Layered textures and finishes, like rich fabrics, rough wood flooring and metal lighting, can bring a very eclectic and interesting palette. If local or exotic food is your forte, we encourage seamlessly blending in the story of the food into the interiors. Unique décor and artwork especially local artists an icons creates a fun stir of having a celebrity within the community and reflects local flare! Most importantly, we narrate, just as with retail, the brand story! We firmly believe in crafting compelling spheres that males the patrons care, connect and commit to you!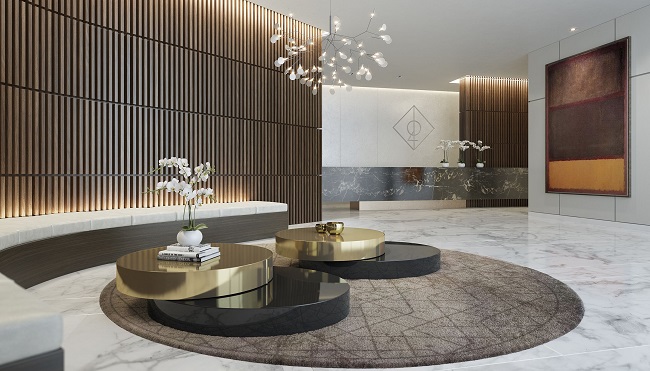 Educational Interior
Who doesn't remember their school, the most influential time of a child's life! In the age of hustle, schools should contain a place for kids to reflect and meditate in whichever fashion that holds their fancy. We see huge potential put-together in libraries that help center the children. While classroom can still rock calm radiating color schemes, we definitely have noticed a rise in industrial style interiors. Spaces like laboratories and theatres can use this rough, modern appeal to mimic their real-life counterparts and motivate students. Time to set the cogs whirring!
Just as with the rest of the sectors, the want for sustainability and "biophilia" has long since entered the realms of schools. Free-flowing spaces, open courtyards, presence of green spaces in and around classrooms, not only bring in the fresh air and oxygen but also blur the line between indoors and outdoors for children. Bringing communal activities into transitional spaces is the key to a smarter institution, and we know how! An innovative design has been the answer all along!
Gyms & Fitness Clubs Design
Everyone is jumping onto the fitness bandwagon and with good reason! Being quarantined at home has woken the world up to the significance of a fit body. As gyms target a diversified market of children, bodybuilders, senior citizens and so on, gyms can be the trendiest joints when designed consciously. A Bespoke fitness studio or the small local fitness centre, convenience, practicality, and psychology plays a role. We engineer the best plans that make use of dramatic lighting, inspiring graphics and colors such a blues and greens that give the endorphins a boost!
Another area where user experience is prime, gyms can be divided into zones for each routine with different materials and techniques in use for each section. For instance, how invigorating would it be to get turf flooring for track activities! Professional acoustic design helps further this spirited atmosphere. Finally, health clubs, are looking to offer their clientele satisfying locker rooms. A competent designer can hit bull's eye with secure locker areas, and chic vanity areas, and showers.
All in all the future looks bright. Commercial interior designs are all set to add personal touches that leave a mark, making it appear customized for each user. Looking to redo a coat of paint and spruce up space, or go full swing on refurbishments even the smallest of updates can go a long way. Just give us a shout! The dawn of delight is here!
Contact Noida Interiors for all your interior designing requirements