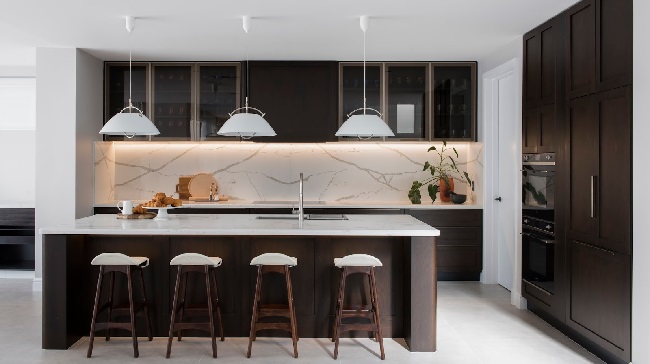 Just because you have a small square footage kitchen, it does not mean it is non-functional. You could still dream of those timeless styles and elegant solutions to optimize productivity while you might be aiming to become a master chef. Are you wondering how you can maximize the storage or get enough room to display your fancy kitchen products? It is time for you to be relieved! We have got a whole list of ideas to give a kick-start to your dream kitchen project. These out-of-the-box design ideas will bring you some smart tips to make your kitchen stand out.
Tips on Designing a Small Kitchen
Choose the right color palette:
Go light and bright! Shades of whites and pastels are the key to spacious kitchens. The magic that white plays in a small space are mind-blowing. Light falling on these surfaces bounces off around, thus creating a reflection and making space look bigger. Isn't that interesting? However, it is not a compulsion to go for an all-white palette if you are not a big fan of neutrals. To drift off the whites, you could also add a striking feature of a dark-hued backslash or stick printed patterned sticker tiles on the floor. Using lighter shaded laminates on your storage cabinets can create an illusion of a larger space when blended with matching ceilings and walls. A uniform splash of the same hue could make your space look crisp and neat. Monochromatic tones of Beige, light greys, baby pinks, and subtle blues could be a possible alternative for your whites.
Go vertical with Cabinets.
The sky is the limit, or at least your ceiling is when providing storage in a tiny space kitchen. Use the principles of camouflage to blend in your cabinets with ceilings. Double-deck your storage up to the ceiling and make your space look taller while giving yourself enough room to store. Considering these cabinets to be an essential element of your kitchen, it is crucial to understand their role in providing a style. You could use glass shelves or mirrored reflective frames to play around with the illusion and glamorize your space. Try exposed hooks, pegs, and rods underneath the cabinets to hang washed utensils or your mugs/glasses. It will free up your space in the cabinets and also display a decorative element in the kitchen.
Add Lighting:
A lot of homeowners around the world underestimate the power of lighting in a space. Light in any form will make the space look airy, light, and bright! Don't feel discouraged if your kitchen lacks a window as we have some creative solutions to light up your space. Add task lighting! Add concealed lighting! Add lighting! Yes, lighting is an essential element of design. Try using cove lighting in the ceiling and LED strips in the attached pantry. Use shiny metallic wall lamps over your sinks, hobs, and other work areas. It will not only brighten up your space but also switch on the creative side of your mind. If you chose to use glass panels for cabinets, infill it with inbuilt lights. If your budget allows, place a minimalist striking piece of lighting in the center of the kitchen and observe how it diverts the attention.
Unclutter the space:
Minimalistic space will always tend to look bigger. Innovative solutions like wall-mounted exposed rods, hangers, nails and open shelves could be implemented. Organize your pots, mugs, and cutlery to free up space in the cabinets! Boost your space further by incorporating mobile solutions such as a trolley or baskets. Try storing in there and tucking them in the nearby niche or place the baskets on top of the refrigerator. To expand the space further, try using shelves over the hob where it is most functional! In the end, try to tuck in your appliances in the cabinets to give a seamless tidy look.
Don't ignore the hardware:
Hardware is probably the most overlooked element in our kitchens. It is highly recommended to use glass or less bulky hardware for the cabinets. However, you could also wholly ditch the hardware. If you have a minimalistic or modern theme in the house, seamless monochromatic cabinets will help your space look more streamlined and cleaner.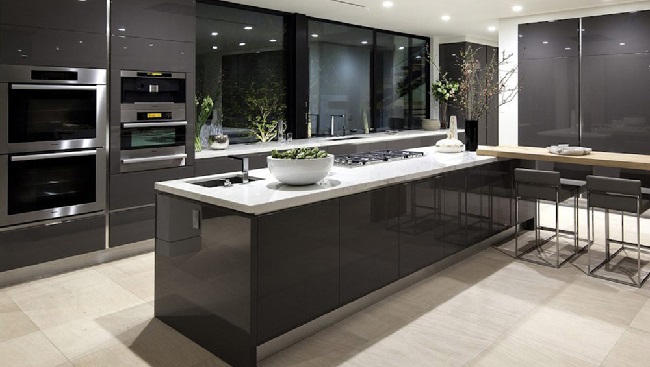 Floating Countertops:
Do you want to use a breakfast bar but worried about it cramming up your space? We have got your back! Try floating countertops. It gives you immense space to temporarily store your belongings while giving enough room to breathe and make the space look airy. If you have an L-shaped kitchen, use the third wall in placing a countertop that folds back to the wall. You could use multiple of these at different levels on a wall to create a dramatic look while adding functionality.
Shop smaller pieces of equipment:
A compact and smaller piece of equipment is not just classy but big space-savers! You could easily find this smaller equipment online or in stores. Your cleaner and spacious space is just a tuck away! Another noteworthy point to note is the size of the sinks. No matter how fancy a double sink looks like, we would highly recommend a single sink. We know it's a difficult thing to ask for! But you could shop a deeper sink that could easily accommodate your dirty dishes and conceal them.
Mirrors and Backsplashes:
Mirrors are the magic to airy spaces, says one of the principles of feng shui. By placing the mirrors on the opposite walls and above the stove, you reflect the light and open up space. Similarly, you could opt for a mirrored backsplash. Fancy and colorful backsplashes tend to capture the eye of all your guests. It is a focal point for your kitchen and the most accent element of the walls. Paint a darker hue or place some patterned tiles to fulfill the needs. While saving your wall against food stains and spills, keep a note of maintenance when using these. A glossy vinyl tile is highly recommended due to its durability, cleanability and mirror shine it reflects.
Use your beloved plants:
Hang up planters or place some herbs by the countertop! Bringing nature inside the kitchen is a step towards openness and self-wellness. These plants will introduce freshness and purity to space. Considering they don't require much space, you could place a few on the refrigerator, maybe one or two on the open shelves, and a decorative shrub by the wall on the floor.
Rethink the Layout:
Last but not least, rethink your kitchen layout! There is no small space that is non-functional. Even an inch of space could be jazzed up to optimize its productivity and convert into a functional box. A concealed kitchen plan where the countertops lay parallel to each other is a very viable option. Meanwhile, L-shaped and one-walled layout are equally applicable as well. Place wall-mounted or drop-down tables to maximize the space and introduce flexibility in the kitchen. If possible, you could move your refrigerator outside or plug it in a seamlessly framed kitchen cabinet. So, top up the renovated layout with the above-mentioned interventions to spice up your kitchen and make the space worthy of its size.
It seems daunting to own a small-sized kitchen that you might think is not worthy of its function. However, there are plenty of ways to transform it into a welcoming realm. Style your kitchen that aligns with your house's theme and observe how smaller spaces could do wonders. If you are confused about how and where to start, our design experts are here to give you an ultimate guide! We can help you design an efficient, stylish and space-saver kitchen that you would love to embrace and flaunt off to your relatives and friends. You desire your dream kitchen and we will make it real for you!
Contact Noida Interiors for all your interior designing requirements