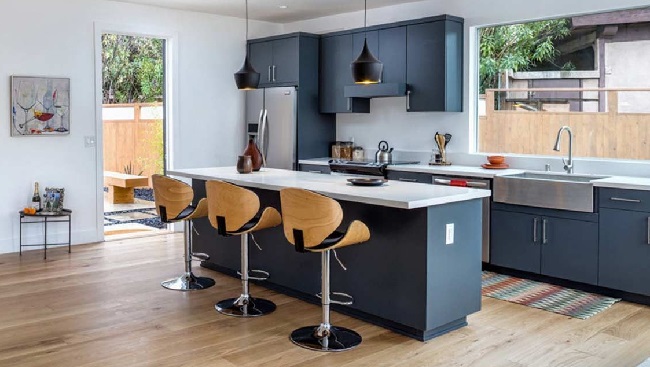 Do you feel cramped up in your house while realizing the need for remodeling to make your space look bigger? Flipping through magazine covers, have you ever been fascinated by that attractive kitchen that opens up to the living room? Yes! An open kitchen is what you are looking for and we have got you covered to make your dream come true.
Open kitchens are increasingly becoming a timeless trend! Being one of the most utilized spaces in our homes, they deserve to be well functioning and aesthetically pleasing. Homeowners worldwide are exhilarated by the idea of having a kitchen that seamlessly blends in with the living room, giving enough space to execute the other activities. They have numerous advantages that continuously proves them to be an excellent kitchen design alternative worldwide. To understand the trend, have a look at these breath-taking designs below.
Open Kitchen ideas
Integrate the Dining
Save some space by incorporating a dining table. If you have plenty of space by the kitchen, utilize it, and place a contrasting table with some cheerful chairs to have a quick breakfast meal or a late evening tea. This will help in direct connectivity between the two spaces and lead to defining an entertainment zone within the house. You could contrast your kitchen countertop with that of the dining table and make it look consistent. Attractive and functional storage is an essential factor to take care of when designing an open kitchen. Therefore, harmonizing with the materials used in the kitchen, you could incorporate an exposed glass shelf by the dining table displaying your fancy china or use the laminates to build a floor-to-ceiling closet.
Multipurpose Island
You could inculcate an island that could multi-task as a food preparation zone and an eating space for the family. Islands never fail to steal someone's glance. Its multifunctional character diversifies its various uses and sets itself to be a perfect example of a well-functioning golden triangle. You could use a fancy sink with several wet and dry storage options or a hob with a chimney to create the island as a focal point for your kitchen. However, islands are not bound to be used only in the centre of your kitchen instead could be modeled into a partition or be used at the edge of the kitchen.
When the kitchen is not in use, try encouraging your kids to do their schoolwork or sit down with your laptop when you work from home and elevate your space's purpose. Many homeowners merge this island with a little dining table to use the area efficiently and further beautify their kitchen.
Clean Whites
Other than defining the purpose of utter modernism, whites make your space look brighter and bigger. So, if you struggle with the size of your kitchen being too small or inefficient for your needs, design an open kitchen, paint your walls white or use white cabinets to enhance the space and make it look spacious. Embellish your kitchen countertop with white marble and dress your cabinets in white laminates to let it gleam. Contrast this finish with metallic-gold handles and hardware to give your kitchen a perfect contemporary or modern look. Adding focal in all-white kitchens could get confusing but you could spice it up by using a poppy colored backsplash in the form of tiles, wallpapers, and dark-hued paints to protect the wall from getting food stains and vapour dirt. It is not a compulsion to go for extra white or stark white. Instead, some shades of beige, off-white, or pastels would work well for your flooring and cabinets to create an illusion for your dream kitchen.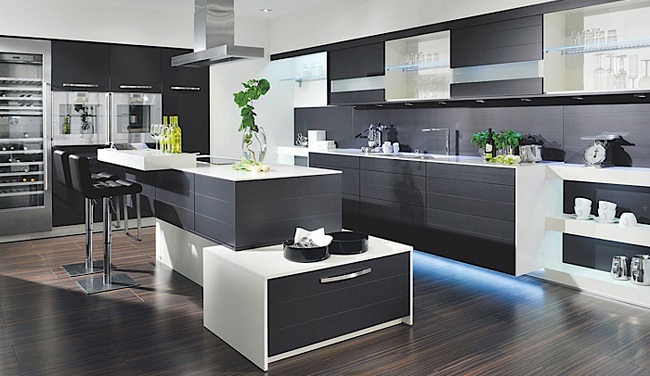 Lit it Bright
Don't have a window or a skylight to light up the kitchen? Not an issue. Combine and locate some recessed ceiling lights and wall decorative lamps aligning with your kitchen's design style. Use LED strips on the ceiling and specify spotlights in the cabinets to lit up space even further. Focus on locating the ambient and task lights right above the work zones in the golden triangle for better illuminance. Fostering wellness with ample lighting in the space will always leave a positive impact on the homeowners. Therefore, investing in your kitchen lighting will always be a smart move to make.
Expose it all
Are you wondering about how to utilize the storage spaces in your kitchen? Even with a small-sized kitchen, you do not need to compromise with the storage as we have some extravagant ways to remodel the kitchen storage spaces. Try exposing the shelves! This style will complement your space to look even spacious and add a character to your house. If you already have a bohemian or French country touch in the house, implementing and using staggered shelves at different levels can maximize the utility space and make your kitchen look spacious and attractive. Use wooden or glass shelves in varying heights and lengths to add the touch of drama in your space. Use hangers for cups, glasses, and necessary cutlery to decorate the wall and give it a vintage look. Display some fancy china, souvenir mugs, and classic art pieces and make your kitchen stand out!
Open and yet-not-open
Want an open kitchen layout but respect privacy? In Indian homes, you would find guests visiting during vacations, festivals and even otherwise. If you don't want the guests to sneak a peek while you are prepping for their dinner, use translucent glass walls to partition. This will help in maintaining the privacy and limit the kitchen odours reaching your living room. Glass wall will barely hinder the proportion of openness in the home and will foster natural light reflection thus resulting in making the space look equally spacious.
One walled kitchen
Suitable for lofts and apartments, one walled kitchen solves the biggest issues concerning space and size. Optimizing the golden triangle in these kitchens could get daunting but appropriate design and planning could model your space to a well accessible kitchen. Use one wall by the living room and transform into a perfect kitchen by aligning your sink, stove and refrigerator (sink next to the window, stove in the centre and refrigerator in the corner, if applicable). Use the vertical space for your storage and place a convertible table by the kitchen countertop and enjoy the dinner while you have a good view of the living room TV.
If you got enough space for the kitchen, try incorporating various L, U, and parallel shapes to fulfill accessibility and functionality. Keep the remaining edge open to your living room fancied by a segmented arch or a decorative motif.
Divider Kitchen
Think out of the box and leave behind the cliché corner kitchens. Let the kitchen be your partition to the different work zones of the house. A dividing kitchen could be equally functioning in a small space like any other. Place your countertop in the centre of the living room with an underneath designated space for the storage. Hang some vintage pendant lighting and indoor planters to decorate the kitchen and display some of your creative belongings on the top. This kitchen is highly recommended for lofts and city apartments where space is the biggest concern. You can have the best of both worlds by spotting the kitchen as the centrepiece and enjoying the work zones on each end.
Built-In
Want to save more space while being creative and meaningful? Use an inbuilt kitchen layout that strategically fits right into your wall and make the space look seamless and spacious. You could define a contrasting colour palette, preferably monochromatic shades of pastels or whites for your kitchen to make it stand out and be noticeable. This kitchen allows multiple purposes of the countertop and the cabinet storage that serve flexibility in use for the homeowners. Polish the backsplash with darker shaded tiles and floor with contrasting bigger tiles to add the striking factor to your kitchen.
Biophilic Kitchen
It is not a necessity for the kitchen to be connected with the living room. You could play around with the outdoors and place the countertop in amalgamation with the outdoor deck or the porch. You could incorporate some indoor plants, use authentic wood and organic patterns on the floor and wall to align with the outdoor environment. If the home allows, cut your openings overlooking the garden space and place some outdoor furniture to enjoy the lovely weather while having a perfectly delicious meal.
Open kitchens speak of the personalities of their homeowners. They inculcate openness, transparency and a lively environment in the homes that are now seemed to be loved by the generations. From modern farmhouse designs to Indian home interiors, bland Scandinavian to cheerful Bohemian, these kitchens will never fade away due to their aesthetically pleasing looks. Take a step ahead and ditch your present kitchen styles to give them a perfect makeover. Still in doubt? Our design experts are here to guide you with a new open kitchen design that will help you customize the storage, incorporate the natural elements and embrace your style.
Contact Noida Interiors for all your interior designing requirements