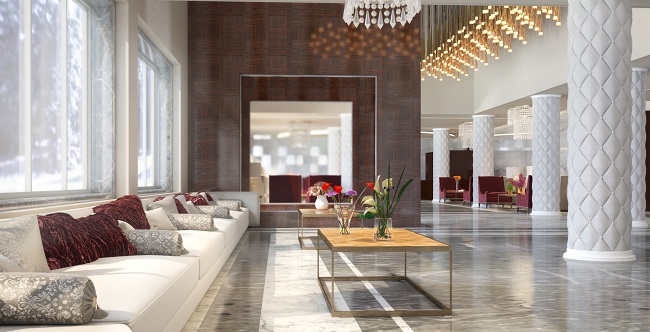 Going to a restaurant remains an enjoyable and essential part of human life. Along with playing the backdrop at countless memorable experiences, hotels, and restaurants, set global interior design trends in motion! Innovative concepts, unforgettable stories, and breath-taking designs urge customers to visit again. By investing in a good plan, you can ensure your hotel is snapped and posted on social media platforms and receives instant recognition! We round-up top hospitality and restaurant interior design trends for you below.
Hotel & Restaurant Designing Tips
Happy Seating and Communal Vibes:
In a world that feels increasingly lonely, communal spaces are super important. Restaurants and hotels are catching these vibes and fashioning spaces that give customers privacy and, at the same time, make it comfortable enough to start a conversation with the next table.
For instance, the trend, now popularized by the COVID pandemic of separators on breakfast bars. Excellent tools to allow people to socialize with their neighbors while screening their food, laptop, mobile phones, etc., on the table. We can help you craft such innovative schemes that allow people to eat in peace and still be a part of a more significant community.
Just like with the communal layout, aimed at enhancing the experience, seating in hotels are changing for the better and increasing the level of comfort for their customers. The basic "table-chairs" are being replaced by lounges, stuffed wingchairs, and cushioned stools and pouffes. From fast-food chains to high-end restaurants, the point is to help guests relax with cozy yet luxurious seating.
Thus, the game plan is to get the right eclectic mix of intimate private booths, casual lounge-areas dining for large groups, and cafeteria tables for quick bites! Immaculate planning is the strategy here, and let us achieve it for you!
Rooftop Dining:
Rooftop dining remains a beloved choice! Eating delightful food outside with a great view is a treat for all. Since weather-dependent, professional help while designing a rooftop dining experience is essential and will boost popularity.
Necessary technological planning such as foldable or retractable canopy, air conditions, heaters, etc., can be employed effectively and add to the place's outdoorsy feel. We would also suggest modern barbeques and grills be seamlessly included in the design for a unique dining experience!
Color Selection:
Warm colored interiors are inviting and welcoming, and restaurants and fast-food chains are fast capitalizing on this principle.
Rich, warm tones like deep reds, browns, burnt orange, or bright yellows, punctuated with touches of jewel tones like velvety emerald, deep-sea blues, and gold or brass finishing are all the rage. These can be used cleverly to make the place look luxurious yet hospitable.
Incorporating these colors into the décor, upholstery, and tableware are also superb choices to make a statement. Happy and relaxed diners will spend more time at your restaurant and are more likely to order more food and drinks!
Dramatic Designs and Mix of Textures: 
Restaurant interior design trends are focused on layering different textures and looks. While oceanic white walls and calm wooden hues will always be popular, if you want to achieve instantaneous popularity, going bold is the way ahead!
Maximalist designs bring a sense of grandeur and elegance. A cautiously curated blend of bold patterns, bright colors, and metals are quirky and fun! Confused on how to go about it? Let us show you the way! Unique and mixed furnishings, wall finishes, textiles, and lighting are a means to bring in varied textures.
There is no scarcity of wall materials. Form paint to tiles to wallpapers, wall finishes are more gorgeous than ever. For example, a tropical wallpaper or mural and live-edged dining tables can give an outdoorsy feel. Crisp linen table-mats and metallic gold-chandeliers offering soft-glow lighting can add touches of royalty. Another trend that's taking off is that of table lamps and lights on each table, to add a dash of customization and intimacy.
Similarly, flooring must be durable, resistant to wear-and-tear, and appealing. We see increasing love for natural materials such as wooden slats, raw or polished concrete or stone slabs, and even colorful clay and porcelain tiles.
Finally, unique artwork placed tactically is another layer that enhances the beauty of the place! We see a return to raw, where polished surfaces are being replaced by handcrafted furniture and natural materials. Thus, there should be less uniformity and more variety in the materials and finishes used and lots and lots of layering. The result can be a design that's contemporary and eye-catching!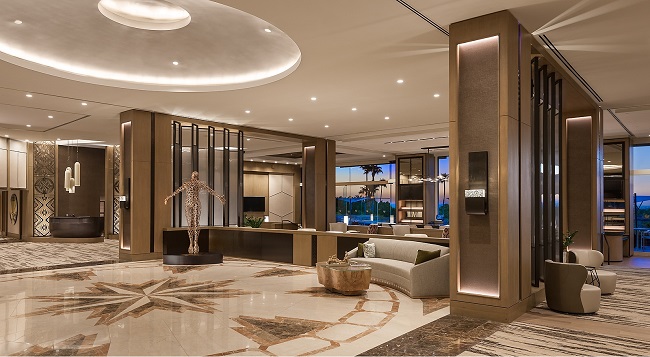 Open Kitchen:
The open-kitchen layout is a relatively new and interesting one. It lets guests and diners be a part of the cooking. More and more restaurants are now including an open floor plan to increase interaction with guests and bond with them.
However, the design must be carefully planned to avoid excessive noise, disturbance, or chaos. We put to use our years of experience and expertise to use while tackling such projects.
Solid Brand Story:
A space design with a real brand story creates memorable experiences and attracts the masses. The generation today is looking for a story and yours can make you stand out! When planned carefully and creatively, design can speak of the restaurant's brand values and its mission, putting soul into space.
Inviting guests to be a part of your journey is the key to form lifelong personal connections and get the customers to remember you, care for you and thus hike up your popularity.
Local Essence:
Speaking of art, public spaces like restaurants and commercial hubs display artwork by local artists and artisans. By catering to the local history, you can strike a chord with the crowd. We love to source out arts that add to the brand value and adds local pride into the interior design, thereby connecting to the people.
Similarly, adding local history into the restaurant's design is another great way to become an attractive high point.
Lastly, sourcing out handmade tableware, glassware, and cutlery, expertly can add value to your restaurant by supporting local small businesses and rake up your popularity!
Sustainable Resort:
From now on, sustainability will always remain the rule of design. From using eco-friendly materials, energy-efficient management systems, reducing trash and recycling materials, restaurants and hotels have to develop new ways to do enough for the environment.
At the same time, it's essential to remain aesthetically pleasing. We know the way, and can show you the same! Biophilic design is a way to bring nature indoors. Smart natural lighting and ventilation techniques, indoor gardens and waterfalls, living wall-murals, organic building materials, carbon-free paint, and panoramic views are ways a good designer can bring sustainability into your hotel's interior design.
People are looking to connect to nature more than ever before and a restaurant or fast-food diner can quickly become an oasis of peace away from the rush of city-life to eat a meal in. We believe in designing spaces that bridge the gap between mental and physical happiness through nature.
Trends in the food and hospitality industry always change based on customer experience, and restaurants' interior design must stay up-to-date and attractive. The smallest changes will be noticed and appreciated, and we are more than happy to step in and jump-start your design journey!
Contact Noida Interiors for all your interior designing requirements