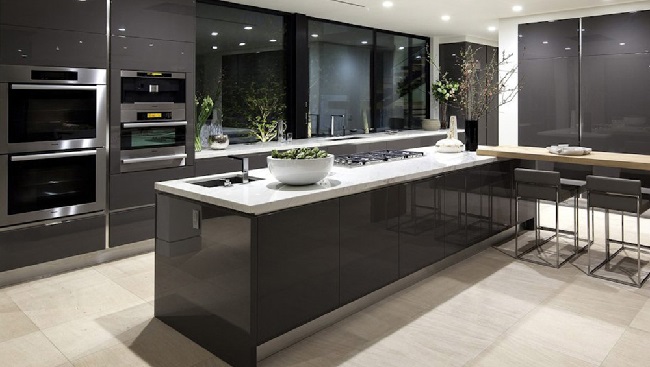 Are you thinking of fashioning a new kitchen or renovating an old one? There are several options in modular kitchen design, from budget kitchens to high-end ones. However, several factors influence the final cost of the kitchen and we have broken them down, so you can find one that fits your requirements and your pocket!
MODULAR KITCHEN COST FACTORS:
Size and Layout of the Kitchen:
A kitchen's size will impact the woodwork, storage, lighting, hardware, etc. required for a functional kitchen. While smaller kitchens often opt for parallel or L-shaped layouts, larger kitchens can be U-shaped and island-style as well. Larger the kitchen more the storage and more material that goes into use. Thus, the size and layout of a kitchen are of the utmost importance deciding the cost of a modular kitchen.
Carcass Material: 
 A large part of a modular and modern kitchen expense is determined by the core materials used for the framework that provides strength and acts as the base of the built modules.
Fiberboard And Particleboard
For some time now, MDF (medium-density fiberboard) and HDF (high-density fiberboard) are popular choices when it comes to low-cost options in modular and start as low as ₹70/SQFT. Manufactured by combining wood fiber and glue, they are suitable alternatives to real wood, especially for parts like the shutter of the shelves that do not bear weight. 
Plywood
However, the classic choice remains plywood, with several options available in terms of quality and cost. Since the kitchen is a high moisture zone, we always recommend our clients to work with Marine plywood that is waterproof and highly durable. From the lowest costing MR Grade Plywood, that is resistant to moisture, to the more efficient BWR Grade Plywood, that is water-resistant plywood and most expensive BWP Grade Plywood, that is boiling water-proof plywood, these are all specifically made to survive water-use and start from ₹150/SQFT for MR grade material. 
Solid Wood
People option for niche high-end kitchens can also consider using specific solid wood such as rubber, Sheesham, or teak. The price will completely depend on the final material picked for example rubberwood sheets, which is not only water-proof but also fire and termite-proof, which can cost approximately ₹150- ₹200/SQFT. 
Finish Of Cabinets and Shutters:
Factors like looks, pricing, durability, and the kitchen's working conditions play a key role in deciding the finishes of the cabinets in any modular kitchen design. Picking the correct finish is as important as the framework because it also provides protection and can determine the cabinets' life.
Laminates 
Laminates though are the oldest finish in carpentry, are no longer typical or boring. They appear most realistic and closest to solid wood, available in solid colors and matte and glossy wooden-patterns. While they typically cost anywhere between ₹700- ₹900/SQFT, opting for the veneer-finish laminates can substantially drive up the price.
Membrane
And for the ones who desire a seamless finish, a Membrane foil allows for edges exactly matching the front with zero joints unlike the laminate finish, and are slightly more expensive.
Acrylic 
A fore-runner in modular finishes is acrylic that lends a high-end modern look to the kitchen. Made of plastic resins it is readily available in the form of sheets, they are equally if not more popular than laminates for kitchen design. Costing between ₹1000- ₹1300/SQFT, they offer superior looks and lasting.
 PU:
If budget isn't a constraint for you, we suggest opting for PU (Polyurethane paint), which is a high-gloss lamination type finish that gives a scratch-resistant flawless finish. PU is also highly unaffected by heat, chemicals, and water, making it perfect for kitchen use, costing from ₹900 to ₹1400 per SQFT.
Glass:
Lacquer-glass or back-painted glass shutters range from ₹1400 to ₹1700 while frosted-glass shutters with profile handles are best if you wish for backlit kitchens cabinets. 
Finally, veneers with PU or melamine coating are also pleasing options that are sadly not the most durable in a kitchen.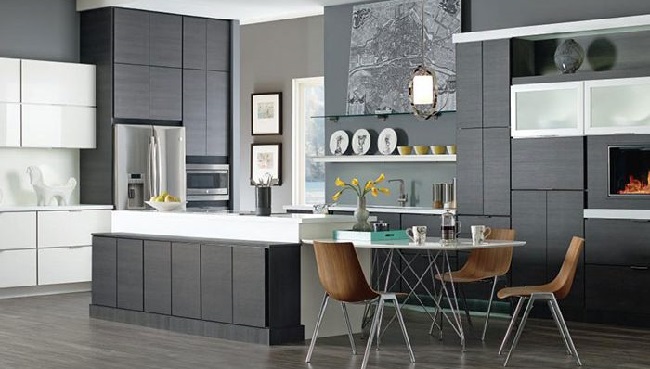 Countertop:
One of your kitchen's busiest zones, the kitchen countertop is inconvenient to replace and thus should be thoughtfully chosen. Factors like strength, durability, maintenance, and aesthetics are the chief factors to be carefully considered here. 
Granite
The most popular countertop in Indian kitchens, Granite is a hard material that is naturally resistant to scratches or chipping. It is easy to maintain and highly resistant to heat.
 Available in various colors and finishes, the typical granite is also super economical. While the Indian granite cost starts at ₹150 per square foot, the Italian granite can cost up to ₹700 per square foot. The cost of installing a granite countertop, including the cost of raw material, labor, and cutting charges, starts at ₹1700/SF. 
Marble
The choice of elegance, marble can also be used as a countertop in kitchens. Available in exciting ranges of colours and textures, marble is also durable and easy-to-maintain. However, since it is porous and can absorb liquid stains, we generally advise our clients to save marble for the bathrooms' countertops. 
Solid surface
Solid surface is a high-end, satin-finish kitchen countertop material that is composed of acrylic or polyester resins and pigments, mimicking natural stones. These counter-tops' main selling point is that they come in pre-finished seamless edges that can be fixed on easily and can be easily molded into any shape. 
Though they are highly durable, long-lasting, and stain-resistant they are prone to scratches and are not very resistant to heat. While solid surface materials such as Corian, start at ₹800 per square foot, the total fabrication cost starts at around ₹2400 per square foot.
Quartz:
A cheaper substitute to the expensive Italian granites, Quartz has all the granite qualities but needs a little maintenance and care, especially with the heat. Hot utensils left on the counter may leave burn marks. But, it is still an excellent countertop material due to its premium quality, affordable rates, and modern luxury looks. Quartz starts at ₹400 per square foot, while installation charges included can go up to ₹2000 per square foot.
Nano white
Nano white is a man-made crystallized form of glass that is very strong, durable, non-porous, maintenance-free, and eco-friendly. It has a rich look and mimics white marble. Though available in different varieties, presently G5 Nano white is mainly used for it is milky white and easy to cut property. At ₹400 per square foot, Nano white fabrication comes up to approximately ₹2000 per square foot including materials labor fixing, etc.
Storage Systems and Organizers:
A kitchen that is equipped with the latest technologies and an organized storage system makes cooking easy and efficient. We would like to share some of our trusted accessories that simplify daily kitchen chores below. 
The basic stainless steel baskets (of different grade) like plain baskets, cutlery baskets, thali baskets, etc., are available in varying widths and heights, for different purposes. With specific weight-bearing capacity, these can range from ₹1000 to ₹1500 for each basket. High-end options include Tandem baskets that look sleek with their sturdy metal rod on the entire length of their sides and are a tad more expensive at around ₹2500 per basket. 
Tall units are versatile accessories that utilize vertical spaces and function like a pantry. The price range greatly varies based on the brand and size required. Narrow spice pull-outs are designed to make small bottles and condiments items easy to spot and access. These are again available in multiple widths and price ranges.
Fittings like corner units include systems like Dee tray, Magic corner, and more that rotate beyond the standard 90 degrees and can be fitted in the upper or lower cabinets according to choice. No more waste of space! These however are expensive and can vary from ₹25000 and higher depending on the brand per unit.
Other accessories such as Under Sink Units, Dish Drainer trays, Cutlery organizer, etc are all add-ons available at different costs depending on the brand picked. 
Soft-close drawer systems and hinges are most sought after, and though slightly more expensive than the telescopic channels, are a delight to use and super-efficient. Similarly, handle-less shutter design is here to stay and there are systems such as push-to-open hinges that give smooth operation. 
There are plenty of famous brands like Blum, Hafele, Hettich, Ebco, etc. that provide reliable accessories to be included in the modular kitchen design. 
Appliances:
Appliances can make or break a modular kitchen and thus is essential to invest in high-quality appliances. While decent hobs & cooktops like Elica and Sunflame start from ₹12000, high-end brands like Hafele, Faber, etc. can cost up till ₹100000. 
For a smoke-free kitchen, chimneys are almost a must today and start from ₹19000, up to brands like Bosch costing around ₹45000 and higher. 
Similarly, refrigerators, microwaves, and ovens also vary in price depending on the brand but should be decided on in the early stages of design so that they can be accommodated into the cabinets for a seamless built-in look.
Thus the cost of a modular though can depend on various factors that can be easily planned and pre-calculated to offer the best possible solutions and top efficiency. A good designer plays a crucial part in being able to provide the best possible balance of quality and budget. We are always available to answer any queries and help you through the complex and confusing kitchen design process. Just remember to give us a call!
Contact Noida Interiors for all your interior designing requirements