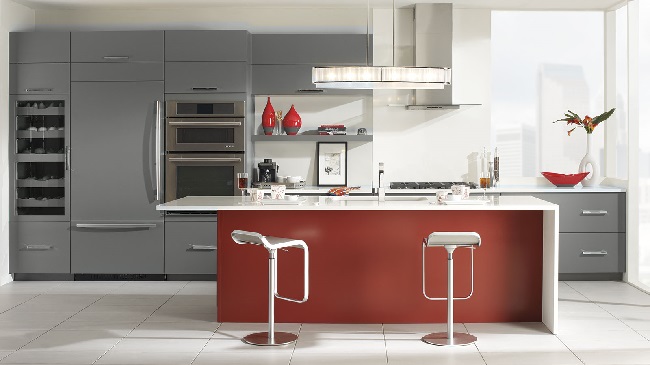 Kitchens in India have seen a great revolution. In earlier days, the kitchen area was restricted to veiled women of the house and barely any importance was given to the aesthetics. However, today, this notion of the kitchen has changed completely! The kitchen has become more than a 'place to cook'. It is now considered a focal point of the house enjoyed by men and women alike. People like to spend time in the kitchen trying delicious new recipes, hosting friends, teaching kids while cooking, etc.
Modular kitchens are nothing less than a blessing. Now, modular kitchens can be spotted in every Indian house.  With the development of new materials like particle boards, laminate, acrylic sheets, and veneers, kitchen aesthetics have taken a significant flight. These few finishes have given the liberty to embrace unique shades and textures from metallic to wooden edges. But, with such endless possibilities, it is difficult not to get lost! We all have seen those days of confusion when you sit in the store looking at catalogs and fumbling to choose the 'right shade'! So, we have rounded up these stunning modular kitchen color combinations that will make your guests drool.
Modular Kitchen Colour Schemes
Mighty Bright White Kitchen 
Thanks to western influence, all-white kitchens have exploded the Indian interior design industry, and might we say how breath-taking they look! All-white kitchens have a charm of their own. They have a natural yet luxurious feel to it. Many people think it is hard to maintain white kitchens in India, especially with the spices. But when done in the right way, white kitchens are as simple as any other color. Just make sure the countertop is made of stones like marble and granite that are less susceptible to staining. And voila! Your beautiful kitchen is ready!
White with a Pop
Too intimidated by white kitchens? You can always mix and match it with another shade to get an aesthetic space. For example, using a pale green in one of the cabinets and keeping the rest in white looks chic. Alternatively, you can also use plain white kitchen finishes with metallic hardware to make it look classy. Many kitchens use accent colors through backsplash. Incorporating Turkish mosaic tiles in white kitchens brings youthful and bohemian vibes.
Kitchen with Monochromatic Magic 
A monochromatic color scheme brings modern essence and has been in trend for quite some time now. Some popular shades include deep blue, grey, black, and so on. You can experiment with any shade and have a fun interior space that looks cohesive. Many monochromatic kitchens do end up looking dull and drab due to a lack of textures. Since kitchens have lesser elements, it is essential to include different hues of the same shade to give a visual depth to space. For instance, you can use different tones from the same color family in the cabinets, countertops, and islands.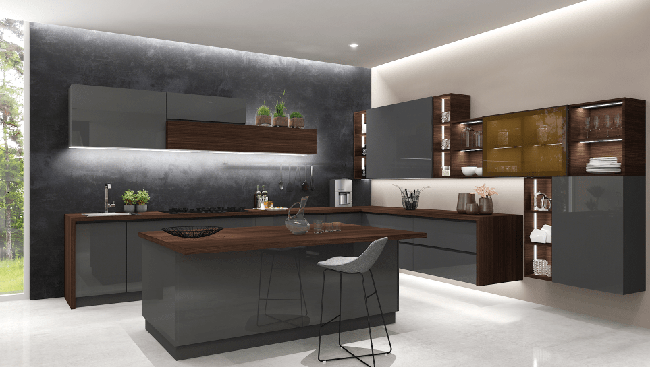 A Splash of Wine 
Red as a color has a tremendous psychological effect on the mind. It makes you feel excited and hungry. Hence, it is preferred in places like the kitchen or dining area. A deep shade of red is a common sight in Indian kitchens. Many people like to blend wine or crimson red with neutral shades to create a dramatic effect. Red wall cabinets with white floor units create a stark contrast and look just fabulous! Alternatively, you can also use red tiles on the backsplash with all-white veneers on the cabinet.
Earthy and Rustic Tones 
Neutral tones like beige, cream, brown, and taupe give a natural feel to the kitchen. Try to blend darker and lighter shades to create an exciting ambiance. Modern-day veneers are available in a plethora of finishes, including rough, wood, stone, leather, and metallic finish, which looks magical. Such neutral toned kitchens are very versatile and match well with almost any house's interior design style.
Warm and Welcoming Wooden Kitchen
Wood is very authentic to Indian décor and the kitchen is no exception. Wood brings a rustic and classical vibe to the room. Different wood shades offer unique experiences like polished dark wood looks uber-luxurious, whereas light honed wood gives contemporary feels. The wooden texture provided by the grains is just timeless and tasteful! Its versatility makes it one of the most popular colors in the kitchen design.
Deep and Dark Kitchen Design
Dark grey, blue, and black look forever opulent and classy. If you have a spacious kitchen with abundant natural light, do not even think twice before getting a dark kitchen.
There is something about the color black that makes it effortlessly stunning. A matte black kitchen is enough in itself. There is no need for introducing too many elements as it will visually clutter the space. Just be confident and flaunt a dark shade!
Use Complementary Shades
When in doubt, go to the primary color wheel and seek help! Complementary colors are opposite colors on the wheel that go perfectly with each other. For instance, dark blue and bright yellow can be used synonymously to create a vibrant and eclectic kitchen. If you love experimenting, using such diversified shades will help you attain a cheerful space.
Are you planning to give your existing kitchen a fun makeover? Try these awesome color combinations to upgrade your kitchen. And if this looks like a daunting task, don't worry, get in touch with our team of professional interior designers, and we will help you in curating the kitchen of your dreams!
Contact Noida Interiors for all your interior designing requirements