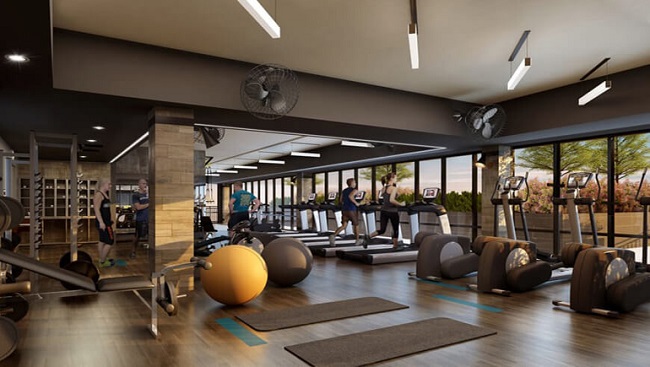 With the ever-growing concerns for health and wellness, we are all caught up in a zeal to work out and shape ourselves. Either we achieve that by designing our distinctive gym in the house or prefer going out for these sessions. Working out has become the "new cool", and everyone seems to be finding themselves in an imaginative race to get into their best shapes and look young forever. In the present era, it is not about 'just' workout anymore; These spaces are highly responsible for elevating wellness experiences and fostering user's quality of life. Keeping this in mind, designing a gym may seem daunting and challenging due to its specificity in materials, work zones, and accessories. Still, with accurate guidance and assistance, it may not be complicated at all. Let's take a look at some keynotes to be taken care of while designing a gym or a fitness center and simplify all the questions you have been wondering about.
Gyms and Fitness Centre Design Ideas
Space Zones and Layouts
It is of utmost importance to understand the factors of 'comfort' and 'flexibility' when it comes to designing a gym. Make your users feel "boxed out" by strategically spacing out your zones and equipment. A thriving fitness centre will require specific zones for each workout session – muscle-strengthening or cardiorespiratory. Planning an easily accessible space, visible, and carefully zoned out will yield better results in user experience. For instance, spaces for elliptical machines should always be differentiated from pull-up bars and be kept in their particular zones.
Cluttered and cramped up spaces make the gym users feel uncomfortable and insecure; Therefore, always look for a larger facility with high ceilings to design the gym. Adequate space for placing your equipment, planning out the circulation and demarcating the buffer zones is necessary for developing a welcoming realm and a comfortable aura.
Colour Palette and Décor
Colors have always played a significant role in human psychology. Hues and shades are responsible for creating a unique and dynamic environment where the gym equipment plays the setting to leave an impact on its users. Gym walls are no longer some plain, uncolored patches that act as neutral with pieces of equipment in the limelight. These walls are to be spiced up with some exciting, adrenaline-pushing tints that create calm or tranquillity in your space.
Vibrant hues like reds, yellows, and orange are responsible for motivating and enlightening the user's moods. It would create a zest for excitement and stimulate thoughts and feelings of an energetic mind and enthusiastic spirit. Cardio equipment could be backed up with red and orange shades to increase the users' heart rate.
Cool and calm colors like blues and greens could be used in the circulation and buffer zones to comfort the users and combat overheating during workouts. Whereas smart use of trusted colors like shades of beige and off-white play good fill-ins and are responsible for a pleasant and soothing experience in the yoga or sauna rooms.
Flooring
Gym flooring comes in various textures and designs to embellish your floors and give them a distinctive look. Rubber flooring or hardwood planks could limit the materials used, but due to abundant design options and patterns, you will never feel unsatisfied. The most important properties to consider are strength and durability due to the placement of innumerable light or heavy equipment. Maintenance and cleanliness are the factors to be kept in mind while specifying the flooring. Rubber tiles are affordable and easy to use; however, they attract dirt and are not easily vacuumed or wet-washed. At the same time, the timber flooring could be comparatively expensive but easy to clean and maintain.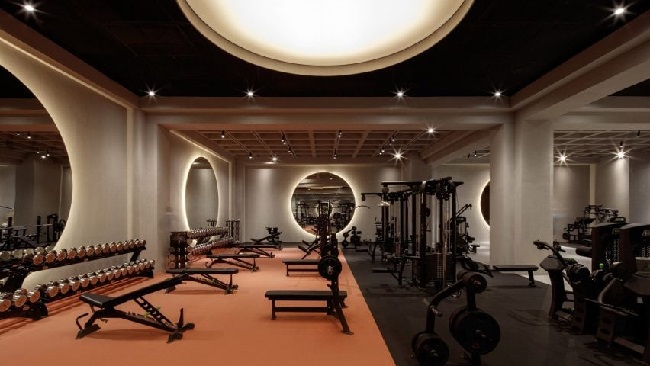 Wellness and Biophilia
Is user health and wellness an essential element of design for you? Do you want your design to leave an ever-lasting impact on the gym user and radiate positivity? Mother nature has the solutions to all. Biophilic design has multidimensional aspects and can be used in any and every form of space. When designing for human health and fitness, how could biophilia be ignored? It just doesn't focus on the use of various indoor plants and green walls to create calm but also fosters and considers the ceiling's height, naturality in materials, prospect and refuge, picturesque views, and natural lighting. You could use organic patterns and shapes that mimic nature's concepts in your interior spaces and highlight an earthy tone or a neutral color palette that mimics your indoors' natural materials and result in tranquillity and calmness in the gym. Align the ideologies of biophilia with those of your gym, fitness centre, or yoga room that demands to be built on wellness principles for a healthier future of the users.
Luminaires and lighting
Now that you are confident about specifying the perfect finishes and furnishes for your gym, let's talk about an essential aspect of gym design, which will lit up your moods and make your gym an aesthetically pleasing space, ambiance and lighting. Natural light will always play the major when designing any space – a home, office building, or even a fitness centre. Adding adequate skylights or floor-to-ceiling glass windows can allow the natural light to penetrate through and enlighten the users' moods. However, several gym locations are not fortunate to have a skyline or a forest view; these challenged spaces require immense artificial lighting to cover up for the natural one. Mimicking the original, you could use floor LED lights, spotlights, and cove lights as your eye-catchy profile and several planned dimmed zones to balance the space's lumens. Invest in these luminaires to create an exciting environment and an aura that is welcoming for the users.
If you still seem to be confused about designing your perfect gym space, we can help you. We want to look beyond the requirements of our clients and provide them with 100% satisfaction. As we all know, gyms are considered essentials in our routines and daily lives; they should be supported by environmental and human ethics to pursue health and wellness. Our design experts will help you create a creative realm that will invite patrons and urge them to work out for sessions much longer than they have thought of. We focus on user-experience design and provoke thoughtful concepts as our ideology that takes us a longer path with our clients and ensures them with a pleasing experience and excellent customer satisfaction with turnaround time.
Contact Noida Interiors for all your interior designing requirements