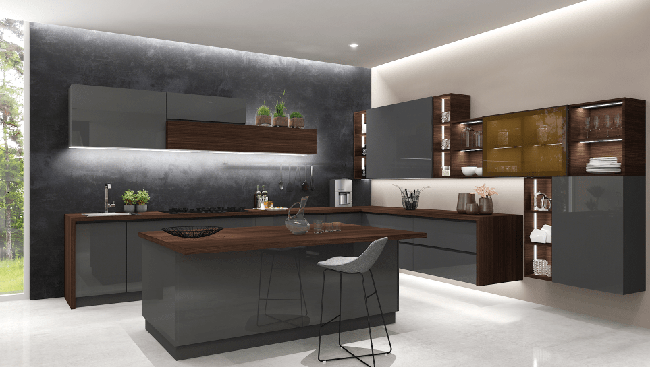 How difficult is it to understand that the kind of space you create for yourself casts a massive influence on creativity and productivity at the end of the day – not very isn't it? If we talk about the various spaces in our home, working in the kitchen requires immense focus and love at the same time, which means that your kitchen space should be both "functional and welcoming," and it is up to us to strike that beautiful balance between these two aspects. A kitchen mainly consists of cabinets, and thus it is vital to have the right kind of laminates for our kitchen cabinets.
Of course, the appearance contributes much in giving that vibe to any space, and your choice of Laminate or sunmica, its color and texture will do the same for your kitchen. Another point that has to be kept in mind is the maintenance factor. Kitchen anyway is a space that remains a bit moist most times, thus making it imperative for you to make sure that you choose the right texture for the Laminate for your kitchen, depending upon the severity of use of the space, your cleaning schedule, and the kind of cooking you mostly do.
Laminates, especially Sunmica, are available in a variety of colors, thickness, and finishings. The budget will also decide the kind of Laminate you are going to use for your kitchen cabinets. Broadly, laminates are categorized into high-pressure laminates used on plywood & low-pressure laminates used on particle boards. High-pressure Laminate is resistant to heat & stain, and is durable along with being low maintenance and economical.
Types of Laminates (or Sunmica) for Your Kitchen Cabinets
Laminates in Solid Colours


This is possibly the most common type of Laminate used in kitchen cabinets. Sure it adds color and vibrancy to your kitchen, giving the everyday act of cooking a playful twist, you have to be careful about not going overboard with colors in the kitchen lest it starts looking tacky. You have to intelligently complement your colorful Sunmica with the rest of the kitchen so that while your cabinets stand out, they don't scream over excitement! Also, be careful that scratches are easily visible on color cabinets, and in case it gets chipped, it would be difficult to replace it. Metal finish laminates are comparatively more durable and scratch-resistant. Also, remember that scratches are more likely to be visible on light colors than dark ones.

Shiny/Glossy Laminates


Shiny or glossy Laminate looks classy and gives a luxurious and elegant demeanor to your kitchen. When the lights reflect on the glossy Laminate like Sunmica, it provides an illusion of a brightly lit kitchen, making it look beautiful. While all this may sound magical and transport you to your dream kitchen, we would want to tell you that glossy Laminate is highly prone to visible scratches, even fingerprints. So it is advisable to use glossy Laminate on wall cabinets and go for matt finish laminate for lower cabinets, which are used more frequently.

Laminate in Matt Finish


This one is an excellent option if you are looking to build a kitchen equipped with functionality, sturdiness, and elegance. Laminates like Sunmica in matt finish are moderately reflective and allow you to go for either rough or smooth finish. The best part about this one is that it is easy to clean and maintain. The only thing you have to take care of is not letting moisture seep in, lest the Sunmica loosens up and becomes difficult to fix. It would be best if you went for a 1-millimeter-thick laminate for the cabinet's outer side and a 0.7-millimeter-thick laminate for the inner sides and drawers.

Laminate with Texture Finish


Laminate with texture finish gives that woody vibe and adds to your kitchen's coziness and elegance factor. If you want a monochromatic kitchen with a single shade of wood, this option is for you. To add more zing and bling, you could go for different shades of the same color. The best part about this Laminate is that it is easy to maintain and scratches are almost invisible. Just clean it with soapy water and wipe it with a dry cloth. The con of a heavily textured laminate is that it becomes tough to clean if the dust settles inside the textures. Avoid using abrasive cleaners or steel scrubbers as they may spoil the Laminate forever.
Laminate with Metal Finish
Using Laminate with metal finish makes your kitchen look modern, sleek, and spacious. The metal finish laminate generally goes well in kitchens made with a commercial purpose. The choice of colors in metallic finish laminate is mostly limited to copper, silver and rose gold. The drawback of this one is that metallic finish laminate has sharp edges, so you have to be ultra-sure about the artistry at the installation time.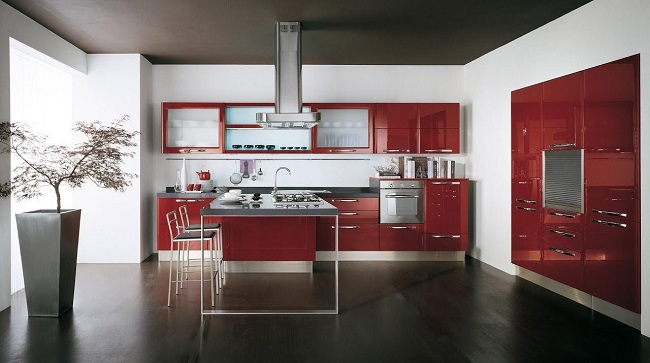 Flame Resistant & Antibacterial Laminates for Kitchen Cabinets!
Going for flame-resistant Laminate is undoubtedly a smart choice. Thanks to technology, this type of Laminate is available at all leading brands. These laminates are created and treated in such a way that they minimize smoke emissions and delay the build-up of temperature. Another great option in laminates is their antibacterial variety. This one prevents the build-up of germs and bacteria, thus improving your kitchen hygiene.
What is Better – Laminate (Sunmica) or Paint?
If you are someone who gets bored after some time and starts craving change, painting your cabinets is the choice for you. An advantage of applying paint is that it is economical. However, repainting is a messy and time-consuming job. Also, scratches are easily visible on painted cabinets. Another disadvantage of using paints is that it may not work well on all types of cabinets. The outcome may or may not match what is displayed on the paint container.
In laminates, a mix of paper and plastic materials are treated at high temperatures to create decorative laminates. Laminate's advantage is that it comes in a variety of colors and design patterns, finishes like glossy, matt, and textured. These are easy to maintain and durable. The disadvantage of using Laminate is that firstly, these are more expensive than paints. Also, if the laminate chips, the only option is to replace the whole thing.
Having read what we have to say about laminates, you can ultimately decide what you want for your kitchen. Measure up your needs and make a mindful choice while we are here to implement it for you.
Contact Noida Interiors for all your interior designing requirements