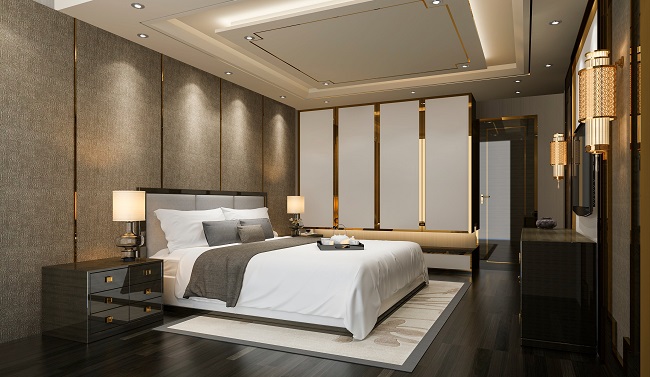 When you're redecorating or refurnishing your rooms, it's likely that you are focusing on the wall paints, type of furniture, some quirky accessories, and even flooring and rugs, but do you feel something is missing? Yes, the ceiling it is. Ceilings are considered as the fifth wall of our rooms – and probably, the most underrated one. We tend to overlook our ceilings, but even the slightest design options can make a huge difference. Be it a specific paint color or some false ceiling design, or even if you plan to use wallpapers (Yes, that's possible), the ceilings will always find ways to grab the attention and add a stylistic statement to your bedroom.
Most of the homeowners around the world are incorporating the idea of false ceilings. Just like the name suggests, they create an illusion with their differentiating heights and levels to add the space's dynamic factor. Are you interested in knowing more? We have listed a few false ceiling design ideas for you to look and get inspired by.
Bedroom False Ceiling Design Ideas
Elegant Trays
The most common and elegant of all, tray ceilings are perfect if you have a minimalist taste. Great for a small bedroom, these recessed ceilings look like an inverted tray with the upper level's recessed surface. You could self-customize it by adding more layers to it or carving the ceiling in a particular shape to complement your bedroom's design style. Add some warm-white cove lights to it and observe how magical your room looks!
Floating Focal
Suspended from the ceiling, the floating ceilings are a great way to highlight your bed or the adjacent relaxation zone. It is a couple of inches protruded out as a suspension from the ceiling. There are numerous ways of finishing this ceiling – the most common is the wooden panelling. Horizontal wooden panels with underlying recessed lights not only make your room aesthetically pleasing but will also give a three-dimensional effect. Other than wood, you could use Plaster of Paris (POP), gypsum and even a piece of shiny metal would brighten up your space. Also, don't forget to color contrast the floating island with your actual ceiling!
Patterned Coffers
Vintage in looks and comfort in style, the coffered ceiling is what you have been yearning for if you want to make your space cozy while adding visual interest to it. These are more detailed and intricate in design as the beams run criss-cross, creating a grid-like pattern. A pro tip: If you have higher ceilings and want to make it look smaller and to-the-scale, proposing a coffered ceiling is your solution! It is also highly recommended in master bedrooms and living rooms that are meant to gain the utmost attention.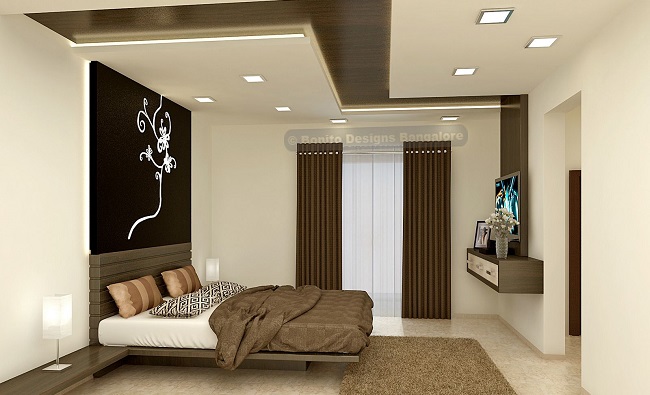 Rustic Planks
Don't want a generic false ceiling but yet a ceiling design that creates a dramatic effect? Or if you reside in a wooden chalet or a townhouse with everything rustic and textured wood? Don't worry! We have got you covered. Wooden exposed beams are what you have been looking for. They could be your decorative rafters or false wooden beams running both sides, you would definitely want to give this a try! They are suitable for adding a feeling of warmth and welcomeness to the room while defining an authentic architectural expression.
Drop it Down
Are you worried about the tall ceiling heights? Want to utilize the magnificent vertical space you have got? Drop your ceiling. Just place some runner beams at the desired size you want. You could decorate them with spotlights or ambient lights that could be good for reading a book on the bed at night. Or hang some of your mementos and masterpieces to add a little boho touch to your space.
Coved Simplicity
One of the most affordable and most straightforward design you could opt for! We highly recommend using this for smaller bedrooms with a minimal design and budget option. This design runs the complete length and width on your ceiling with a single drop-down level. To jazz it up, you could use cove ceilings or LED strips to create accent lighting in your bedroom. But it is more interesting to add a contrasting element of wood or metal in a particular pattern in the ceiling. Pretty enough?
Designer Circles
It is never a bad idea to go for circles! This artistic style will help your ceiling design stand out from the rest in terms of shape and looks. A circular-shaped cut out from the false ceiling will not only add aesthetics but also demarcate your bed as a prime focal area. To top it all, this circular niche will prove to be an ideal space for hanging your fan or the chandelier. Think-out-of-the-box and play with circles – yes, you could even create multiple of them! But remember to create a sense of harmony and hierarchy when you do that!
Extend your Panelling
Now if you don't want your ceiling to be a separate entity from those of your walls and furniture, there is a solution to blend them all – by extending your wall panelling. Highly common in luxurious hotels and custom-designed bungalows, these sedimentary wall panels that add character to your walls are extending right up to your ceiling to create an overall seamless look. Various materials can be specified – if you want to go for a cozy feel, then fabrics and leatherette are a great option, whereas stained wood and lacquered glass pair up for a perfect glam look.
Eclectic Ceiling
Who said that your bedroom could be just one style? You can incorporate multiple styles in a single space! Now that we have discussed quite a few types of ceilings, it is possible that we can merge them all together. Nowadays, homeowners around the world are customizing their ceiling designs that are an amalgamation of floating, tray-like and patterned ceiling or circles, floating and tray-like. You could also play around with multiple finishes in a single ceiling design to add on to the contrasting factor when you look up.
Ceiling design could be a very playful and personal thing to do. Due to its long-term existence, we need to assure the right style with the right materials. We hope that these enlisted designs made it easier for you to know your style better. If you are still in confusion, let us know and our expert team of designers will help you get the perfect bedroom false ceiling design!
Contact Noida Interiors for all your interior designing requirements