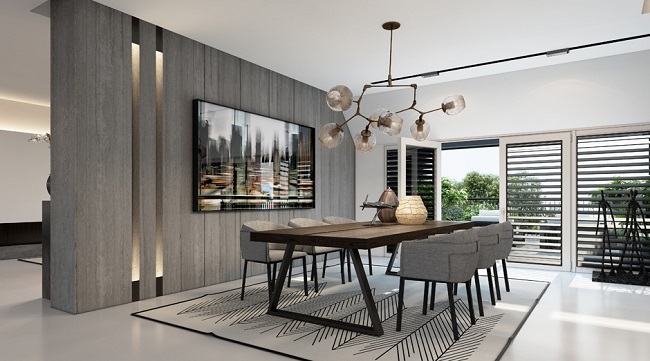 Dining rooms are eventually becoming the heart of our homes. Whether we have relatives coming over or some workmates, family get together or maybe a place for children to sit down and study, these spaces tend to steal the eye of everyone that enters the house. Dining halls are what we look forward to everyday for an evening family fun time and they in return are notable to bind us all together. In the present era, traditional dining rooms have vigorously been replaced with spaces that are attached to open space kitchens and living room areas. These modifications foster a happy and social aura within the home and help us entertain our mothers who work hard in the kitchens to prepare delicious food for us. In conclusion, all these reasons trigger us to think beyond a basic "Dining Hall" style and certainly motivate us to dive deeper into exploring more styles for these warm spaces of our homes. Let's cheat on our present-day styles with these awe-inspiring modern dining room designs.
Modern Dining Room Styles
Delicate Nudge
Are you a lover of blush and teals with an extra touch of luxury? This ultra-modern design offers an open space area for your dining table with a radiant chandelier harmonizing with your chairs. This design style is highly preached on the principles of pastels with a delicate feminine stroke. You could break the glass ceiling by even playing with the shades of natural greens and electric blues, inculcating the peacock look in your dining space. Emulsify your metal tabletop with mid-century modern chairs and a customized hanging light to transform the dining area into a dazzling space in the house. Adding a lush grey seamless stone flooring with a matching wallpaper to the adjacent wall and a bold abstract portrait can overwhelm your guests.
Elegant Fusion
Are you confused about blending two different styles with an absolute modern outcome? This dining room style is what you are looking for. Poetic fusions could be an exciting approach to your design style if you are a follower of multi-faceted elements. One of the most admirable outlooks is a combination of bohemian and modern with a neutral color palette adding hues of primary colors to your space or a sharp blend of Hollywood Glam and Contemporary that oozes utter luxury with opulent furnishings and striking purples, reds, and turquoise.
Biased White
Whitestone textures add to the realm of modern designs. A piece of accents could be blended in your furniture to add the missing charm of your dining space. Designing an all-white palette could be equally challenging and exciting. Try a Modern Scandinavian look for your dining space and place an abstract form of portrait right up on your adjacent wall and a few white cabinets to give your space a room to celebrate its natural aura. These styles call out for plenty of sunlight with minimal decorations. Though, a piece of rusted furniture could add much-wanted humour.
Tans or Monochromes
Is it ever difficult for you to choose between complete two distinct themes that go parallel with each other? Tans and monochromes are the potential competitors that usually confuse their lovers. Tans and bronze are good to go for a home colored with shades of browns. The striking piece of metal dramatic ceiling or beige cushioned chairs with teak structure is a cherry-on-the-top. Meanwhile, for all the minimalists who are cautious about the use of colours in their interior spaces can eventually find a subtle use of greys, whites and blacks for their space that will never go out of style. Glass topped tables and sleek metal chairs are a common feature of both the palettes. Adding a piece of vegetation at the center of your table will highlight the hues and enlighten your space.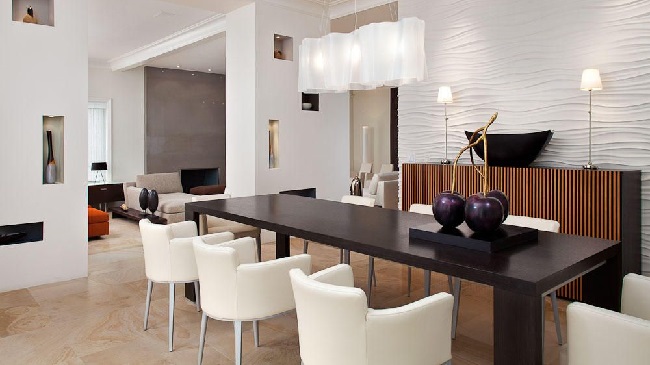 Whimsical Vista
The dining space that adds humour to your home with its artistic blunge of blues, greys, whites and the eye-catchy bronze is worth giving a shot. Natural lighting plays a significant role through the ceiling to floor white sheer curtains enlightening the space with airiness and openness. Comparatively higher ceilings and a contrasting piece of metal artwork could outperform in your stage. This style commemorates your dining space and allows it to breathe – sometimes resonating your mustards with basils and off-whites or enticing red, blue and ambers. This space would entirely cheer up your guests and leave an ever-lasting impact.
Luxury Corners
A lover of luxury looking for a space-saver? Why not upgrade your dining space with a high level of details and utter sophistication. In contrast with centerpieces, these corner dining areas contribute to saving space and proving highly functional. Goldens, Browns, Greys and Off-whites define a modern luxurious look. An appropriate casting metal piece of lighting is always-to-go with this palette. Sketching your way through the elegance of this chic look is unquestionably ultra-modern. Utilize the corner by placing your 4 or 6-seater table. Name it the 'luxury corner' and hang pendant lights as a striking feature that enlightens your space as an expected sassy dining room! Adding base whites enlarges your space and a tinge of black and gold enumerates the necessary glam to your space. Don't want your dining tables to obstruct your way? Do you like cozy little corners? Why not design your space with forms and shapes. Use whites and off-whites for your satisfaction and give your space a room for a creative approach.
Biophilia Dream
Humans' affinity towards nature is eternal. We constantly find ourselves connected with nature in the form of indoor plantations or a scenic view of the mountains or a particular landscape. Thus, a feeling of indoor and outdoor blended in our homes is a perfect dream for some of us. Floor to Ceiling height glass doors and windows is what uplifts the comfort level of the space in a beautiful panoramic view of nature. Adding a green living wall adjacent to your dining table, or tiny pots of plants staggered around or even a plant by your table; Can you feel serenity already?
Retro Layers
Want to commemorate the retros and quaint, why not try a multi-colored palette? The contrasting collaboration of walls, curtains, antiques and dining – Amalgamation of greens, yellows and reds at the same time with a classic collection of your antiques placed skilfully around your varnished teak furniture in your room can add the perfect 60's touch to your space. Finish your floor with an authentic Persian rug and a few abstract wallpapers to add a final touch to your dining room.
Mandatory Black
A combination of black and white will never go out of style. Somewhere within, we all have an affinity towards the colour black, but due to its boldness, we tend to turn a cold shoulder to an all-black approach. Why not try a mixture of contemporary and modern? The look undoubtedly will win many hearts. Seamless use of black on your table, chairs, and the adjacent walls with a striking feature of a plantation or maybe a masterpiece can perfectly give your dining room a bold look. Does it motivate you to redo your dining space? Are you looking for more creative use of black in your dining space? Why not try custom-made timber furniture with decorated wooden twigs scattered around on an all-black background? It definitely will increase the creative black to the power infinity.
Pop Up Curator 
Color psychology is known to affect humans' daily routines and mindsets indirectly. Even though reds and magentas offer warmer hues, a tint of these in our dining spaces do not harm. If you like a jazzy and eye-catchy colour palette, with your accents popping out and calling out for your eyes, this style is a must to try. A contrast of bright amber, or hot pink or maybe a bright yellow could be the striking element in your space with a few neutral cabinets, walls, and furniture. A style inspired by French Country, this form promotes warm, earthy colors with decorated carpets and cluttered surroundings.
Design styles and details have no limits. Dining tables and cabinets are not bound to have their specific boundaries in the house when they could indeed have a direct physical connection with your kitchen. Contrasting the materials of your dining table with an island kitchen can make your space stand out. This design offers an open kitchen space area as a social pocket of your house – a designated place to cook, eat and be linked with the person cooking. However, this plan involves a similar design style in the kitchen and dining space to complement each other.
These multiple dining spaces undoubtedly play with our moods in enlightening them, making them feel safe and secure and lastly, they excel in socially engaging us into their meaningful built stories. These multiple designs offer a wide array for us to choose our style and then implement them into our homes. We must look beyond their original purposes into designing a space that speaks further – a space that participates and binds us into its exciting stories – a meaningful space that is closer to our hearts.
Contact Noida Interiors for all your interior designing requirements