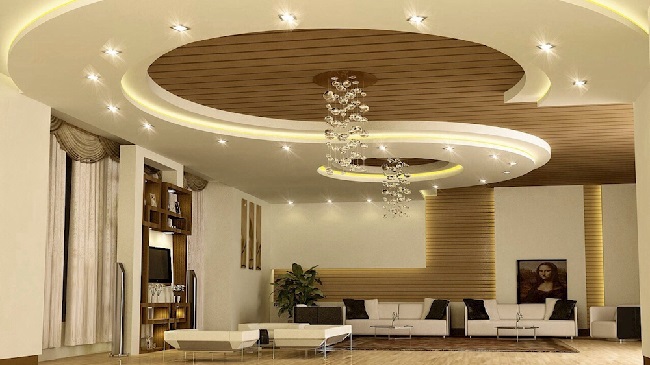 The ceiling is considered as the fifth wall of a room. Decorating it would ensure that the space looks beautiful and cohesive. There are a plethora of ways to spruce up the ceiling but the most common technique used in most of the houses is a false ceiling.
What is a False Ceiling?



Installing a false ceiling is like giving a cosmetic uplift to the room. It not only enhances the aesthetics of interior space but also provides insulation. False ceilings are majorly used as a base to install the ambient lights that give the right ambiance to space. They are also used as an acoustical treatment for the room, which helps in noise cancellation.
A drop ceiling ensures that all wires, cables, ducts, and nasty hardware are away from sight. Additionally, it also helps in controlling the temperature inside the house, thus, reducing electricity bills. Certain types of materials used in false ceilings also protect against fires.
Types of False Ceiling
Today, there are plenty of materials that can be used to design a stunning false ceiling. From wood to gypsum boards, the possibilities are endless! Here are the various types of false ceilings that will help you to create the perfect ambiance.
Gypsum Board False Ceiling
Gypsum is the most commonly used material for false ceilings. They are lightweight, fire-resistant, and provide thermal insulation. Gypsum ceilings are supported with iron frameworks and they usually come in square or rectangular shapes. The boards can be finished using paints or wallpapers to get a beautiful look.
Plaster of Paris (POP) Ceiling
Plaster of Paris is made after heating gypsum to an optimal degree. These are versatile and can be given almost any shape. POP ceilings do not require maintenance and they have a long life. Practically any type of design can be achieved using the Plaster of Paris, including the intricate molds and cornices.
Fiber False Ceiling
Fiber is a relatively new human-made material formed using synthetic and natural materials. It is very flexible and can be shaped in any form and design. They are comparatively cheap; hence, most of the commercial spaces use false fiber ceilings for amelioration.
Wooden False Ceiling
Wooden ceilings provide a luxurious and calming vibe to the house. Its natural patterns offer an interesting texture, which is why it is the most loved and appreciated style of false ceiling. Wood being a pliable material, provides versatility to design a sleek ceiling. The only drawback with a false wooden ceiling is that they are prone to warping and termite attack.
Glass False Ceiling
The transparency offered by glass makes it look unique and adds a character to space. The aesthetic appeal provided by false glass ceilings is second to none. Various admixtures can be used with glass to improve its transparency and brittleness. Most of the glass ceilings are painted or etched with gorgeous colors to enhance the look.
Metal False Ceiling
Metals such as galvanized iron and aluminum are extensively used in false ceilings. They are easy to install and require less maintenance. The shiny surface of metals offers an eclectic texture to the room. Metal false ceilings look flawless in industrial style interiors.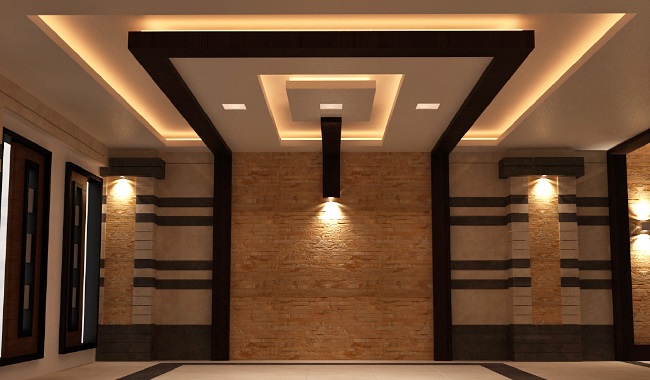 How to Creatively Design a False Ceiling 
False ceilings can give a superb face-lift to your house. From curved ceilings to traditional ones, every ceiling has its beauty. But here are a few ways to make the false ceilings look more attractive and functional.
Light Up the Ceilings 
False ceilings ensure a sufficient amount of ambient light in the interior. Instead of sticking with the usual rectangular plan, use lights creatively to enhance the beauty. Suspended ceilings with numerous LED lights in the parameter can instantly transform the look. You can install a delicate chandelier in the center to exaggerate it further. Depending on the rooms, different light pendants can be used to punctuate the false ceilings.
Chic Color Play
Ditch the traditional white color and opt for a vibrant ceiling to define the space. Taking inspiration from the interior design style, you can opt for moody hues. Alternatively, engaging with quirky textures like metallic and wooden will provide a charm to the room.
Pretty Patterns 
Instead of going with the traditional rectangular patterns, you can experiment with shapes like geometric, honey-comb, and curvilinear. Abstract false ceilings provide an opulent feel to space. In addition to that, juggle with the placements of lights to jazz up the ceiling.
Incorporating other materials like jaalis and Corian can look exceptional. A lot of people prefer having skylights to get a soothing vibe. Just think creatively and have fun with the ceiling!
Tips to Consider While Designing a False Ceiling 
Before considering the false ceiling design, it is essential to check the feasibility and stability of the structure.
Always measure the height of the ceiling. In smaller apartments, having a false ceiling can dwarf the room even more.
Avoid using decorative patterns and curvy moldings in smaller areas as it visually affects the spaciousness of the room.
Have a clear roadmap before starting the construction. The lighting layout can be tricky and can cause unwanted hiccups. Hence, it is advised to have a bright lighting and ceiling plan.
Before deciding the light fixtures, check how much weight the ceiling can support. Every material has a different strength and holding capacity.
If the ceiling is right under the terrace, provide insulation materials like thermocol to minimize energy consumption.
Here some ideas to inspire you to design a ravishing false ceiling for your home. Make sure to take preventive measures and do not forget to have fun with the designs!
Contact Noida Interiors for all your interior designing requirements