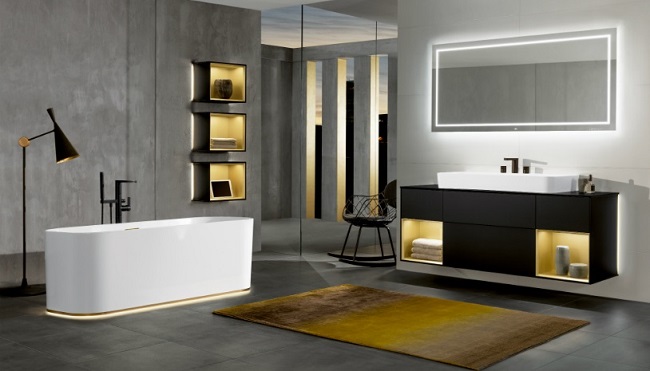 What do we want the most when we are having our "me time"? What do we look for when we want to spend those ten minutes of solitude? What gets us going first thing in the morning? For many of us, the answer would be a peaceful, pleasant and beautiful looking space as the bathroom. Starting your day in an area that exudes warmth and your style sets the right tone for the day. The way you design and maintain your bathroom says a lot about the real person behind that face and gives a solid sense of your approach to life and living. A luxury bathroom is all you need to set the mood right. Luxurious modern bathrooms are well designed with a grand color scheme and the latest fittings installed. They are functional as well as easy to use. Every small thing in a modern bathroom design plays a significant role – from the sink to the tub to every accessory that is there, making it essential that special attention is paid to the tiniest detail possible when you are constructing your bathroom.
Get your washroom design inspiration from our website and let our Noida Interiors team help you design your dream bathroom – just the way you love it! We will help you choose the right design, color, and everything required to make your bathroom comfortable and inviting. Here is all you need to know about bathroom designing.
Designing Small Bathrooms
A small bathroom is a more significant challenge to design as it offers less space to play around with. In this case, it is incredibly critical to look at your available space with a professional eye before you get down to deciding what to place where. To give you a few tips on how you can effectively use the bathroom space, let us tell you that there are various color schemes, lighting, tile options, and accessory placement tricks that can play a broad role in making your bathroom appear spacious.
Colors Decide the Look of Your Bathroom!

 
The color combination you use in your bathroom largely depends on the bathroom size. While using darker shades like blue and red give a luxurious feel and are perfect for ample bathroom space, light color tiles give an illusion of a larger area. Bright color ceramic finish tiles that reflect light also make space seem larger. Using light color tiles for your kids' bathroom is a good idea as children tend to be more comfortable in lit spaces than dark ones.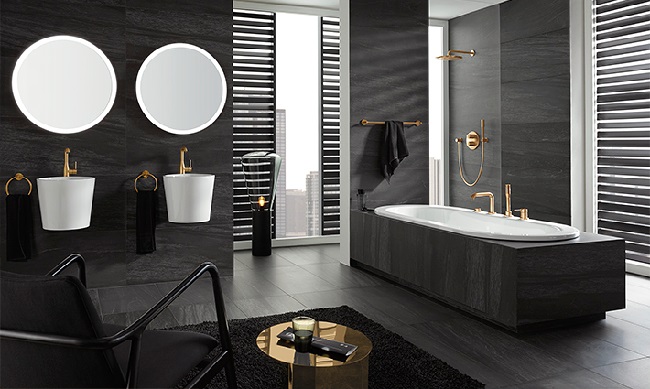 Designing Bathroom Walls and Floors
Before you start buying your wall and floor materials and accessories, you have to decide the type of look and feel you want your bathroom to have. So if you want a rustic country like feel, you can go for sturdy wooden floors or tiles with an oak finish. If your choices are more inclined towards a trendy look, you go for synthetic tiling or ceramic ones that look modern. You can even go for marble flooring if your pocket allows! Water-resistant wallpapers also look great in bathrooms.
Bathroom Lights

 
Lighting can change the game! Placing your lights strategically like putting them inlaid into mirrors or cabinets, changes the game of any space. Similarly, the lighting plays a significant role in defining how your bathroom is ultimately going to look. Ceiling mounted lights are ideal for bigger bathrooms. Small bathrooms start looking brighter and welcoming with nicely done lights.
Here Are Some Popular Bathroom Decor Ideas!
Minimalist Bathrooms:


Minimalist bathroom designs entail plenty of open spaces with minimum accessories. Here bath, sink, toilet and shower are placed together and as efficiently as possible. This design gives a sleek look.
Modern Bathrooms:


Modern bathrooms are similar to minimalist ones but are just a bit trendier in terms of their color combination and imaginative accessories. These meet the popular benchmarks and are designed in a way that allows the designs to change along with the trend.
Eclectic Style Bathrooms:
Here, you try combining things like wood, concrete, ceramic tiles and metals to give an effect of colors and textures. It is essential not to go overboard with this type of look as it can go wrong if done in excess.
Country/Rustic Style bathrooms:
These are traditional, warm and cozy. The country-style bathroom designs use ornamental features like floral arrangements, scents, candles and floral wallpapers, and even floral tiles with textures. These give an old-style feel with the usage of wooden panels with luxurious baths. Everything about this style of bathrooms is elegant and classy.
Having read this article, you must now be able to imagine your ideal bathroom and feel ready to get going. Make your research more robust and then approach a reliable professional to help you get to your dream bathroom. For more ideas and information on home designing and decor, follow our blogs and keep yourself updated about the latest trends and techniques.
Contact Noida Interiors for all your interior designing requirements