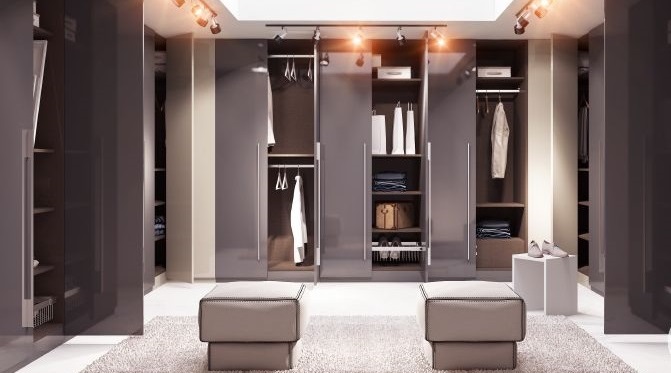 A modular wardrobe has been a blessing to humankind. Ever since the modern interior style started trending, minimal designs became vogue. Today, a significant focus is given to sleek and functional fitments instead of ornamented antique pieces. This transformation has completely changed the dynamics of interiors. As the name suggests, modular furniture pieces are mass-produced, easy to assemble items that can be modified as per the requirements. A classic example of a modular furniture brand is IKEA.
Contemporary homes love to fancy these chic pieces due to their versatility and functionality. A modular wardrobe comes with varied storage options and spaces that were absent in ancient almirahs. This is the reason why people depend more and more on modular designs today. In these overly populated times, when every inch of space comes with a whopping price, it is essential to delve into modern storage solutions to utilize every nook.
Before you indulge yourself in the mesmerizing world of modern wardrobes, take a look at the different possibilities and how to achieve it. Here is everything you need to know about Modular Wardrobe and Storage:-
Wardrobe Materials
Modular wardrobes can be constructed using various materials. Depending on the aesthetics and the budget, you can decide what works best for your bedroom interior.
Particle Board
Particleboards are relatively new in the market but have completely taken over the industry. They are made up of wood chips glued together and pressed as long sheets. These low-density alternatives are flexible and can be bent into any shape. Particleboards are super affordable when compared with MDF or plywood.
MDF
Medium Density Fibreboard (MDF) is an engineered wood made by breaking down wood pieces into fibers. These fibers are then glued using special resin under high pressure and temperature. It is a more reliable and durable option.
Plywood
Plywood is sturdy and one of the most expensive materials to make a wardrobe. They are relatively costly; therefore, only luxurious projects make use of plywood for storage units.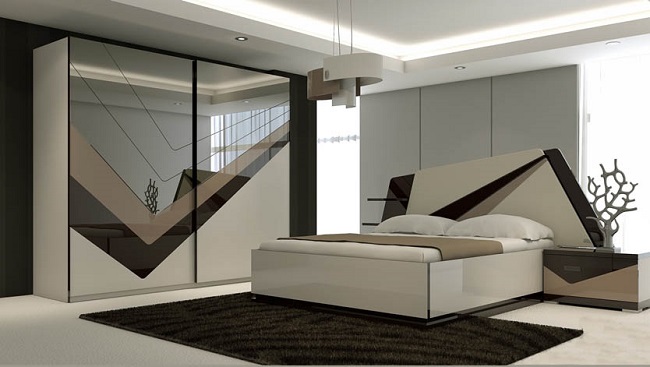 Essential Aspects of Wardrobe Design

 
Before delving into the aesthetics of the wardrobe, it is essential to know the technical side. Building a wardrobe requires a decent knowledge about the shape, size, and hardware necessary for construction. Even if you are planning to invest in a pre-built wardrobe unit, make sure you pay attention to these details to get a perfect shelving experience.
Size and Depth of the Wardrobe
The size, depth, and orientation of the wardrobe will help you determine the price. But it also impacts the ambiance of the room. Therefore, the first step involved in the construction of the wardrobe is to analyze the bedroom area. Try to optimize the space by designing storage units as much as possible. You can go for L-shaped wardrobes to utilize the corners of the room.
When it comes to the depth of the wardrobes, the standard sizes are 18-inches and 24-inches. In smaller rooms, having an 18-inch wardrobe will make the room look spacious instead of covering excessive volume.
Door Type
The type of doors directly affects the price of the wardrobe. Traditional hinged doors are cheaper but they look outdated. The sliding door is the most popular door style but offers great storage and functionality. Especially if you are dealing with smaller rooms, unlike hinged doors, sliding doors do not cover much space and look elegant.
Interior and Hardware
Shelves, drawers, hangers, hinges, mirrors, handles, sliding shelves, cloak hangers, and tie hooks; the options for customizing the wardrobe's interiors are endless. You can easily create a bespoke wardrobe design for your bedroom based on your needs.
Today, wardrobes are installed with LEDs to brighten up space inside. There are plenty of ways in which you can design a stylish wardrobe by highlighting its features. A well-lit storage unit will increase its functionality and lighten up the area around, thus making navigation easier.
Unique Modular Wardrobe and Storage Designs 
Foldable Beds with Wardrobes
Modern-day living is all about smaller spaces and less moving area. In such situations, a foldable wardrobe and bed unit can be beneficial. A full wall covered with storage units with a section opening up as a bed looks sleek and stylish. Additionally, it provides a lot of open space, which can be used for carrying out daily chores.
Gorgeous Façade 
Gone are those days when wardrobes had boring wood paneling. Modern units come with endless options for creating beautiful finishes using veneers, mirrors, and decals. Explore all the options and figure out how it will help in creating a cohesive look.
Floor Storage Options 
A lot of people do not experiment with floor storage units and miss out on a golden opportunity. You can build storage boxes under the bed or couch. This extra space could be used to store mundane things instead of just leaving the area to collect dust.
Storage beds have been in trend for quite some time and they are here to stay! Other furniture like sofa, coffee table, and bedside table can also be equipped with storage units to maximize the space.
Walk-in Wardrobes
Often considered as a luxury, walk-in wardrobes provide a sophisticated space for keeping clothes. Nowadays, people are renovating their existing rooms to create a dedicated space for wardrobes.
These were some simple things to keep in mind before creating a working wardrobe plan for the bedroom. Make sure to explore and experiment with the latest materials. Modern modular wardrobes today come with automatic doors and sensor lights. These features can help you in achieving an opulent lifestyle.
Contact Noida Interiors for all your interior designing requirements