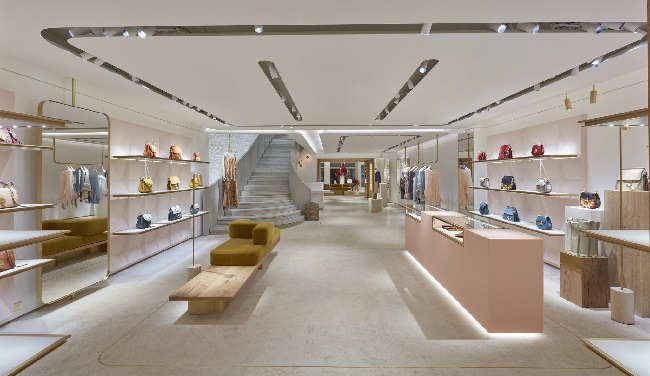 In the current digital age, we can buy the world at the click of a button. Then what must brick and mortar stores do to lure their customers in? The retail shops have to provide something to their clients that online stores can not and the minimum that can be done is to be able to provide an eye-catching and aesthetically pleasing experience to the customers.  From providing a unique customer experience to innovative store interiors, we will break down the major trends in the retail interior design below.
Retail Shop Design Ideas
Sensual Experiences
To outdo the appeal of comfortable online shopping, stores have to cash in on customer experience. The most significant difference between online and offline shopping is a tangible experience. Stores should emphasize providing a holistic experience involving smell, taste, and touch, which is otherwise inaccessible through online shopping. The atmosphere of design in the shop must be such that it cultivates a quality time for the visitors.
As experienced designers, we can bring the place alive with innovative floor plans, shelving, and lighting. Attractive interior designs will boost impulsive buys. Through incredible interior designs, stores become workshops where customer involvement increases.
Better product displays and personalized experience value will, in turn, increase their incentives to visit the store and make the customers loyal to the brand.
Know Your Audience
Keeping your target audience foremost is the easiest way to hit the sweet spot of retail interior design! It lays the foundation for a memorable consumer experience. Inculcating elements that appeal to your particular clientele is a process that has to be handled expertly and quickly to help you stand out. Just as with graphic design, if your brand is technology-related, the interior scheme has to be sturdy and sleek!
This is the ideal sector where we encourage monochromes' use to highlight the power of the brand. Similarly, high-end brands often opt for a chic black-and-white element to provide a sense of exclusivity and luxury through their store design. As opposed to a children's store, where the focus should be on bold colors, creative shapes, and interactive interface. Following this principle makes the brand look customized just for your consumer.
Sophisticated Ambience
Going green, by no means allows you to be sloppy! Sophistication is the word today! Cramming shelves with goods will get you nowhere. People are often looking to witness refined displays that ooze sophistication today. Thus, inventory is mostly just reserved for the best sellers and newest releases. Sleek designs for exhibiting only such prized possessions will increase the value of the products instore. Sophistication in the use of natural materials, artwork around the place, and universal language of design are essential.
Wayfinding Concepts
Flooring patterns and designs have always been used to guide and navigate shoppers through the store. New trends such as brass inlays in marble or concrete, wooden slats alongside polished marble, and so on are chic ways to introduce this traffic regulation instore.
Similarly, the placement of goods and items around an area where design is pivotal requires careful planning. With popular items placed centrally or along the periphery, things can get boring fast. Innovation in design is what we strive for. Directing consumers to valuable or eye-catching products can be defined entirely by efficient wayfinding layout design, which is an integral part of retail interior design.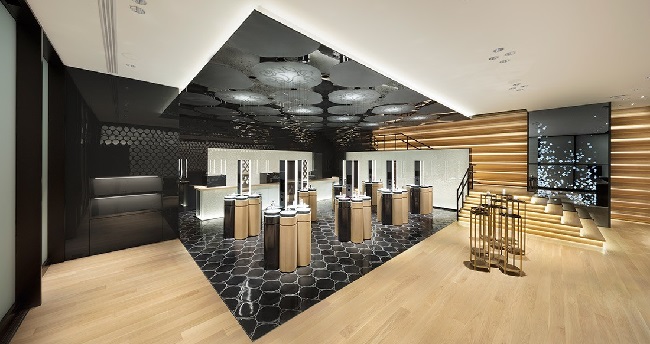 Bold and Beautiful Colour Schemes
The use of color or its absence can significantly affect your brand. We have seen a rise in jewel-toned colors like velvety emeralds, deep blues, and violets being used alongside stern greys and delicate whites effectively. Wallpapers are back in fashion and can add a spotlight on a feature corner in your store. Similarly, including metal wall panels such as Corten steel, copper, brass, etc., as opposed to old-school woods, can add instant glam when used tastefully and are highly sustainable!
Industrial Sophistication
The clout of industrial design is not going to diminish any time soon. While it's no longer entirely rough and rustic, integrating live-edge tables with smooth marbles, and sleek lighting fitted underexposed wiring, are new ways of holding clients' interest. Similarly, exposed brick or concrete can be complemented with matte-black elegant racks and plush area rugs and sofas. The aim is to create a comfortable yet unique setting that pulls the customers in.
Mixed-Use Design
As designers, we can help ensure that customers show increased interest in spending time within your store, which will boost sales. Adding outside elements in the store through design is a sure shot way to attract customers. From hosting incredibly designed cafes to relaxing spas, incorporating different amenities within your store interiors is the key. We can guide you through practical yet straightforward designs; you can also turn your store into a gallery, so people can eye exquisite items on display while shopping their staples.
A mixed-use space trend also is furthering a welcoming and homely feel in stores. Making it more open, comfortable, and clutter-free for clients to unwind and stroll along the shelves is the concept!
Brand Story
The brand story is the most integral part of a store and must be integrated into design smartly. The history of your establishment will connect you to your consumers and bring them closer to you. Through artwork, material usage, display techniques, and interactive gadgets, we can easily describe your journey through design. Thus, just by entering your store, a client will understand and support your brand values, and you will have a trusted client base for life.
Go Green
Consumers are highly informed and concerned about the environmental outlook of a brand. As a retailer, to stay in the game, sustainability has to be tightly knit into the design of the store. The lighting system, ventilation, water system should all follow strict sustainability rules. Getting a competent designer to undertake this responsibility of fitting the store with ideal schemes is the first step.
Using environmental-friendly materials in and around the store, aesthetically makes a powerful impact and statement. Recycled or green materials like biodegradable mannequins and clay tiles, along with plants within the store, can create a healthy atmosphere inside the store.
Digital Vibes
Technology has brought the consumer into online shopping and now we need it to get them back into stores. It is vital to add digital benefits by opting for advanced technologies that seamlessly blur with clean design. Again, customer interaction with the overall design is the way out. Including digital mirrors, interactive fitting rooms, instore restocking options, etc., while assuring privacy and the elevated shopping experience will make your brand a hit.
A striking retail design is more essential than ever. A lasting impression in-store is what will draw the customer in the second time, and we can help you achieve this flawlessly.
Contact Noida Interiors for all your interior designing requirements