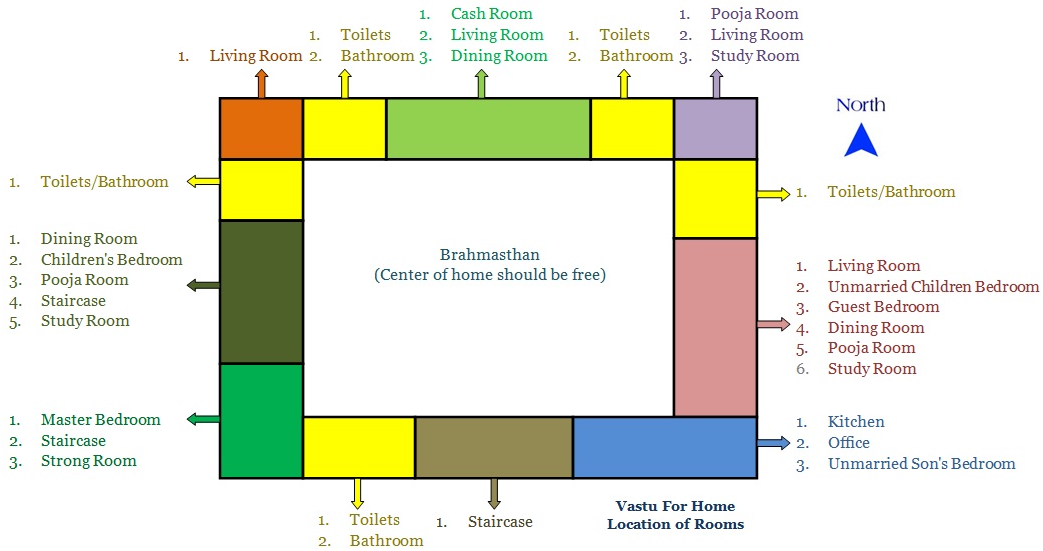 In real estate, one trend that has been constantly in demand is the trend of Vastu compliant homes. For a house to become a home, it is very important for the right energy to flow in it and this can be made possible by following the basic principles of Vastu Shastra. Keeping this in mind, we have specialists that provide one of the best Vastu consultancies in Noida. In other words, we don't just do interior designing, we do Vastu compliant interior designing.
Important aspects of Vastu Shastra
Direction is a very important aspect of Vastu Shastra. There are a total of eight directions and for each direction, there are specific rules. North, South, East, and West are known as cardinal directions and the point where any of the two directions meet is called inter-cardinal or ordinal points like NE, SE, SW, NW. According to Vastu Shastra, each direction of a house is beneficial in one way or the other and placement of the right things in each of these directions provides positive energy, good health and wealth to its residents.
Another important aspect Vastu Shastra is the correct placement and use of the five elements – air, water, fire, earth and space. Vastu Shastra can be applied by keeping in harmony with these basic five elements of nature.
It is important to perfect both these aspects in a home in order to gain more happiness and also lead a more spiritually enlightened life. Vastu is an art in itself which combines with nature and the other elements of cosmos to make an act of design.
Important Vastu areas of any house or apartment
Vastu for the main entrance
Vastu for bedroom 
Vastu for kitchen
 Vastu for Bathrooms
Vastu for living room
Vastu for a meditation room or Spirituality
Vastu for Courtyard
Benefits of Vastu Shastra
It is a well-known fact that people who actually live or work in a surrounding that has been constructed in compliance with the principles of Vastu Shastra, lead a better and happier life. Vastu Shastra helps people to harness the benefits of cosmic forces, solar energy, lunar energy, etc to their advantage. The most important benefits of Vastu Shastra are:-
Good health
Comfort
Prosperity
Harmony and fulfillment
More attention is paid to the place regarding ventilation, color, design, material, element and direction.
However, Vastu Shastra is immense and abiding by it's each and every principle can be a very challenging task especially if you are moving into a ready to move in apartment or home, but, there are several ways to come around things. At Noida Interiors, designers and Vastu consultants work together to understand the situation of each client and then design homes that are both Vastu compliant and aesthetically beautiful.
Contact Noida Interiors for all your interior designing requirements