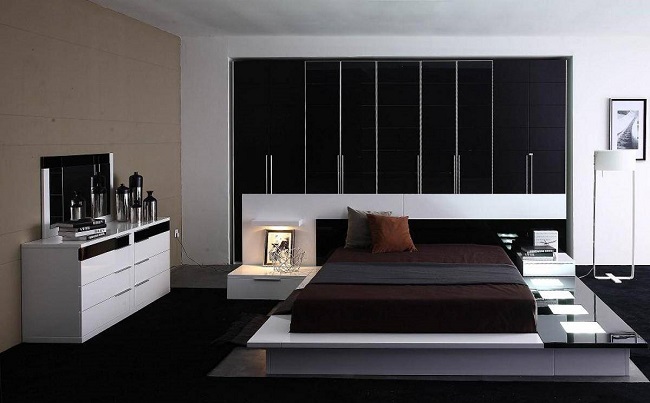 A simple approach that sets us free from the tiring day by stepping into the ambiance of our comfort zone, termed as Bedroom design, is inspiring to escalate passion and zeal into our dream home. Discovering the Bedroom design that reflects your lifestyle and comfort level is truly recommended. It prepares for a calming set-up that is perfect for wining goodnight's sleep and welcomes success come morning with a refreshed and energetic feel. A bedroom is a place where we begin and end our day and so we need to have bedroom designing ideas that are both functional and aesthetical. The Interior designers at Noida Interiors have years of experience of modern bedroom designing, giving luxurious, elegant and cozy bedrooms to clients in and around Noida.
Elements of Bedroom Designing
Colors:
 Neutral walls are a significant choice to blend with modern furniture pieces. Shield your walls with white, light beiges, creamy whites, gray hues and tones to empower the furnishings to radiate through distinct colors. Walls with deeper shades and hues are limited from being massive choice with clear and simple lines of modern furniture designs. Select the colors that complement design well but not overpower any wooden or fabric designs involved in the design.
For a perfectly balanced look, imagine painting an accent wall in bold and pops of bright shades that outwits your headboard and other furniture designs, leaving the other walls neutral or white. Blue has commonly used hue for setting calming space.
Emphasis:
Headboard featured walls and dynamic greenery vibes using indoor plants to stand out focal points in the design. Hang some vibrant paintings or motivational arts that inspire rather than just following plain gloomy décor schemes.
Form:
When decorating a theme with the shape or geometric patterns, it needs to be balanced with the right textures or styles of the design. For instance, when a bedroom design runs around circular patterns, try to inculcate concentric circles around headboards, circular pendant lights over the study spot or bedsides and circular area rugs under the bed. Curve shape also symbolizes modernity which can be displayed through curve furniture designs or wall décor elements like wallpapers, wall panels, or ceiling designs.
Aspects of Bedroom Designing
Space Design:
Space design is described as the layout of the space designed according to the room's functionality, placement of furniture leaving space for circulation and activities to be accommodated to bring a clean, refreshing look.
Space-saving ideas like inbuilt headboards, wall mounted side tables and consoles should be incorporated as it serves aesthetics without compromising on functionality. If the bedroom space is quite big, try to integrate walk-in wardrobes for Individuals who enjoy shopping and dream about having arranged all the accessories in an organized manner at one place within easy access. A window seat creates a focal point and inspires to be an adorable reading spot.
Design layouts depending on a few factors that serve the purpose of the space differently, such as Master bedroom, kid's bedroom, guest room, teenager's room.
Furniture design:
When you have a big space, you could play with different choices, but with smaller bedroom spaces, one must be creative at using multi-functional furniture designs. Built-in house bed, bespoke bookcase, low-profile beds, platform beds, under-bed storage, minimal clothes store with glass closet doors, bookshelves behind the couch, bespoke furniture reveals the sense of modernity to the bedroom space.
A bright accent chair elevates the design scheme. Touch of wood would also bring nature vibes in the design with bed designs, side tables, window seats, wooden headboard featured wall. Customized furniture embodied with proper size and scale play up the interior's modern aesthetics and functionality.
Wardrobe design provides a great deal in the bedroom design. Wardrobes are specific cabinets used for storing clothes, apparel, accessories, jewelry sets, Blazers, etc. Wardrobe designs vary with respect to colors, finishes, size, dimensions, number of doors, types of shutters, and shelves arrangement. It can easily blend with the materials and finishes used for a bed. Types of wardrobes are wall-mounted, free-standing and walk-in wardrobes with varied shutter mechanisms such as swing shutter, sliding, and folding screens.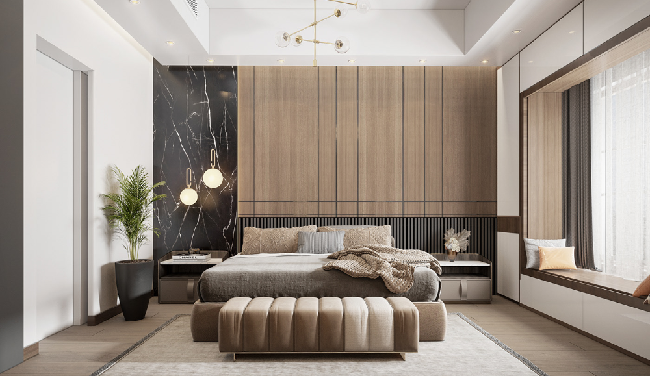 Furnishings and wall decor options:
The featured wall is designed with varied options, namely bold accent colors, fabric panels, wooden panels, upholstered panels, 3D wall panels or wallpapers, embossed wallpapers. To enclose the wire ducts, wallpapers or boards are used. Upholstered wrapped over the bed frames and accent benches signify the modern look. Statement wall clocks, hand-made paintings, and sconces, geometric shape cushion covers, velvet fabric covers are other accessories that can enhance the bedroom design.
Ceiling design:
Ceiling design is another excellent option to enhance the beauty of the interiors of a bedroom. Depending on the height of the ceiling, preference to conceal the wire ducts, idea to elevate aesthetics with lighting design, people opt for false ceiling design. The model runs around with basic shapes like rectangle, circle, and square with preferred accent lighting using LED strips and favorite materials to build it. Commonly used materials that bring modernism are gypsum, POP, PVC, glass.
Appropriate Lighting:
The most desired way of lighting can be obtained with natural daylight. Artificial light has to be introduced into the design when there is a lack of daylight, to enhance aesthetics. Most preferred lighting techniques are:
Accent lighting helps to highlight a particular space or surround the photo frames or arts on the wall. Spotlights, pendant lights, chandeliers, wall sconces are the best examples. LED strip lights are used to enhance the beauty as it comes with numerous color options that leave the space with varied essence of moods with or without daylight.
Ambiance lighting stands out as general lighting that serves for the entire space mainly fixed over the false ceiling. Recessed and downlights are commonly used lights. Multiple lights are incorporated depending on the size of the room. The standard distance between each recessed light is maintained around 3 feet for safety purposes.
Task lighting is preferred when a particular task has to be achieved. Table lamps on bedside tables, floor lamps, desk lamps are used.
Ergonomics:
To ensure comfort while sleeping, the bed length should be 250mm longer than an individual's height; based on average heights, beds are produced in a range of standard sizes 900*900, 1000*1900, 1000*2000, 2000*2000 mm. The standard height of the bed from the floor must be around 1'3".
Flooring:
Flooring plays a crucial role in reflecting with bed designs, color schemes, and design patterns. So, choosing the floor look with great colors, finishes, layouts and patterns with reliable shapes and sizes is recommended. Materials used to provide excellent floor look are hardwoods, laminates, concretes, stones, marbles, and carpet tiles with gray, white, blonde, muted colors. Original layouts or patterns used are chevrons, geometric tiles, mixed width, graphic checkered tiles.
Marbles and stones are polished to provide a glossy finish and to maintain the life of the flooring. Wooden flooring is treated with appropriate surface finishes to ensure durability, scratch resistance and easy cleaning. Grain patterns present on the surface of the wood imparts a decorative look.
However, the modern bedroom style has been in trend for over a decade now. This style all about statement wall décor accessories, lighting fixtures, furniture pieces, furnishings, rich gray tones, texture layering and clean-lined silhouettes that perfectly replicate one's lifestyle and personality.
The designers of Noida Interiors keep all these aspects in mind and then design bedrooms according to our client's personal preferences. We find ourselves using the bedroom space not just for a power nap but also for sitting back with a magazine or sterling novels, viewing a bit of television, a spot to work, etc. Hence, a place where we spend so much time of our lives needs planning and designing with perfection so that we look forward to enjoying it every day of our lives. If a bedroom space confines more daylight, we need to shift the appearance by complementing with dark colors and vice versa. Bedroom lamps, pendant lights, chandeliers, and floor lamps are some of the other essential accessories that need to be chosen and placed in the right way. It is impossible to put all of this together all by yourself; hence, bedroom designers play a vital role in getting the bedroom of your dreams.
Contact Noida Interiors for all your interior designing requirements