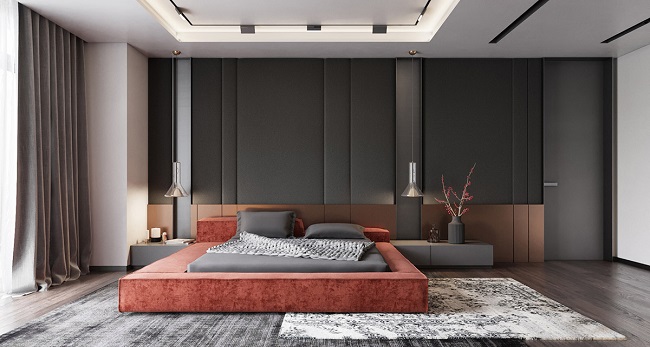 The love for contrastingly muted and pompous designs deepens in modern bedrooms. Be it an all-leather tufted bed or bare geometric pieces; the rule is balance. An antidote to chaotic urban life, a modern bedroom should have room to breathe while the statement pieces are left to thrive! Let's explore a few of these crucial trends of Bedroom designing that can inspire you!
Modern Bedroom Design Trends
On The Panel:
It's nearly impossible to resist the enhancing qualities of panelling. Panelling in bedrooms helps add an extra layer of texture and color.
For a Scandinavian contemporary bedroom, swap the headboard for vertical fixed slats made in pinewood or painted a shade of white! Alternately, leave the planks unfinished and raw to bring in a rustic country-bedroom vibe!
The classic, unfussy portrait panels in white, while blending in, make white walls less bland and forms a perfect intricate backdrop for the furniture. The Jacobean style thick-grid panelling, painted in a robin-egg-blue meanwhile, adds immediate impact, making it the focal point of the bedroom. Another variation, metallic trimmings while historic, holds a modest lead in modern bedroom design too. One can also run panels covering only the lower-thirds of the walls, on all sides, for a unifying element that won't dominate.
Lastly, mixing two panelling styles tastefully without overpowering the space, can create a cozy, moody aura perfect for bedrooms.
The New Neutrals: Just a Splash
Wall panelling or not, a sprinkle of light colors or textures bring life into the bedroom.
While pastel and all-white bedrooms will remain timeless, we can also gravitate towards warm, earthy undertones or opt for calming, watery notes of pale blues and greys. However, we can blend spring and autumn in the overall color palette, for example, adding a muted red brick fabric upholstered bed against an earthy ochre wall.
Want to evoke a bold personality in your bedroom? There's a growing trend of moody, velvety jewel tones, emerald, deep teal, vibrant avocado green or wine reds introduced strategically with neutrals, bring in elegance like nobody's business. Top it all with touches of metallic shades like gold, and you call on some drama and punch!
Magnetic chalkboard or matte black on walls can be carefully dropped into the bedroom for a den-like masculine tenor. Finally, you can also opt to paint your ceiling in a pop of color to create hitherto unseen visual interest.
Raw Luxe:
With the advent of an all-round environmental awareness, natural has become a way of life! You echo this in your bedroom with the inclusion of organic elements, but with a luxurious twist! Think of a marble inlay on a textured plaster wall! Similarly, brass or copper inlays on polished, or untreated concrete and wooden floors are great additions for a luxury bedroom!
Sticking to the natural run while picking fabric for upholstery, curtains, rugs, or wing chairs, the hottest way to bring plush comfort into the bedroom is by going for velvets! Similarly, linen, cotton, and burlap, in jewel hues or with metallic trims and as sheers, are excellent ways to accentuate this trend.
Likewise, the flaws of materials like wood can be highlighted with live edge side-table and headboard.
Last, of all, a modern trend to bring in vitality and fresh air into the bedroom is greens! Potted, leafy plants added strategically help reduce stress, boost creativity, and brighten up the corners of a bedroom without costing a fortune.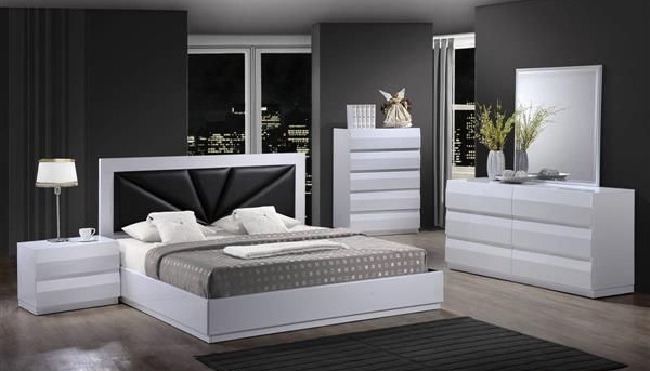 Industrial Trail:
You can introduce rugged, modern energy into your bedroom with industrial elements like an exposed brick wall as an accent wall, exposed ducting, stage-lights on the ceiling that drop focus onto the bed, and sturdy, and slim-profile, black frames on windows and doors. This high contrast, black-edged design can also be made into a room divider, wall-extension, and shower screen for your master bathroom. Add a frosty glass in the frame, and you have a bathroom door in this versatile style!
Mirror, Mirror on the Wall:
Personalizing the walls in your bedroom need not be governed by art and colors alone! The addition of mirrors into a bedroom is not only functional but also highly aesthetic. While wardrobe shutters are the best place for a full-sized mirror, the chic, freestanding mirror that can be shuffled around the room, is an exquisite fashion too! For instance, a long dressing mirror framed in sleek black metal or polished wood looks impressive and works best with modern minimalist and contemporary bedrooms.
Mirrors also make for dashing décor. Not just rectangular, you can also tap into ornate frames on walls to make your mirror stand out. Again, foxed, mottled, or distressed-style mirrors create an instant buzz in the bedroom, adding an aura of mystery through dull, patchy reflections.
Placement of mirrors needs to be strategic too, say placing a mirror opposite the window reflects more light and makes the room bigger. However, that need not be the ideal spot for all bedrooms. Again, it's easy to over or under-decorate the mirror area. Picking essential yet stylish items, or a fitting dresser to pair with the mirror is crucial for a put-together modern bedroom.
Wall Art
Art on walls makes a staggering display of your characteristics that paint would struggle to achieve! Maximalist framed painting or photograph in colors or monochromes can dominate a single wall or mural wallpapers, and botanical decals can decorate the entire space. Or you may pick a theme and cluster a few items to form a display on a subdued wall. Either way, they leap off and draw attention! Lastly, you can hit the height of decadence with a wall-tapestry. Talk about your art-deco bedroom!
Modern bedroom designing has been gaining popularity for over a decade now. A modern Bedroom design layout emulates a fussy-free and glossy look. Interiors can be filled with homely-accents chose from a massive collection of stunning bedroom accessories and refreshing color schemes to recreate the refined decorating style. Embrace the warmth of nature with wooden textures brought to the bedroom design that incorporates wooden bed designs, wall panels, and wardrobes.
Contact Noida Interiors for all your interior designing requirements