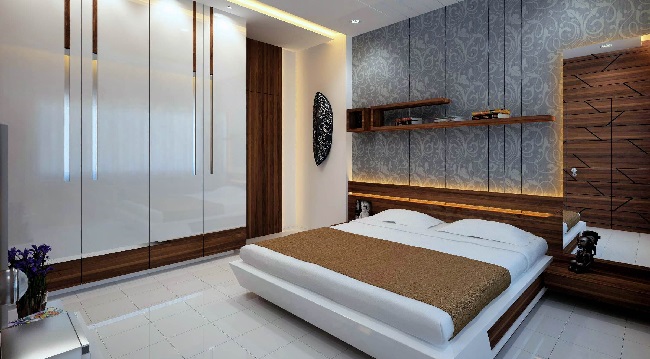 Wardrobes act as a storage cabinet to house the collection of clothing, accessories, blazers, knickknacks and sporting stuff. Wardrobes are designed based on an individual's personal preferences, needs and requirements. Other important considerations are – the type and size of bedrooms it will be accommodated in, numerous color choices, customized dimensions that fit the space, number of doors, shelves partition, types of shutters, materials and finishes that will be used. It is important to make sure that the wardrobe blends well with the overall design of the bedroom.
Different types of Bedroom Closets / Wardrobes / Cupboards
Based on layout design:
A free-standing type of wardrobe
This is a traditional compact type of wardrobe that is portable and is used for smaller space design.
Built-in type wardrobes
These primarily use less space and provide an elegant and decent look. The following types are the best examples of built-in type wardrobes.
•To convert any unused space to storage space preferably in larger bedrooms, a walk-in wardrobe is the best choice to create a partition and use space for storing accessories, usually heavy garments or collections in an organized manner with the seating arrangement. Preferred type: master bedroom.
• A wardrobe with enclosed drawers and open book-shelf combines easy accessibility with closed and elegant design. Bookshelves can be placed with various layouts to serve different functionalities, for instance, an L-shaped wardrobe. Preferred type: kid's room, master bedroom in smaller apartments.
• Wardrobe with dresser is a perfect choice for arranging accessories within arm's reach in a more organized way. A LED light placed below the wall cabinet adds extra elegance to the design. Preferred type: couple's bedroom.
• A shutter wardrobe with working unit type is highly preferred as it is utilized as a study unit in a teenager's room or working unit in the master bedroom. It is usually attached with wardrobe to one end and open or closed bookshelves unit above the desk for storing necessary stuff. A light under the cabinet or table lamp adds lighting to space for better work.
• Loft shelves are specific kinds of cabinets installed over the wardrobes for additional storage to accumulate seasonal stuff such as blankets and other clothing or rarely used stuff. Panels are fixed to sustain weight over the closets and to avoid warping of shutters. Preferred type: master bedroom, kid's bedroom and guest bedroom, grandparent's room.
• Twin wardrobe is symmetrical in design with closed or open shutter types design.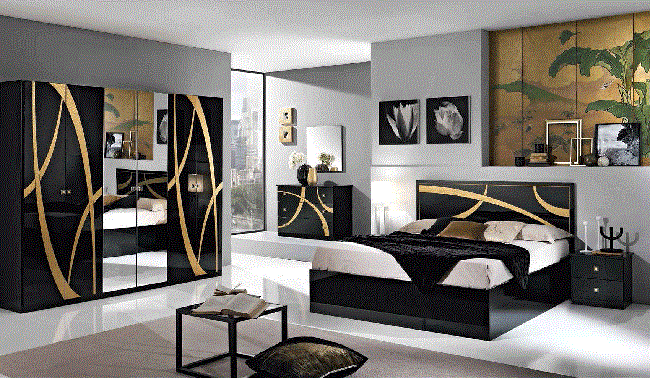 Based on shutter design:
• Sliding shutter type wardrobe is preferred for small rooms with confined space and is designed with overlapping shutter or in-line shutter mechanisms to meet different budgets. The shutters can be customized with a range of finishes like a lacquered, membrane, laminates, veneers, tinted or frosted glass, acrylic and usually, comes with two or three shutters.
• Swing shutter type or hinged type of wardrobe is commonly used and comes with handle or handle-less design and the user must have enough space to open the shutter to access quickly.
• Folding shutter type wardrobe design excites way more than usual designs as it brings aesthetics not compromising on functionality and design.
• In the Designer wardrobe, shutters are printed with floral patterns, cartoon characters, exciting designs to create wow impact. This is commonly adopted in kid's room to entertain without compromising on functionality.
Composition:
Materials:
Designers highly recommend HDF or MDF or plywood as it is sturdy and durable and shutters can be made with MDF or laminates.
Finishes:
High gloss or matte finish laminates, lacquered glass, acrylic, and UV glass for high protection, aluminum, and membranes.
Ideal size:
The ideal size of a wardrobe is 7-8 feet long and 2 feet depth and length are adjusted with respect to space. In order to increase additional storage, lofts would be a better idea.
Contact Noida Interiors for all your interior designing requirements