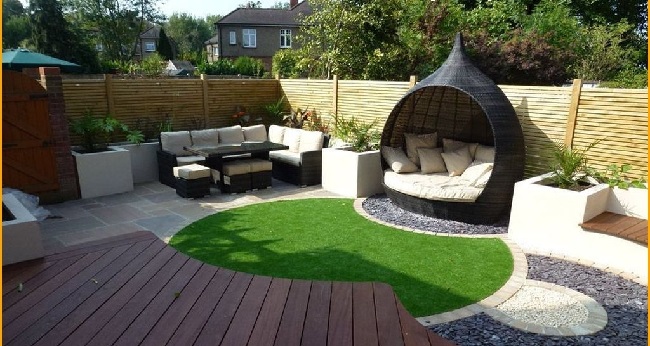 The garden should be an extension of your interiors in both design styles and spirits. This is the space where you are going to relax, spend time with your loved ones, and enjoy the weather. Every home is incomplete without green space. But you don't need to own a mansion to create a stunning garden. Skillful landscaping can help you create a relaxing green space where you can hone your gardening skills and curate serene heaven.
Today, there is no dearth of landscaping design ideas and the whole process can be a bit daunting. But take inspiration from these stunning ideas and give your garden a quick makeover!
Home Garden Landscaping Ideas
Plan Out the Landscape Space 
Without a solid plan, any project looks overwhelming. Hence, it is crucial to plan correctly before starting to redo the space. Look at garden design pictures on Pinterest and make a note of the ones you like! Having the designs handy will help you chalk out the execution properly. There is a myriad of things you can do in the garden, opt for the plan that resonates the best with you. If you wish to make a kitchen garden, make sure you dedicate enough space for edible plants. Or if you want lush flowers blooming at your backyard, dedicate a chunk of space for flowering plants. You can also create zones in the garden to categorically plant all your favorite trees like flowering plants, fruiting trees, colorful flower beds, and so on.
Create a Focal Point 
As a thumb rule, it is vital to have one focal point that will be the cynosure of your garden. It can be an artificial fountain, a flowerbed, or a patio. Ensure that your focal point is proportional to the size of the garden. A small water fountain in a massive garden can get dwarfed.
Have a Relaxing Seating Area
What's the point of creating a beautiful garden when you cannot sit back and enjoy that space? Always try to create a peaceful seating area with comfortable seats where you can recline. Install outdoor furniture that blends with your garden and doesn't attract too much attention. Also, try to cover the seating to block the sunlight and rain.
Follow a Theme and Build Up
Every space looks more cohesive and well planned out when designed under a specific theme. You can extend your interior design style for curating the color scheme for the garden. Or take inspiration from nature to deck it up. Try to be as natural and sustainable as possible because that is exactly what landscaping is all about!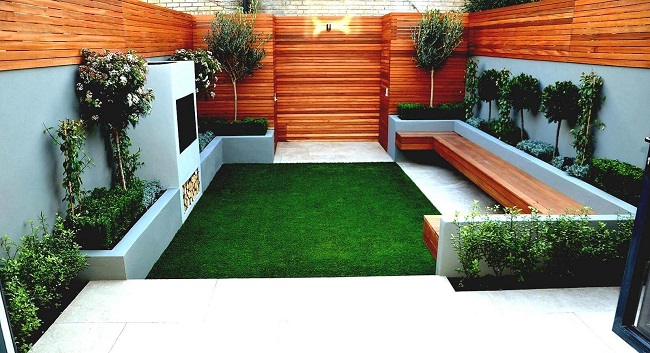 Mix Elements of Hardscaping and Softscaping
Hardscape is all the reliable and robust stuff in your backyard. This includes pebbles, rocks, concrete, sculptures, walls, and so on. On the other hand, softscape includes all the living things like flowers, trees, and plants. Creating a right mix of both hardscape and softscape will make your garden look more 'put together'.
For hardscaping, you can install paths along the way, a gazebo, deck, or inanimate décor sculpture. Try to incorporate patterns using stones like granite or sandstone.
Layer Up the Look
Planting similar trees will make the space look unidimensional and boring. Layer up the garden using plants with varying heights. Hang potters on the patio or gazebo to provide a dimension. Don't let the exterior wall space go to waste. Install a vertical garden to decorate this area creatively. Alternatively, you can plant climbing trees near the wall and let them spread out evenly.
Floating gardens look second to none! If you have a small pond, make sure to utilize this area by planting water plants. In addition, you can create artificial water bodies to grow lilies and lotus. Adding height to the garden can instantly amp up the look.
Lights to Guide You Home
Lighting is the most crucial feature of any space and garden is no exclusion. Think creatively and illuminate your exterior to elevate the vibe. Always try to layer the light to create a charming appearance. Focusing too much light on one space can kill the look. So, spread out lights with lesser intensities to create a unified lit space.
Recessed floor lightings are great for illuminating paths. Try to punctuate the focal point of your garden with bright lights. Today, there is plenty of option available in decorative garden lights ranging from vintage lamps to modular spherical light globes. You can opt for such colorful lights to get a dramatic effect.
Fresh and Fragrant
Luckily, in India, we are blessed with abundant plant species that have a magical fragrance. Include these magnificent scented trees to make your garden experience flawless. For instance, jasmine has enchanting white flowers that only produce fragrance at night. You can mix these with scented flowers like roses so you can enjoy a fresh aroma all the time.
Portable kitchen
Are you a big fan of hosting friends and family? Then do not forget to add a nook for the barbeque parties. Dedicate a space for the cooking area with protected shelves. You can also include portable furniture like a coffee table and storage unit in the patio.
I hope these ideas help you to create your peaceful green refuge. If you find this process challenging, get in touch with our expert team of designers and we can help you design your dream house with a beautiful garden.
Contact Noida Interiors for all your interior designing requirements