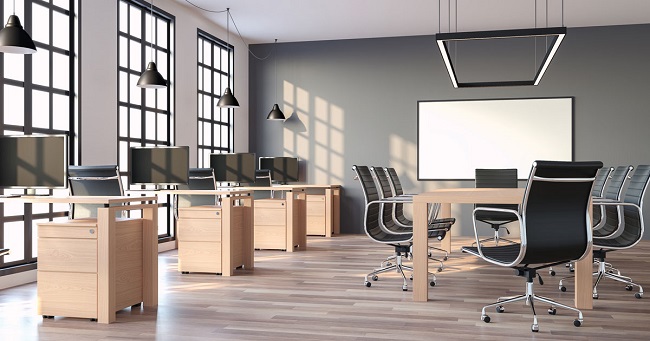 In a day and age where consumer experience is all, it's no surprise that it's also affecting the trends of a place where one would spend most of the day- the office! The young blood, budding stars and innovative minds of today are driven by an experience-based economy. An enriching workspace environment will help attract top talents, boost productivity levels and engagement. Hence, we bring to you the top office interior design trends.
Office Interior Design Ideas & Trends
Layouts With Zoning
If you wish to craft an experience-oriented office design, the well-being and satisfaction of your employees are of utmost importance. For refining the overall physical and mental health of its workforce, office interior designs are now following the hospitality industry in terms of its happiness and comfort levels.
Operation Based Working (OBW) is a design principle that lets the employees choose how, when and where they work while being functional. An effective zoning design can help divide the workspace into sections like cubicle areas, collaboration spots, and rejuvenation zones.
For example, the popularity of open layouts is on a steady rise! Private cabins are most certainly a thing of the past and are witnessing a radical change! Instead of closed compartments, opt for semi-enclosed or transparent arrangements that block out distractions, yet look one with the office. Think of sleek partitions, curtains, or even tall bamboo plants instead of walls!
Thus, while detached workstations provide necessary privacy, community areas improve communication and creativity.
Lastly, most areas should now be equipped with modern automation systems that are hands-free in light of the ongoing global pandemic. Latest technologies like personalized lighting provisions, 3D printers, and even treadmill-desks that enhance the work-place experience can be included in the design.
Home in an Office
Bringing the comfort and familiarity of our houses into the office is the rage today! With more time spent at the office, giving the employees a sense of being "at-home" can help put them relax! Not sure how? We are here to help!
Try adding area rugs, displaying artwork around the office, including an open kitchen, etc. In a nutshell, improve the overall flexibility of the space.
Providing a harmonized mix of regular desks, standing desks, couches, wing chairs, bean bags, etc. can make the experience interactive and customizable for the workers! Contrary to beliefs, assigned desks are often in extremely unsanitary conditions, since most cleaners are not allowed near these "strictly-personal" spaces. Public workstations, on the other hand, can be cleaned thoroughly every day.
Similarly, the option of making yourself a hot cup of tea in the kitchen can be extremely calming, as opposed to the dry foods of the vending machine.
Cutting-edge office interior designs go a step further by including leisure activities for its staff in the office. A game of foosball or table-tennis, beer taps in the kitchen, and lounge areas with video-games can make your break hour more exciting!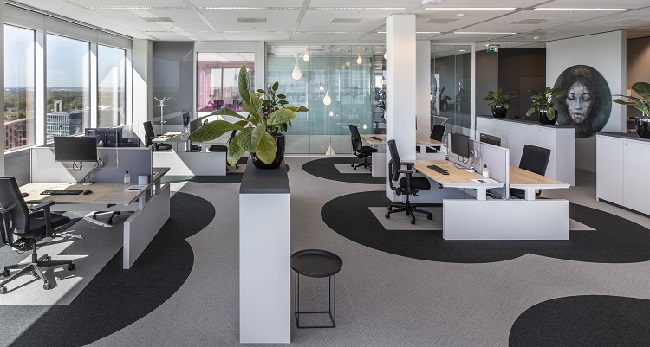 Story of your Brand
Your workspace design should reflect your brand. We can help translate the journey of the company and its history to its interiors. Putting it simply, you can narrate the ideals of your company through its design!
A mix of modern and old is charming and a resourceful trend in office designs today. Companies utilize the existent exposed brick walls, high ceilings, and exposed ducting combined with contemporary seating and sleek lighting!
A stylishly selected mixture of old school and new age furniture can give an extra artistic punch to the setting. For instance, a concrete warehouse wall giving a raw, masculine vibe can complement sleek metal desks and hi-tech computer systems, making the space pop!
Offices are no longer restricted to beiges and creams. Fun wallpaper patterns ranging from abstract art to jungle themes, and vibrant colored paints such as emerald or indigo on feature walls and décor, add a burst of vitality in the office.
To conclude, the old-world charm brings warmth to the ultramodern gadgets, furnishings and equipment around, inspiring your employees and community alike! This can quickly become the focal point of your corporate office design.
 Nature and Sustainability at its Best
'Biophilic' design is the hottest design trend currently.
Embracing plants in the office is the easiest way to bring sustainable and healthy-living into the office. 'Living walls' and moss walls display plants attached to interior walls, making for beautiful backdrops. Having even a little potted plant by your station can take your mind off work for a few minutes daily and help you unwind!
Bringing in as much natural light as possible through a sound design plan can reduce the gap between the interiors and the outside, and is known to improve the staff's performance compared to fluorescent lights.
Most importantly, if the recent epidemic is any proof, we need to up our sanitation game.
A competent designer can help recommend water-conserving devices such as low-flow and sensor faucets, auto-flush toilets, and waterless urinals that minimize the need for touching. Simultaneously, recycling water from washbasins for flushing can be possible with an efficient plumbing design. All these techniques, when applied, expertly help conserve water.
Similarly, ventilation, heating and cooling systems need to be improved to lower risks of airborne contaminants and transmission. Getting an expert to install updated HVAC systems can help reduce energy consumption while filtering air better.
We also strive to source out materials that are non-toxic, eco-friendly and recyclable in a design. Plastic is most certainly a big no! Using lead-free paints, recycled glass for partitions and window panes, chic clay or porcelain tiles, and so on are effective ways to go sustainable. Materials like copper are antimicrobial and are excellent choices for fixtures, handles, etc.
In conclusion, we have noticed that access to some greens, natural daylight, fresh air, and natural materials lift the performance of its employees, and benefit the firm in turn.
Finally, even as we combat the aftermath of this pandemic and the resultant rise in work-from-home movement, companies are welcoming innovative office interior designs that encourage employees to practice better safety and work-life balance. Want to elevate your workplace design from ordinary to outstanding to your employees and clients' delight? May it be just recreating the reception experience of your office or changing its entire language. The designers at Noida Interiors are here to lend you a hand! The balls in your court now!
Contact Noida Interiors for all your interior designing requirements