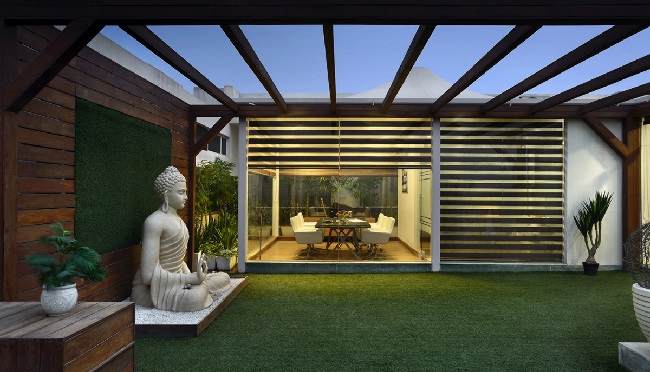 Building a Terrace Garden Has Never Been More Exciting
Here Is All You Need to Know About It!
While most of us remember playing in big lawns and spending our beautiful childhood days picking fruits and flowers from our gardens, today, even the most luxurious homes here in India do not give us this option unless we are ready to shell out that bomb of an amount for our ground floor fantasy! So what's left are rooftops, terraces and balconies and after all, there are numerous ways you can turn these spaces into your own gardens filled with life and positivity.
While the idea of turning your terrace or Balcony into a garden may seem like an exciting plan and you can't wait to get started, there are a few points you must remember before starting this fulfilling journey.
9 Points You Must Keep In Mind While Planning a Balcony or Terrace Garden! 
The Capacity of Your Terrace or Balcony
First thing first! Check the load-bearing capacity of your terrace, balcony, or rooftop before planning a garden. Wet soil becomes much heavier than we can imagine and should be avoided being placed on a terrace that shows signs of weakness and structural damage. Add to this, the additional weight of pots and plants.
Waterproofing and Installation of Drainage on Your Terrace or Balcony
There are multiple ways of installing the water supply for plants and drainage systems for your terrace garden. First, a provision for waterproofing to prevent seepage of water into your rooms should be made and this may require some civil work. Installation of drainage cells and geotextile membrane should be put before putting the soil. Drip irrigation systems work better than the traditional methods of watering the plants.
Install Containers to Hold Your Plant Pots
Pot containers for terrace gardens save up quite a lot of space and give a neat look to your terrace garden. These containers are placed either on stands or bricks, making it easier to clean your garden and ensure proper air passage.
Install Flower Beds in Your Terrace Garden
A raised bed always gives a charming feel to a terrace garden. You can plant your choice of flowers and vegetables in these flower beds and there you go! A whole range of blooms suitable for flower beds are Antirrhinum, Sweet Peas, Pansy, Dahlia, Chrysanthemum, Marigold, Alyssum, Phlox, Dianthus, Verbena and many more.
Follow the Basic Principles of Terrace Garden Landscaping
The first basic principle of the landscaping of terrace gardens is to have a dominant focal point like a statue, a water or rock garden or even a small tree that has been lit up. Another thing to be kept in mind is to have tall, bright color plants along the outer edge of the terrace as that is what holds a visitor's view.
Vertical Arrangements of Plants
To make your terrace garden clutter-free and give a sense of space, vertical gardening holds the trend's top spot. Using climbers and trailers like Ficus Repens and creepers like Railway Creeper, Passion Flower, Thunbergia, Bougainvillea are Climbing Roses ideal options for a vertical garden. It would be best if you also explored the possibility of hanging baskets since these can easily support and encourage the healthy growth of flowering or foliage plants.
Keep it Open
Going for a terrace garden that gives a feeling of space is a set up to go for. Instead of fences, railing or hedges, you can go for opaque glass walls from outside. These glasses along with creating an illusion of space, also block the view from outside and maintain your privacy.
Light up Your Terrace Garden and Balconies
Lighting up your terrace garden would make it look lively and spacious. Always remember that your terrace garden is an extension of you and your home and should be treated with equal enthusiasm. Playing around with different types of lightings is a foolproof way of attaining a top-notch decor.
Plant Mindfully 
Your terrace garden should always be a right mix of seasonal and perennial plantations. Pots and plants of different sizes look fantastic. Try adding color to your terrace garden by planting multi-colored plants along with vegetables.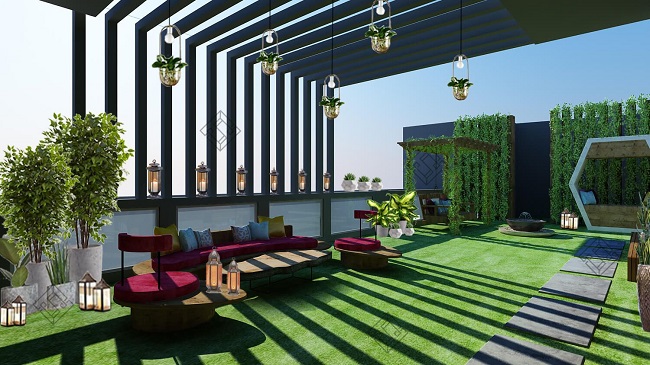 Choosing Your Terrace Garden or Balcony Furniture Carefully! 
Like any other space of your home, your terrace garden is also a significant place where the right furniture has to be put. Doing this goes a long way in creating your vibe and influences your mood whenever you find yourself craving for some alone time or some chilled out weekend with friends.
Compartmentalize
Try dividing your terrace garden or Balcony space into separate areas of dining and lounging. You could have a sofa under a shed along with a coffee table along with a few chairs for those post-dinner coffees and conversations.
Make Your Balcony or Terrace Garden Cosy
Make cushions and throws a part of your terrace garden to give that feeling of coziness. These will also make your sofas and chairs more comfortable. If your home has been done up in somber colors, you can do up your terrace in bright hues. This will give you a feeling of newness whenever you decide to spend your time in your terrace garden.
Using Appropriate Materials for Your Balcony or Terrace Garden Furniture
Outdoor furniture is all you need to give a modern and comfortable look to your Garden. All your terrace garden furniture, fabric materials, accessories, etc. should be put up according to the weather conditions and should be resistant to extreme climatic changes. THIS is the only thumb rule. Go for materials that are resistant to UV rays, water, and dust. Go for materials that come with a warranty for that extra peace of mind. Keep your cushions and throws safely in a box and take them out whenever necessary.
Make Your Terrace Garden a Comfortable Place
Installing, let's say a mist fan or a cooler will keep your terrace garden cool and a comfortable place to relax even on those scorching days. Similarly, a patio heater or fire pits will keep you warm on those winter nights. The fact is if your terrace garden is not equipped according to the weather conditions, half the fun is lost!
If you have been thinking of having a terrace garden in your home, the time is now! With all this information, you are now ready to take those first, second and third steps. There is nothing more satisfying than having your own terrace, balcony or rooftop garden and you will know this when you have the fruits of your labour ready to rock and roll!
Contact Noida Interiors for all your interior designing requirements