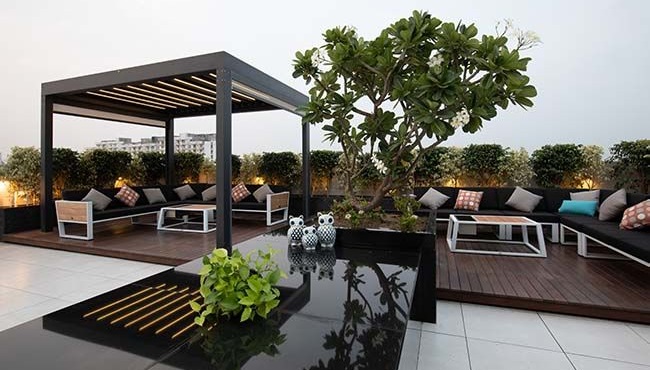 Ever since the concept of 'Green Roofs' and 'Living Roof' is emerging to be the "new cool," we designers and gardeners aspire to explore the most sustainable and aesthetical options for 'Rooftop Gardens'. Fancy finishes and furnishings define our building interiors, but what about the Terrace/Rooftop? The roof is an overlooked and unused part of our buildings that mostly go unnoticed when it comes to decorating and furnishing. However, if you are interested in giving your terrace/roof an identity, we have got you covered. Let's take a look at these stunning tips and options that require minimal alterations and thoughts to transform your roof into an unlimited space for relaxation, leisure, and refreshment.
Rooftop Garden Designing Ideas
Open as the Sky
Open design has the magic to make a small space look bigger. If you have a small rooftop, keeping it open and free of shading devices will automatically multiply the area to a few tens. Strategically using the materials like steel or iron railing and replacing your concrete parapet with glass frames can eventually give your roof more room to breathe.
Fabulous Flooring
Flooring is an essential element of your roof design. It gives a seamless look to your roof and adds a character to your designated style. There are multiple factors to be kept in mind when choosing the most durable flooring for your roof. First and foremost, consider the climate of your area – hot and dry climates are suitable for wooden decking and planks, whereas the areas blessed with immense rainfall should prefer matt-finish slip, resistant tiles. Flooring sets as a dominant base for your roof design, which further interdepends your walls, furniture, and plantations. Using clipped boxwood and limestone paving slabs on your floor could give your space an English look that most of us have always desired. Choose your budget and accommodate your dream theme to the rooftop.
Raised Beds
Raised beds are an attractive and authentic feature of roof garden designs. However, this would require consultation as it is only well-suited if your roof supports. You could use the ones made of wood, metal, modular concrete, or stone depending on your design style. These raised beds are multifunctional and can grow tall shrubs and small plants with an efficient plumbing and drainage system. This method is equally aesthetical and worth maintaining from time to time. You need to ensure the use of waterproofing membrane around the planters and a thick layer of root barriers that would stop your plant roots from growing and damaging your structure underneath. These beds could also be raised by 2-3 feet in the form of raised planters, which have a lesser possibility of harming your surface with better draining and proper growth.
Choose your plants wisely
Depending on your climate and favorable conditions, choosing the most native and in-house plantation would be a smart move to make. Diversify your garden with various plants, shrubs, and small trees complementing their different height varieties and diversities. Do you have an unpleasant view or neighbors hindering your privacy? Use low maintenance, tall plants like bamboos, and grasses that confine your space and protect you from shade while giving you a little garden feel on your roof. You could buy decorated containers of various shapes and sizes to hold your plants and gain an attractive spot on your terrace/rooftop.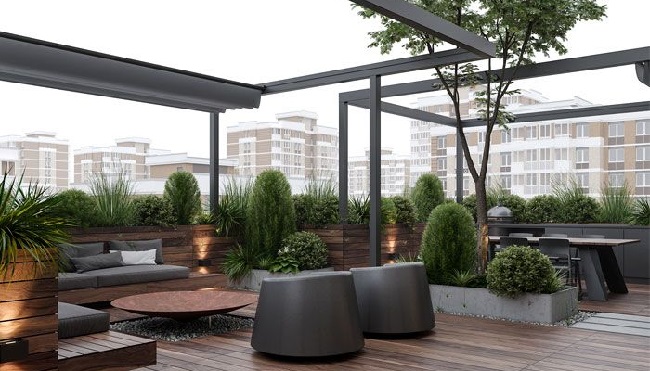 Elaborated Furniture
Your purpose in using a roof garden is directly proportional to the furniture used. Do you want to sunbathe and relax or use the rooftop for an evening get-together with family and colleagues? An elaborate piece of furniture in your roof garden can attract all the eyes to pay a visit. Respective of the climate and comfort, there are multiple types and materials for you to choose; Timber benches and outdoor dining table aligning with your wooden deck flooring could reflect your garden as a seamless space motion. Adding bohemian pillow sets with removable contrasting cushion pairs could be comforting for long-term use. You could even play creative by adding levels and steps to your garden, which can act as necessary additional seating to your space.
The 'Must' Lighting
Lit your evenings with some glamourous lighting around your rooftop garden. An appropriate number of lumens in your roof can create an illusion of your space to look much more significant and brighter. Try avoiding dark spots around circulation spaces and light up your focal area with abundant bollards, floor LED, and outdoor lamps.
Colour Palette is Important
Colors play with human psychology in several ways. We focus on selecting a color palette for our bedrooms, kitchens, living rooms and bathrooms; however, roofs and roof gardens go unnoticed. Are you wondering how to incorporate color in your rooftop? There is a definite tactic for it – do not use more than three colors. Use a neutral color that is chosen to fill your background and avoid all the attention. Try adding an accent color with a couple of following colors to complement the attention of your accent. Your neutrals include beige, white and greys, whereas base colors could be those of your flooring tiles, walls and parapets. To top it all, add poppy and jazzy shades on your furniture or wall hangings to fulfill this essential element.
Decorate the Vertical
This is one of the most space-optimizing techniques – walls don't create a focal point when decorated and make your space look fancier and bigger. You could jazz it up by adding varieties of planters, decorated patterns and an eye-catchy cove lighting. Another attractive option that would require maintenance and consultancy would be 'Green walls.' If you are a big fan of these living walls, try a complete wall makeover that will give your space a 'forest-like' look and indulge your guests in clicking some phenomenal instagrammable pictures.
Mysterious Covers
If you have a spacious rooftop and want several covered and uncovered relaxation zones, try a wooden pergola or a louvered shade to protect you against the excessive sun. These elements are timeless and will never tend to go out of fashion. The materials could be chosen carefully, keeping in mind the theme of your modern or contemporary garden that contemplates with architecture and respects its surroundings. You could wrap around your pergola with multicolored vegetated creepers that go soothing with your space and decorate it while letting a little sunlight penetrating through.
Accessorize it
A garden is never complete without its necessary accessories. Fill up your space with artistic, locally available clay pots to give your shrubs home and hold your planters. Try using various sizes of the containers to mix and match them together – place them on an empty corner by your lounge chair or hang them through the pergolas. You could add a miniature and subtle sculpture as a focal point of your garden. Using natural elements like water features could be challenging but equally soothing for your yoga time in the morning. If you are a preacher of horticulture, this is the right place for you to experiment with your products and grow your nursery!
Does it seem more straightforward to utilize your rooftop with a final creative product? This continuous thrive to be creative and innovative is our approach in all our design stories. We create works with love and assist our clients with the best solutions. If you are interested in having a similar product for your house, get in touch with our experts who can help you design your dream rooftop garden.
Contact Noida Interiors for all your interior designing requirements