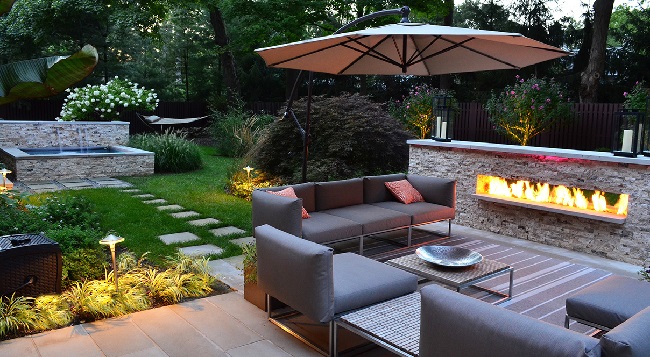 There is no reason why you should not turn your extensive garden, compact patio or box-window into your very own green planet! Want to escape the rat-race of urban living and relax, albeit for a few minutes daily when you are among your greens? Outdoor living, outdoor kitchen, outdoor TV-room- an extension of the interior spaces, balconies are not to be left behind when it comes to designing. Plants are invariably an integral part of home garden design! But there is more to garden landscape and balcony design than just throwing a few pots and plants together where getting expert help solves many questions that may pose a problem. What plants will adapt to the sun conditions and pH level of the soil in your garden? How much compost and mulch do you use? Do you have an accessible water source nearby? Whether you want to design or redesign your Garden, Patio, Front Yard, or your Back Yard, we can draw up a landscape plan that's tailor-made just for you and your little patch of sunshine!
Contemporary Outdoor appliances 
Want the latest technology in your balcony that matches your state-of-art home interiors? Cutting edge patio and garden appliances available today will make your guests swoon! Fire skewers and BBQ grills are is the perfect companion if you are looking to add some outdoor flavor to your dinner! Winters getting too chilly around where you live? We can source some of the sleekest electric fire-places and heaters for you! And lastly, if you are lucky enough to own an expansive garden, may we recommend building a heated pool to wade into on balmy summer's day and a beer cooler within arm's reach? Or if you entertain often, maybe a full-blown beer fridge fit right in? The possibilities are endless, and we are keen to help! The size and space available for your dream patio or balcony design is the most prominent governing factor. A stuffy balcony or an empty garden is not our aim! Before bringing in the beautiful pots and plants, enough room for circulation, the opening of doors, suitable furnishings, etc. have to be assigned.
Outdoor Furniture and Seating
Space efficient and comfortable weatherproof outdoor furniture lets you recreate different "rooms" in your garden. A floor seating with pouffes thrown around for a warm homely vibe, or contemporary sleek seating layout for an extension of the living room. Sustainable materials aside, the focus today is also on multipurpose pieces. The rule is cognizant behaviour!
A great way of layering and freeing up floor space is to build fixed slabs or benches, concrete, brick, or wood, for placing the potted plants or as seats with throw cushions. Raising the edges of your garden, leading to a sunken center is another way of captivating layering. Both options help host an alfresco dining experience.
Nothing says 'relax' like patio or garden swing! Extremely flexible in terms of size, you may opt for a cozy swing-chair on a compact patio or a sprawling bed-swing with oodles of pillows for a lazy afternoon siesta! From durable cane to antique wood and contemporary metal, swings come in all types, and we are sure of at least one holding you fancy!
Top Landscaping Styles for Garden and Patio Designing
Layering:
How tall does your baby sapling grow up to be? Does your garden lay flat or do you add levels to add some pizazz? Layering is an efficient landscaping tool wherein; we help you choose and organize plants according to their height and the highest point of your courtyard. Careful planning and execution to create different heights or anchors, like placing a tall potted plant right behind a stout shrub that spills over its shallow pan, creates a beautiful contrast that's pleasing to the eye!
Skylight and False Ceiling: 
For alfresco dining, putting in a skylight on your patio or fashioning a gazebo in your garden are charming means! A pergola with a retractable canopy or false ceiling rafters imitating a gazebo can be crafted from raw wood for the rustic lovers, or smooth concrete or metal for the ones liking some stern clout! Climbers and creepers, even fruit-bearing ones, are often used for glazing a gazebo roof to boost privacy and shade-factor while blending it in with nature! Bring in some stylish patio furniture, exotic rugs, intricate lanterns, and some deep greens and you have a summer-time haven!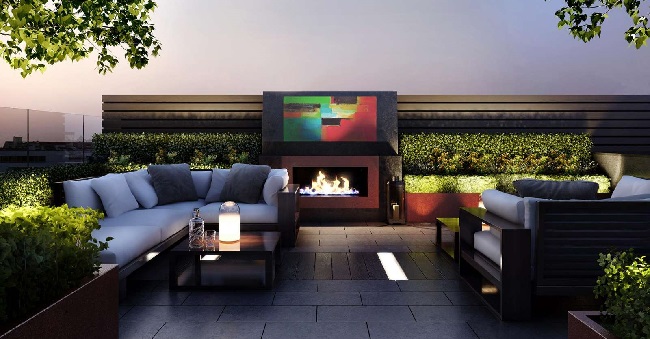 Outdoor Lighting:
An efficient electric system is a must before laying down any pavement or vegetation in the garden landscape. Positioning precisely bright lights that are aesthetically pleasing to throw some dramatic shadows and spotlights creates areas of interest and brings your garden to life at dusk!
Perfect Porch: 
Should you opt for a seamless transition from your interior into your balcony? We can tell you how the porcelain tiles of your kitchen can flow into the polished concrete of the garden floor to tie them down together. When you should let your black marbled living room and raw wood of the patio stand proudly separate! You can also bring back the old world charm of cottages with a cobbled balcony and stone flooring! If you are colorful at heart, don't miss out on the latest eco-friendly clay tiles that will add a burst of shades and shapes to your balcony design!
Feature Elements:
While there can never be too many greens, adding a hint of color or surprise can balance out the drab look. While flashy Moroccon-tiles with their patterns and striking colors are always a cult classic, you can also opt for glossy murals and velvety hues like turquoise and maroons to pop out a wall! A mirror within an antique frame can bring in a mystic freshness while different colored foliage and flowers make the place extremely vibrant! Additionally, it's vital to note where you want your "crowd-puller" to be! Do you want people to take it in an instant they step into your patio or obscure it as a surprise element to be found at leisure? These mark your garden-tales and we will help you write it!
Living Roof:
Have a rooftop that overlooks the bustling city? Take our advice and turn it into your home garden! Perfect work-from-home space, living roofs with its bed full of vegetation, meet the most urgent need of the planet to turn sustainable! Its benefits can be manifold. For example, with the necessary snares, one can harvest rainwater along with reducing emissions of heat and greenhouse gases. Professional help in securing top drainage and waterproofing systems can improve roof life and enhance the quality of life inside the home!
Living Walls:
Running out of floor space? Worry not! A cascading wall of foliage is everything you could wish for a contemporary garden landscape! Efficient and economical for a small patio or balcony, vertical greens made up of creepers, vines and fast-growing bamboos and grass are excellent choices. Once we find you the right species for your customized garden, these can endure intense heat with minimum maintenance!
Hardscaping:
Want to go one step further in the sustainable race? 'Hardscaping' is becoming fast popular as a conscious option for walkways in home garden design! Spaced pavers and bricks in gardens and "urbanite" that is reused concrete on patios, when used correctly, allow for valuable rainwater percolation.
Mediterranean Beauty:
Mediterranean-style patios are high on sustainability with their increased levels of water conservation and low maintenance and all year long chic! A Zen garden with rocks, sand and gravel, brings with it immense peace and tranquility and is a fail-proof way to enhance a small balcony design. We 'dig' creative ways of potting plants and succulents around the patio without grass.
Kitchen Garden:
There is little that's more rewarding than growing edible plants! Picking fresh herbs for cooking right from your kitchen? Count us in! Easy to maintain and compact, herbs like basil, coriander, curry, mint, chilly, lemongrass, etc., and medicinal plants such as ginger, smell fantastic and regrow every time you cut them! Ready to put in a little more effort? You can also try growing your tomatoes and lemons even!
Waterscape:
"My garden is my most beautiful masterpiece," Claude Monet romanticized water lilies and we see why! If you have a big garden or courtyard, designing in a water feature or basin with aquatic plants that filter and purify, is a great way to escape muggy summers with a refreshing splash! Pairing water lilies with small fishes can also give you your own small eco-system! Worried about mosquito infestation? We have some tricks up our sleeves! A solid water management plan along fishes like guppy can go a long way! With the temperature on the rise, it's never too late to get your niche-garden! Give us a holler if you want us to translate these trends into your reality!
Contact Noida Interiors for all your interior designing requirements