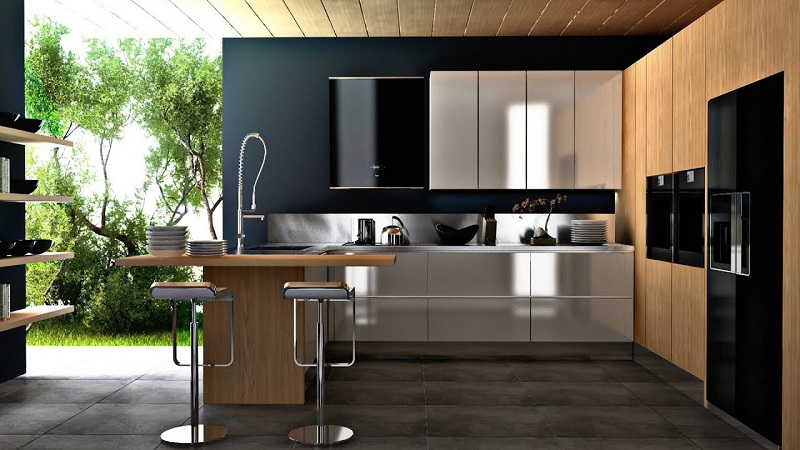 A kitchen done right sets an inviting tone to the entire house. The essence of a modern kitchen lies in its functionality, aesthetics, and can speak volumes about your character. The time is long gone when a kitchen was considered as just space where meals were cooked. Today's kitchen is a reflection of your personality, your choices and your life. 21st century is all about creating modern kitchens with optimized floor space, sleek cabinets, creative lighting, windows that allow natural light and air, designated areas for your tools and appliances and so much more. A Modular kitchen is a perfect example of a modern kitchen.
While all this may sound complicated to achieve, this is doable if you have a vision, some amount of research work and a competent professional who could guide you on the elements that go into making your dream kitchen. So here is an attempt to bring you a few workable modern kitchen ideas you should consult before taking that first step towards creating your dream kitchen!
Modern Kitchen Design Ideas
1. Cabinets with Color Pop – Even if you go for a sophisticated layout, a pleasing color combination never hurts. It brings contrast to space, which makes it look alive and kicking. Sleek and brightly colored cabinets look neat in a light background kitchen.
2. Open Shelves – Open shelves give a very modern approach to your kitchen. You could keep dinner plates or your copper vessels on these open shelves. Open shelves make your kitchen storage look organized and clutter-free. You can do these up in different ways, like painting the back of the shelves, installing floating shelves, or having a combination of fixed and floating open cabinets. These also give clean lines to your kitchen, making them look sleek.
3. Using Wooden Beams – Wooden beams on the ceiling look great. They add to the warm feel of the kitchen and provide an illusion of length, making it visually appealing.
4. Adding Wicker Items – Wicker items like chairs, baskets, cabinets, etc. add an exciting dimension to the kitchen. The best part about adding wicker items to your kitchen is that they can easily blend with a modern set up and a traditional setup.
5. Exciting Flooring Ideas – Flooring is a crucial part of any kitchen design and should be done mindfully. While wooden flooring looks great in any personalized space, using it in the kitchen may practically be a risky proposition. Installing tiles with a wood look and finish is a great idea. You could also go for funky black and white tiles in the kitchen – this, along with some popular lighting options, would add an interesting visual and give a nice feel to your kitchen space.
6. A Statement Ceiling Goes a Long Way – Want your guests to stop and stare at your kitchen – check out ways to do up your ceiling. An unconventional way, but having a brightly done ceiling, adds to all the jazz you have wanted in your kitchen.
7. A Combination of Steel and Black – This combination is timeless and gives a clean, sleek look to your kitchen. The best part about steel fixtures is that they always feel fresh and look new. Installing these in your dream kitchen is your first step towards ensuring your kitchen elements longevity.
8. A Compartmentalized Kitchen – You can leave aside that rulebook for a while and look at a kitchen as a prospective spot for entertainment, reading, and even relaxing. With that whiff of brewing coffee right around your senses, the pleasure of being able to curl up in a swing and that too in your cozy kitchen seems mind-boggling. You can also compartmentalize your kitchen into a cooking area, entertainment area, reading area, etc.
9. All That Glitters – Stainless steel, of course, is an evergreen choice for your kitchen interiors, but gold is also not failing to make its mark as the rising star of today's modern kitchen designs. While a kitchen done up with golden-hued cabinet panels, fixtures, lighting, etc. exudes oomph and class, you must be careful not to overdo it. Gold looks the best in tinges and that is where it should begin and end.
10. Make Your Kitchen Chocolaty Warm – Using warm chocolate stone surfaces gives a nice cozy feel to your kitchen – curl-up-with-a-coffee-and-book kind of a feeling. This monochromatic and mood setup creates the perfect atmosphere for natural conversations.
If you have read this article carefully, we are sure you now have quite a few exciting ideas and a clearer vision about how to go about doing up your dream kitchen. Get on with your research and follow our blog section for more useful articles. Are you looking for a professional to guide you through the journey? Contact us and we will make it happen for you!
Contact Noida Interiors for all your interior designing requirements