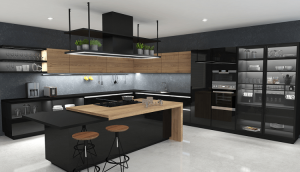 Creating Your Dream Kitchen? Here Is All About Modular Kitchen Cabinets You Need To Know! 
The concept of a modular kitchen fits well with anyone who likes to stay organized, have their kitchen tools and other elements within reach and accessible, and have a neat and beautiful looking kitchen in general. Now before you get cracking on doing up your kitchen the modular way, here are a few things you must know.
Four Things You Must Know Before Going for Your Dream Modular Kitchen
The Golden Triangle Rule

– According to this rule, the cooking area (stove), the sink area and the fridge are the focal point of the kitchen and are placed within a gap of 4-9 feet, forming a triangle. This is used as the thumb rule by designers as it has been known to increase your kitchen efficiency.
Usage of Low Maintenance Materials

– Using low maintenance materials like steel increase the durability and smartness of your kitchen. Though steel looks great in a modern kitchen, its overuse can lead your kitchen to look cold and devoid of personalization. Consider combining wooden cabinets along with steel in your modular kitchen.  
Compartmentalization of cabinets/storage spaces

– Doing this makes space for all your big and small pots & pans, cutlery, etc. in an organized way. Compartmentalization ensures all your kitchen things are kept at their designated spots, optimizing your kitchen space and increasing your working efficiency. Another extremely important element is the compartmentalized drawer. These drawers greatly help you keep your cutlery and other small utility items in a clutter-free way. 
Include a Pantry

– Having a pantry in your modular kitchen makes it easy and fun to place your dry items and having them easily accessible and available at all times. Storing your non-perishable items like wheat, lentils and spices, pasta, or even your different sized jars and bottles becomes comfortable with these standalone units with wire racks.
What Makes Kitchen Cabinets Such an Important Part of Your Modular Kitchen?
Though each element in your modular kitchen design is equally important, what gives the cabinets an extra edge is that these cabinets provide the storage capacity and the overall look to your kitchen. The main aesthetics of the kitchen lies in the selection of the right style, color combination, and material of the kitchen cabinets.
Types of Kitchen Cabinets
Shaker Style Kitchen Cabinets


These are relatively a more standard style for cabinets in the modular kitchen designs. These consist of five pieces of flat panel wherein four pieces form the frame, and the fifth one fits into the center. This is a popular design because of its ability to fit into a traditional and modern kitchen set up. Some woods generally used for the Shaker Style cabinets are cherry, maple, hickory, and quartersawn oak.
Louvered Cabinets


Louvered kitchen cabinets have horizontal wooden slats. They add a unique dimension to the kitchen with their design pattern. If you are looking for ventilation, these prove to be a great option as most louvered doors have spaces between slats that provide ventilation.
Flat Panel Cabinets


For people inspired by a minimalistic kitchen look, Flat Panel or Slab cabinets are a perfect choice. These are simple, classy, and stylish. Like any other pure pleasure of life, this classic design does not require you to spend a bomb and yet exudes elegance and beauty.  
Inset


Inset style cabinets consist of inset doors fitted inside cabinet frames instead of outside – unlike all other cabinet designs. This cabinet layout is one of the most expensive as it offers intricate detailing exuding fine craftsmanship. This one's a classic and lasts for years without going out of style.
Distressed Style Cabinets


This design gives an antique look to your kitchen. If you are someone in love with old things and warm feels, the distressed design cabinets should be your calling. In these, any style cabinet can be given an old feel through distressing techniques. You can expect an approximate 15-20 percent price hike for the distressing technique.
Thermofoil Cabinets


Thermofoil cabinets are made from MDF (Medium Density Fibreboard). These boards are wrapped in plastic coating and treated under high heat for sealing. These are relatively much cost-effective and are produced in mass quantities. They qualify under imitation wood and are only available in solid colors. Though these are low maintenance and moisture resistant, they are weak resistors of heat and should be placed away from any heat source.
DYO – Design Your Own


If you cannot find your choice of cabinet design in the market, just go ahead and design your own. You could do your research or even consult a professional to do that for you.
Whatever you choose for your dream kitchen, the aim is that it should align with your personality and tell your story. There is so much you can explore for your dream kitchen and we are always there to accompany you in your journey. 
Contact Noida Interiors for all your interior designing requirements