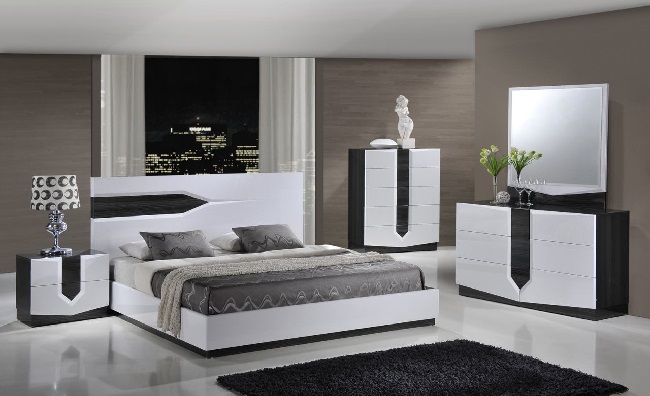 Well, furnished bedroom interiors can be accomplished with perfectly designed furniture sets like beds, bedside tables, wardrobes, TV units, dressing tables, and study tables. Furniture is designed based on few standard terms and if you don't find the one that matches your bedroom design, turning towards bespoke furniture designs built based on your requirements and style is a great idea to pursue.
Let's take a look at the classification of bedroom furniture designs based on essential aspects:



Bed design:
Perfect bed design has the potential to restyle the appearance of your bedroom interiors and also evoke tight sleep just by incorporating appropriate materials, dimensions, form, finishes and storage in the design. Bed designs combined with proper functionality and structure contribute to saving the space significantly.
Functionality:
Furnish smaller bedroom space wisely by installing simple space-saving designs such as trundle beds, stackable beds and sofa cum beds. Pull-out style beds and hydraulic beds with lift-up mechanism suits best for extra storage bed design. Upholstery bed design acts as an eye-catching piece of furniture enwrapped with soft fabrics and varied textures, colors, patterns embedded on it elegantly.
Standard bed types:
Above mentioned functionality mechanisms can be incorporated in different ways with standard type bed designs. The single bed type is compact in the design structure. Master bedroom or guest room is furnished with a Queen or king-size bed type to bring out that royal look in design. A platform bed is defined as a lower height bed compared to a conventional bed type. It suits best for Zen or the modern style of design.
The headboard is an extra piece of furniture attached over the bed to provide a comfortable and restful seating arrangement, additional storage and enhanced aesthetics. It is generally made up of wood or fabrics.
Materials and color finishes:
Wood is mainly used in bed design for its durability, strength and prevents any kind of corrosion and rust. Commonly used woods include solid wood, engineered wood, mango wood, rosewood, Sheesham wood. Some of the interior design styles like traditional, rustic, transitional, mid-century modern, farmhouse and some themes of contemporary or modern style embrace the wood for its design.
Fabric material provides a royal and elegant look. Silk, linen, leather and wool are commonly used. Vintage, art-deco and eclectic styles adopt this material in the design.
Metal is strong and robust, best suited for industrial and rustic style. 
Some of the finishes include Walnut, brown, wenge, Honey, grey, oak, Beige, cappuccino, high gloss white.
Ergonomics:
Length varies in the range of 6ft to 6.5ft and width varies from 3ft to 6ft. Standard height is around 1 to 2 ft. Dimensions are varied with different designs. Custom made furniture sets are designed accordingly to meet the customer's requirements.

Bedside tables:
Bedside table reserves the space for night essentials, phones, night lamps making it access easily as it is placed within the arm's reach on either side of the bed. The top surface of the table is made from stain-resistant material and side edges are carved to avoid falling of the objects.
Here are some types of bedside table that have been classified based on:
Storage:
The bedside cabinet is a combination of cabinets to store larger items at the bottom and drawer above the cabinet.
Bedside chests comprise two or three drawers to hoard the night essentials and form a clutter-free storage device.
The nightstand is designed with one drawer and open space at the bottom to pile up the books.
Design:
The circular bedside table stands as a statement piece of furniture and offers a good storage system. The inner structure is carved with plywood or maple veneers carried through folding work of panels to get the desired form. The outer layer is topped with leather to create an elegant look.
The mirrored bedside table is carved with wood and painted with a silver finish to bring about glossy look and mirrors are set on the top to provide a reflective surface finish that makes space look quite big.
The floating bedside table is mounted on the wall to free up space and maximize the floor space. It is ideal for a minimalistic design style without compromising on functionality. Laminates or MDF materials are used as they can withstand the weight and avoid warping with time.
The bedside table is upholstered with soft fabric that blends with bed material. Place it in the master bedroom as it provides a luxurious and royal look. The cage bedside table is designed for aesthetics purposes as it isn't a better choice for storage purposes.
Bone inlay bedside table is beautifully crafted using detailed decorative techniques and it elevates your perfect choice in furniture.
Materials:
Natural wood, fabrics, rubberwood, rattan wood, bamboo wood, brass hardware, metal with glass or marble top, polished metal are mainly used.

Color Finishes:
Finishes include Beige, brown, silver, veneers, silver, pastel pink, oak, linen, white, vintage blue.

Measurements:
The range of length varies around 500-800mm, width around 400-500mm, height around 450-700mm.

Advantages:

The variations in wood grains match with any bedding or paint with a bedside table as it neutral in its form.
Rubberwood is resistant to insect and fungal attacks.

TV units:
We all love having a furniture piece for entertainment purpose and hiding clutters, media accessories, elevating the beauty of space, and being highly functional. The right TV unit furniture can guide to bring the perfect ambiance to space, take care of the storage system and display décor items that perfectly reflect your lifestyle and gives private screen time.
TV design is classified based on variations in layout design. 
The tiny room needs a creative TV unit design to accumulate all the needs and hide clutters as much as possible. The design revolves around basic standalone TV unit bounded with wall shelves to place any décor items or books.
Usually, the bed is placed along a featured wall and the TV unit is preferably placed facing the bed unit to view comfortably. Wall design must complement the featured wall; TV panel design is among the best TV unit wall designs to accentuate the effect and give an elegant and modern look. The best use of unconventional materials like distressed wood or gypsum or PVC adds particular interest. The panel design can be extended to the ceiling to create a replica design on the false ceiling as it brings movement to the form.
TV unit for minimalist style is preferably mounted on the wall leaving the floor space open with a backdrop attached with panel design to create simple, elegant look by hiding cable wires.
Master bedroom certainly deserves a statement TV unit that confines aesthetics and functionality, not compromising design. Establish a feature wall using wallpapers, paint, decals, amazing panel designs, textures along with few custom shelves or cabinets to store audio-visual units and décor items such as vases, artwork and books. It is natural to off the lights while bedtime TV watching, good accent lighting highlights a piece of furniture and is highly functional in preventing eyes strain during darkness.
Install a TV unit attached to a study unit, preferably perpendicular to the TV unit design, to avoid any disturbance. Be creative to integrate the study table with the best seating arrangement, good task lighting and storage shelves.
Materials:
Preferred materials include engineered wood, solid wood, mango wood, laminates, veneers, reclaimed wood.

Finishes:
Wood finishes include Honey, teak, walnut, black, dark walnut, balsam, mahogany white and laminate finishes include high gloss and matte finishes.

Dressing table:
A dressing table design is a significant piece of furniture in your daily routine, be it work or family parties or any occasion, dressing up accordingly rejuvenates positive vibes and comfort level. Designing such an elegant piece of furniture needs some attention towards choosing a dresser according to its structure or storage space that fits into or time spent at the table.
Here are few dressing table design types to meet your specifications to enjoy the beauty of the furniture.
If you prefer spending time at the table for dressing up, add a pouffee to the dressing table as it avoids the conventional way of standing before the mirror for a long time.
Side storage of dressing table designs are combined with full-length mirrors to get a better view of a complete outfit.
A combination of wall-mounted shelves and mirrors placed just above the racks is the best way to cover the shortage of space without compromising on the style factor.
A short-length mirror with bottom storage is also the best option to create that symmetrical look to the design.
Materials and finishes:
Wood includes solid wood, Sheesham wood, mango wood and laminates, MDF, wood veneers.
Finishes include teak, honey, walnut, high gloss, membrane, matte, warm chestnut, coffee brown, white grey.
Accent or Statement furniture design:  
Accent furniture stands as a focal piece of furniture that complements room's décor with its varied sizes, shapes, forms, color schemes, textures to create a significant décor balancing functionality.
Here are some simple ways to create accent furniture in your bedroom.  
Headboard over the bed design upholstered with silk or velvet fabrics.
The bedside table is designed with materials different from bed to form accent furniture.
Full-length dressing mirror placed at an angle.
Wool Herringbone occasional chair with ottoman.
Upholstered bed end benches.
Vanity table with faux fur stool.
Easy ways to place the desired set of furniture in a smalle space without compromising on the style factor, design factor, functionality and storage:
Choose trundle or stackable or sofa cum beds to the design.
Commonly used Combination of furniture's including wardrobes and dresser or wardrobes and study unit or TV unit and study unit or wardrobes and TV unit, saves the space tremendously.
Mirrored shutter type is preferred for small space as it doubles the space by bouncing reflection on to space. Sliding shutters are also preferred.
Wall-mounted bedside tables or dressing tables or foldable study unit design is also a great idea to save space.
Contact Noida Interiors for all your interior designing requirements