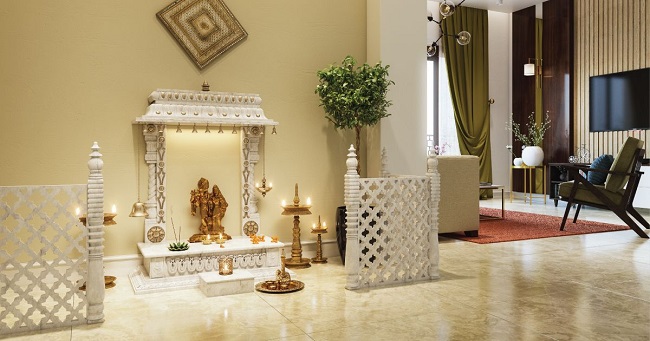 Mandir and Pooja rooms are the most sacred spaces in our homes. It is a dedicated spot for the supreme being, where purity and righteousness hold the most prestigious stature. These spaces account for the positive ambiance in the house resulting in a virtuous fluidity of spiritual flow. Thus, keeping in mind the importance of these spaces, it is of utter significance to glorify the integrity of the space with extravagant design options. Either you reside in a loft or a bungalow, optimal use of this space to create a holy abode is worth taking care of. From traditional intricates to clean and crisp modern lines, a corner in your living area to a fully-fledged room located in north-east, these design options can enlighten your pooja room into an eye-catchy space.
Mandir & Pooja Room Design Ideas and Tips
Magnificent Marble
Marble is a symbol of utter elegance and luxury in the category of natural stones. Thus, the white tones add a sense of loyalty into space and are considered an ideal option for the pooja rooms. Its ultra-rich look complements the purpose of reviving the authenticity of the area. Marble pooja rooms are used in the residences in contrast with the complementing color theme of the house. Considerably a pricey option, white marble could be associated even with the smaller sized mandirs as it makes space look bigger and with additional appropriate natural lighting, it could attract all the eyes. Marble can be further enhanced by carving detailed inlay work to add the required artistic touch. Inspired by the Mughal interiors, this process involves cutting and engraving the abstract marble pieces in intricate patterns. These beautiful ornamentations will serve as an icon to your pooja room interiors and make it stand out.
Nobel Lighting
With the ever-growing technology in the design industry, creative use of light is emerging as an essential decorative element. Colour palettes of whites and off-whites offer a lavish look when backlit by panels that highlight holy verses or an OM imprint. These lights are continuously replacing the traditional candles and diyas in featuring the main wall where deity sits, symbolizing the utmost power in the house. Translucent stone is highly favorable in this design option for the mandir with some clean, sharp-lined storage cabinets underneath the main countertop. Ceilings could complement the walls emphasizing seamless cove lighting or fairy lights—ambiance lighting in the pooja room expands the area to make it look bigger and highlights the idols.
Classic Traditional 
Traditional style mandirs and pooja rooms evoke the feel of abundant wood, ample accessories, dark and rich color variety of textures. However, the revival of traditional style is no different. This style promotes the use of 'classic details' in the form of intricate doors, fabrics, wall ornamentations and dark, varnished wood. Subtle lighting is required to supplement the rich textured palette of the pooja room with LED Panels behind the deity or warm-white cove lighting. This style features the cluttered placement of the mandir accessories – contrasting golden brown decorative plates, pots and bells beautifully placed on the lower countertop with some additional diyas decorated in patterns. Setting a beautiful Jaipuri rug could be an addition to the style. However, this is unique to traditional or transitional style homes where the rest of the accessories blend with the theme of your mandir.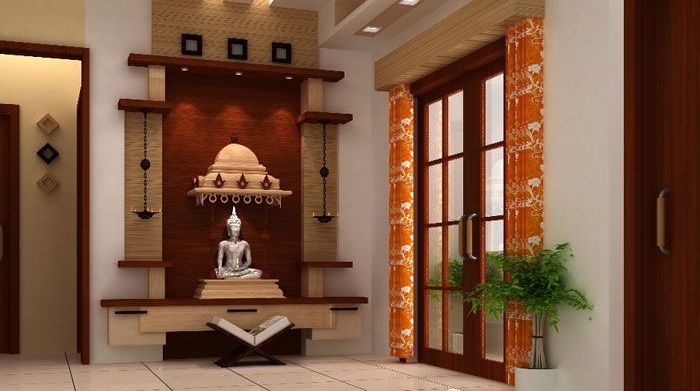 Detailed Intricacies
Don't have enough room to provide hard walls for your temple? Try the intricately carved wooden or laminated decorative screens to partition your living room and provide immense lighting from the other end. Whether it's a carved wooden door or a partition to your living room, jaalis have always served as a multipurpose to our homes. Adding as a striking decorative element to our pooja rooms, these jaalis can often complement with countertop and cabinet finish, wall paint and the decorative chandelier. You could even twin your jaali with the cabinet finish to make your pooja room seamless and harmonious. Due to the latest technologies, laser cutting provides a wide array of options for jaali detailing. However, keep a note of your home style to use the specific cut detail for the jaali. The light passing through the jaali forms some intriguing patterns, thus enhancing the space even further.
Count Your Nooks
Niches in our homes typically play non-functioning. We end up underestimating these spaces by filling them with unwanted storage. Spaces are precious – either an angled corner or a customized mezzanine space. Do you want to play creatively by utilizing these spaces? Why not place a customized hand-crafted wooden pooja Ghar with focused light and some fancy bells around? It could be jaali work or a metal finish, Closed or open door, or modern or ornamental. Count your nooks in and observe how they could play as the most eye-catchy and productive profiles of your home.
Sacred Walls
For all the urban homes where space has always been a worry and sophistication a priority, intelligent use of walls could be adopted. An empty wall by your living room could be used to create a void for your mandir. You could either place a glass door for the shelf or replicate the wall's color to make it look seamless. Try an inbuilt or a protruding one. Wall-mounted mandirs can be bought online or custom designed. Extremely functional and easy to use, they come in different materials complementing your home style. You could split the height by placing a glass countertop a few inches underneath to store the bells, pots, and accessories. A decorative metallic arch around the niche can commemorate the space by detailing the outlines to a more sacred figurine. Adding a different wallpaper behind the deity can underline your home's sacred spot and steal your guests' eyes.
Ornamented Background
Just like the name suggests, highlighting the deities and creating a focal point of your mandir or a matter of fact, your home is foremost. Accessorize your mandir with an intricately cut laser panel, casting a high level of details or beautiful motifs. Placed behind the countertop on the main wall, they tend to protrude out to give a multi-dimensional effect with cove lighting ambiently falling over the space. One of the attractive color palettes for your pooja room would include white neutrals and warmer hue accents in contrast with brass hanging bells, diya holders and plates. This palette will highlight your metallic or panelled ornamented background and outshine your mandir.
Eclectic Charm
Don't want regular walls or partitions to discrete your pooja room from the other spaces? Do you have an open living plan? Try blending your mandir with the home itself. This style preaches the transparency in design by embracing the beauty of mandir details and complementing its materials, cabinets, colours, and style with your living room. A free-standing wooden table or a marble carved top, this is an open setup mandir style that will always offer unanimity in your home.
Blessed Staircases
Take into consideration your living room corners and place step-like structures to elevate your mandir with esteemed admiration for the idols and deity. You could specify either wood or stone and contrast your storage rack finish and hanging bells. If you want a shiny mandir, try placing brass diya holders and metal plates adjacent to the idol. Blossom your mandir with randomly decorated rose petals and jazz up the corner walls with fancy god motifs. Try this effect and amplify the serenity of your pooja room.
Mandir Door Design
Some of you probably like hard-walled dedicated pooja rooms. Now since you have ample ways to decorate your mandir, how about jazzing up the door? Would you want your guests to observe the mandir and its beautifully carved door? There are numerous door patterns and specifications that could be adopted. Keeping in mind the color of your mandir walls, the material of the accessories and countertop, a door could be as traditional as 10' wooden hand-crafted panels or as modern as sleek, simple metal or sliding glass doors. Your doors could be as creative and colorful as multiple stained-glass panels or molded into the shape of a holy verse or a symbol.
Maintenance of your mandir is an aspect most accountable for cleanability. Hence, vinyl tiles or seamless marble flooring, wooden planks, or decorative rugs, these finishing elements, when used efficiently, could give the best results in outshining your pooja room. Choosing the appropriate mandir accessories is an equally important responsibility. An additional color palette of all white tones in your mandir with brass idols and accessories will jazz up your space. Depending on the wall paint, contrasting decorative panel, countertop, lamps, pots, and bells should be picked. Ensure the blending of these accessories with the theme of your home. Compilation of silver or brass objects, mandir when designed with heart, will add that unique touch to your home.
Contact Noida Interiors for all your interior designing requirements