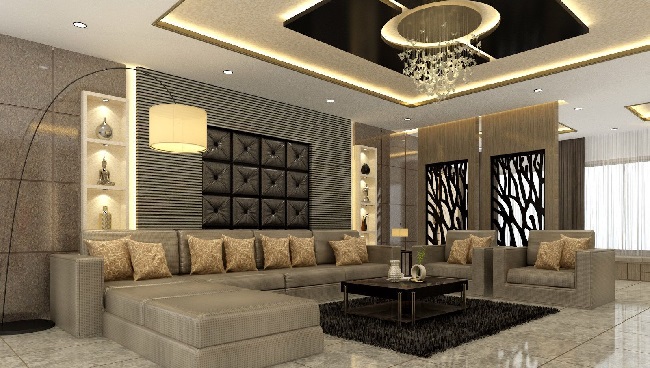 No longer a stuffy parlour, we demand a lot from today's living room. As the nerve-center of a modern family home, they are now flexible spaces that blend style with function. From being the "house-hub" and reflecting our character to being a work-station, our living rooms can be a unique retreat– when crafted well. Not convinced? We bring you the latest and most popular trends of living rooms to take note of immediately.
Top Trends of a Modern Living Room & Drawing Room
Smart Homes:
Home entertainment theatre systems remain a big part of living rooms and keep improving with each passing day. Throw in some fluffy blankets and a bowl of popcorn, you can have the cinemas come to you! State-of-the-art home automation systems for speakers, lights, temperature controls, video doorbells, etc. make our drawing rooms tech-savvy. Don't forget a good design stays invisibly smart! We believe fewer wires, smarter your home!
Contemporary Furniture:
Plump seating that gets your guests talking is our aim! A lot of living rooms are ditching traditional sofas for clusters of wing chairs, chaises, and bench seating for rustic vibes. While wing chairs make for cozy nooks, chaise will add a regal old-world charm to your drawing-room. If you are a gypsy at heart, we encourage you to experiment with floor seating, pouffes, and loads of floor-pillows. Modern, modular storages are fast replacing heavy cabinets and show-cases, leaving more eye, and foot room reflecting the flexible and fast way of life. To avoid the cold chill of showrooms, layering furniture is a great way of breathing life into a drawing-room and making it inviting.
Mixed Material:
Curtains are a great way to pull focus or complement the rest of the décor! Large floral prints, stripes, and patterns can add a dash of interest to an otherwise quiet room while matching the curtains to the walls gives a true beauty. However, the latest trend is also more about elevated senses and hence the fabric is prominent in interior design. Sheers, linens, velvet and jute are all trendy fabric for curtains that evoke a sense of style and panache. Coming to the fabric for upholstery, just as with the rest of the rooms, we are seeing an upward trend with sustainable materials such linen, burlap, cotton in varying natural hues like tans, creams and browns to dyed gorgeousness in all colors. However, velvet is still the reigning queen when it comes to luxury fabrics. From curtains and cushions to sofas and ottomans, sheathing anything in the rich jewel tones of velvet looks stunning! Similarly, there is also enviable diversity to be achieved with the wall and floor finishes. Merging exposed brick with the smooth gloss of a marble floor or the raw flair of concrete tiles with polished wood brings appeal into the room. Lastly, layers of area rugs and carpets bring comfort to the feet and add a spot for colors to the room and give it a refined appearance!
Lighting:
Like to incorporate a false ceiling for that perfect finish to your drawing room? While minimal ceilings and borders are in, you may also want to up your lighting game for that inviting atmosphere, like adding the perfect accessory to your impeccable attire! From oversized industrial lamps and Art-Deco color pops to minimal copper-brass sleekness, light fixtures are available in covetable metal finishes! If you are a fan of traditional wall scones and lamps, there is a hoard of lights reborn in trendiest avatars. While traditionally high ceilings always took to a chandelier, today, large pendants in smaller rooms also can make a bold statement. As with other house elements, a good lighting scheme should draw together the look of the house. Should you go for simple bulbs with exposed wiring or a striking centerpiece? We can point you to spectacular designs that look as charming switched-off as it does switched-on, adding elegance to your drawing room!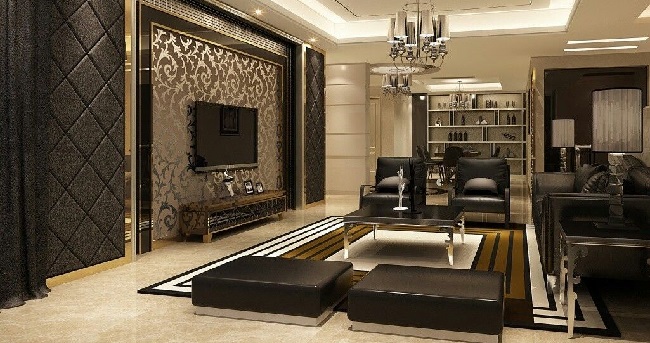 Color Scheme for Walls:
Painting a single wall is in trend these days. Going all out and slathering all walls the same brilliant shade like turquoise, emerald or salmon pink blurs out the boundaries for a dynamic room! For a dazzling European vibe, we even suggest painting the doors the same shade! However, if space is a constraint, you can still maintain this tonal palette, albeit with more muted shades such as greys, tans and lighter blues. This will define the area and make it appear larger! These colors are also timeless and thus proven to be a safe bet. You can also introduce to the living room brooding hues such as deep blues and maroons with dim lighting that is perfect for achieving a formal, opulent tenor in the drawing-room If you want to stick to monochromes, we recommend bringing in patterns and prints in that help break the monotony and add personality to the room! This style also allows you to go wild with the colors of the upholstery that you can swap out seasonally! Finally, the ceiling isn't the limit anymore! Don't shy away from splashing a bit of color onto the ceiling to draw the eye to your beautiful ceiling.
Coffee Table:
Coffee tables tie the seating together and at the same time, are essential during hosting. However, we are seeing a steady increase in liking towards side tables. They disappear into corners and can be brought out as a personal table for each guest when needed! Compact side tables are space-efficient while still being functional and fast replacing chunky side-boards. Considering metals are the current trend, we love tables with a base of brass, copper, powder-mattes, gold etc. topped with glass, marble or wood making for classic contrasts! While side tables in varied geometric shapes like hexagons, circles and squares always remain a favourite, we help source out striking live-edge tables for the creative. These are also available with an infusion of resin mimicking streams and rivers and make for excellent conversation builders!
A Feature Wall:
The contemporary living room & drawing room can be the stage for the art aficionado in you! Feature walls are a fantastic way to highlight the selling point of the living rooms! Have a wall stocked with books? Papering it in a pretty floral wallpaper will bring the corner to immediate attention. Not sure of painting a whole room a spectacular teal? It's easy to change things around when you want to, without too much upheaval too. Shutters and doors are the perfect canvas to test out a bold color, bringing a focal point into the drawing-room. Similarly, you can add visual interest by layering and welding together patterns, prints and colors. Life-size paintings in bright colors like tangerine and yellows and interesting sculptures, when tastefully chosen, can make your living room classy and unique! Panelling with dark woods and metal screens that add instant glamour to space makes for brilliant backgrounds for the furniture pieces. However, it's important to uphold the harmony that comes with a good design!
Modern Mirror:
We have already declared our love for mirrors! No room is complete without mirrors! Modern living rooms & drawing rooms can benefit from mirrors in the form of wall hangings, room partitions and shutters! We help you source out the perfect chic frame or include mirror-finish paraphernalia around the room carefully to give the same elegant finish to your drawing room! Compartmentalizing living room space using the ideas mentioned above and pieces can create a multi-utility space that feels more personal and put-together! Functionality and flow are the two mantras for a flawless living room! However, it's also necessary to remember that an impeccable living room interior design thinks outside the room too! It ties the entire home together and hence must be handled sensitively and we at Noida Interiors are just a phone call away!
Contact Noida Interiors for all your interior designing requirements