Your kitchen is where all the magic happens and that is where the heart of your home lays! Having a neat and organized kitchen keeps your culinary spirits up and that is when the creative juices start to flow. While we agree that we have all seen our mothers and grandmothers plating up delicacies in their traditional or carpenter made kitchens, there is no denying that carpenter made kitchens are more error-prone and do not give the kind of quality and finish that a factory-made modular kitchen would. It can be rightly said that Modular kitchens are Modern Kitchens that are a new and innovative step over traditional kitchens providing ultimate utilization of space. Noida Interiors specializes in using the latest designs, technologies, fittings, and accessories, so that even years down the line, your kitchen looks brand new.
Modular kitchen being encapsulated with technology and innovation comes as a modern-day answer to a traditional kitchen, which makes the kitchen works more organized, functional and way more pleasurable. The modular kitchen consists of pre-made cabinets that are customized according to the size of your kitchen and personal choices and requirements. These pre-made cabinets are fitted together to form your kitchen according to space and utility needs. You can even accessorize these cabinets individually according to your requirements and make your kitchen as functional, trendy and organized as you want – basically, you have your dream kitchen right here!
In a Modular kitchen, the right placement of appliances also plays a very vital role. One wrong decision and the aesthetics of the kitchen can be flawed. The most commonly used appliances in a modular kitchen are – Modular chimney, Induction burners and stoves, Microwave, Inbuilt oven, Dishwasher, Refrigerator, Water Purifier, etc. The trained Interior designers of Noida Interiors work with their clients till they are 100% satisfied with the appropriate placement of each one of these appliances. We also keep in mind the poor water quality of Noida and so the fittings and accessories used are of superior quality, which will retain their shine and continue to look new for many more years.
Different Layouts of Modular Kitchen
There are mainly six different styles of modular kitchens – L shaped, U shaped, G shaped/Peninsula, Island, Straight and Parallel/Galley.
1. L-Shaped Kitchen Layout – This one is the most commonly used modular kitchen layout as it employs great use of the floor space, looks neat, gives good storage space and creates scope for the incorporation of a small dining table in your dream kitchen.
2. U-Shaped Kitchen Layout – A U-shaped modular kitchen is the best option for you if you have a large kitchen space. This particular layout makes space for a large number of cabinets and tall units with ample counter space.
3. Straight Modular Kitchen Layout – This layout is ideal for a studio apartment where the working space of the kitchen is arranged in just a straight line. This saves up a lot of floor space and adds neatness and efficiency to your kitchen arrangement.
4. G-Shaped/Peninsula Kitchen Layout – A Peninsular Kitchen layout is considered significant for a small-sized kitchen space, a peninsula kitchen layout provides a free-standing counter connected to the main working area and is accessible from three sides. It optimizes your kitchen space by taking up less floor area.
5. Island Kitchen Layout – An island kitchen has an L-shaped or a straight-line kitchen layout and a separate working counter known as the island. It gives an open look to the kitchen and makes it an ideal sitting space for your loved ones. You can use this counter as a dining table, or for laying your buffet dinner. Most of all, it adds a tremendous amount of storage to your dream kitchen.
6. Parallel/Galley Kitchen Layout – This one is also quite a popular choice when it comes to increasing the working efficiency of your kitchen. With two parallel counters, this layout gives you an option to segregate your kitchen functions like the primary cooking, arranging the ingredients, parking the cooked dishes, placing your kitchen equipment, etc. This one also creates more movement space keeping your dream kitchen clutter-free.
Having said all of this, why would a consumer even consider to get a modular kitchen installed at their home? So here are a few compelling advantages of modular kitchens over traditional carpenter made kitchens.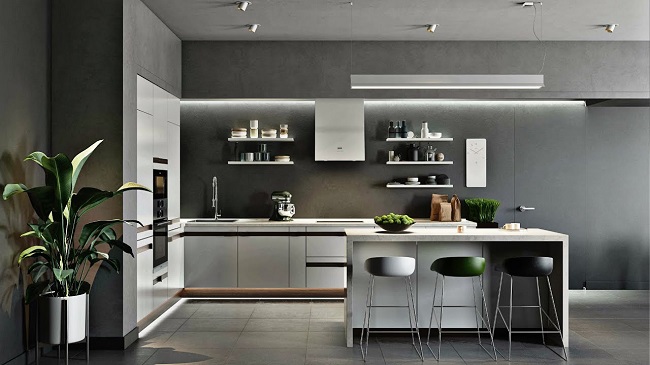 Benefits of Installing a Modular Kitchen

 
1. Modular kitchens bring a more sleek and trendy look to your home.
2. Modular kitchens are available in many choices, which means they come in a wide range of color combinations, finish, and accessory options.
3. Modular kitchens are designed and installed in a way that you end up saving a lot of kitchen space.
4. Durability and easy installation are the key highlights of installing a modular kitchen. Unlike in a carpenter made kitchen, the consumer does not have to wait forever to get the kitchen ready.
5. Another significant benefit of getting a modular kitchen installed is that the consumer deals with a company and not an individual carpenter. This makes the overall process, including the after-sales service pretty smooth and easy.
6. Modular Kitchens are cost-efficient.
With all this and more, modular kitchens have fast become the choice of the hour and are increasingly finding popularity amongst the masses of our country. Though we now have a number of companies dealing in modular kitchens, it is always better to do your own research before you approach one. And when your brand new, swanky kitchen is ready, do not wait too long before inviting your loved ones for a happy meal at your home!
Contact Noida Interiors for all your interior design requirements.