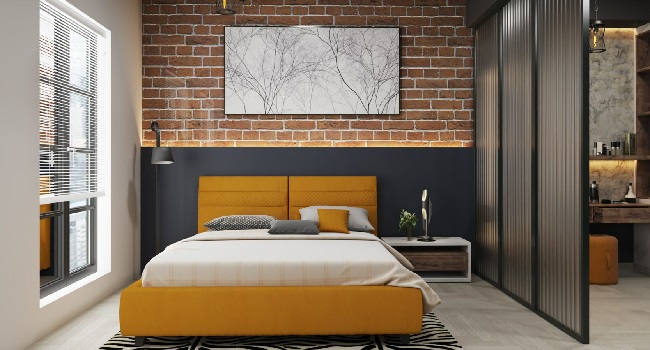 Determining the bedroom color scheme is challenging as it impacts the space in various ways to experience. Color schemes achieved through multiple textures, patterns and wall coverings inspire either energetic and refreshing morning or a calming ambiance from the tiring jobs. A color scheme can create different mood patterns while living in space. Adding vibrant colors to the bedroom decor helps to live in a creative and exciting world along with some breezy cool tones that impact good night's sleep.
Most Popularly Used Color Schemes for Bedrooms:
Iconic style – Art deco:


Create a pathway to light and luxuriant bedroom style by adopting brass or silvery sheens in the design for decor and lighting fixture finishes, geometric wall patterns, sleek lines, and combining with blue or emerald green, and black hues enkindle bright textures for accent walls. White marble flooring or polished wooden surface or neutrals such as brown or beige tone lacquered furniture enhances décor style harmoniously and promotes lighting in the room.
Preferred type of bedroom: master bedroom, teenage girl's bedroom.
.

Adventurous spirit in ethnic vibes – Bohemian:


Globally inspired rich patterns with vibrant colors, namely red, purple, pink, and orange, leave the space more playful and energetic. The colors are implemented through furnishing patterns, vintage appliquéd fabrics—Moroccan pendant lights with metallic accents. White, beige and pop of salmon with dark wooden furniture make the space warmth and soothing. Add greenery to space with chic boho plants.
Preferred type of bedroom: master bedroom, teenage girl's bedroom.
Coastal ambiance:


Soft, white and beige tones implemented through furnishings or plush sofas bring clean aesthetics. Cool or breezy vibes with blue, teal, sea-green, aqua color schemes are shielded to wall coverings. Add some coziness with vibrant pops of yellow and corals. Treat space with light or dark wooden furniture that replicates sandy color schemes. Bronze or aluminum color codes used as pendant light finishes stand as accent decors. Various hues of blue, neutral palettes with fun patterns on wallpaper perfectly blend in with the landscape rejuvenating from a tiring day.
Preferred type of bedroom: master bedroom, guest bedroom, grandparent's bedroom.
Classic twist:


Most prominent classic color combinations include blue and white tones that are implied through wall coverings producing breezy feel with antique wooden furniture. Red color tones provide the energetic feeling and it forms beautiful compact with solid black or white color palettes. Combining classic reds with navy blue hues create lively twiddles in the design.
Preferred type of bedroom: Teenager boy's bedroom.
In-style design – Contemporary:


To turn from all-white interiors to light-neutral color schemes, opt for warm smoky grays, greiges, oat creams, beiges and taupe splashed over wallpaper designs, end blankets, lush throw pillows, ceilings and walls. Rich, deep browns add presence and sophistication to glorious bedroom mainly implemented in furniture designs and wood flooring. Velvet fabrics upholstered with bold colors such as black or navy or vibrant red on headboards create a statement piece in a modern bedroom.
Preferred type of bedroom: master bedroom, guest bedroom.
Varied motifs in a single style – Eclectic:


Pink, green and white are used interchangeably to create conventional eclectic vibes in design. This can be implemented through plush pink ceilings or walls with green and white furnishings or bedding. Using some funky floral furnishing designs with pops of red, orange, green, white hues create a significant sense of friskiness.
Preferred type of bedroom: teenage girl's bedroom, kid's room.
Modern minimalism:


Monochrome palettes, black, white, neutral shades, namely whites, beiges, creams, grays, browns, pops of bright hues like pink, turquoise, oranges carried through furnishings. Shiny silvers through chrome or aluminum finish on light fixtures. Primary colors and bold colors contrast through furniture designs. Off-white drapes and bed linens keep the room clean, bright and airy. Green faux plants make space feel lively and inviting.
Preferred type of bedroom: master bedroom, guest bedroom, teenage boy's bedroom.
.
Timeless design – Mid-century modern:


Shield with creamy and white-colored tones all over the walls and ceilings to create soothing vibes. To achieve timeless quality design, adding some eye-catchy vibrant colors, namely avocado green, mustard yellow, purples to the furnishings, headboard designs, and accent walls, would be more inspirational. Deep teal and cognac color pairing evoke both warmth and soothing vibes in design. Adding a bit of brass shine in the model through furniture legs or as seek lines takes things over the top. Forest green for wall colors and earthy tones such as fusions of browns with wood furniture is the perfect color scheme.
Preferred type of bedroom: master bedroom, guest bedroom, teenage girl's bedroom.
Pop-art style – Retro:


Pink and orange is a perfect combo to create pleasant retro vibes for a bedroom. Incorporate some fresh and neutral colors into artwork or wall or ceiling sheens make the bedroom look cozy. Commonly used harmonious colors, namely sky blue and burnt orange, to rejuvenate design color scheme. Add some pleasant colors, namely mustard yellow, avocado green, citrine, yellow-green to the furnishings to enhance aesthetics.
Preferred type of bedroom: teenage boy's bedroom, kid's room.
Nature-inspired – Rustic style:


Cover black steel or copper or brass finishes to furniture legs and lighting fixtures. Neutral color palettes and earthy tones are executed through wall and ceiling paints, natural wood furniture, bedding covers, antique pieces like sculptures. Add some splashes of green with faux plants.
Preferred type of bedroom: teenage boy's bedroom, guest bedroom.
Simple yet effective – Scandinavian:


It makes space feel light and decent, with various white hues painted all over the walls. In order to break the continuity of design created by white textures, adding some earthy tones with wooden furniture, flooring, or décor pieces and greenery vibes with indoor plants would be a great idea for this style of bedroom design. Pure stark-white bed linens create balance with a wooden bed.
Preferred type of bedroom: guest bedroom, grandparent's bedroom.
Luxurious and playful – shabby and chic style:


A colorful scheme through design motifs brings playful elements and visual comfort. Some of the commonly used wall paints are White, pastels, ivory, cream, milky whites, muted colors, grey, beige tones and off-white that are applied as wall coverings or upholstery fabrics. Floral wallpapers and drapery fabrics are designed with refreshing colors like lavender, light lilac, mint green to radiate calm and serene energy. Dusky pink velvet chair is an accent piece of furniture designed with wooden legs or brass shiny metals.
Preferred type of bedroom: couples' bedroom, guest bedroom, teenage girl's bedroom.
Rich textures – Traditional:


Golden textures or wall patterns implemented from the walls till furnishings create a royal look all over the design. Fabrics like deep red, green, browns create extended beauty to space. Natural wood carvings are an ideal example of earthy and warm tones. Beige and mute color bed linens, furnishings create a cozy feel. Mari gold color, with a combination of olive green and navy blue, proposes the beauty of traditional style design. Accent pieces with metallic or brass finish embodied enhance the aesthetics. Splash of yellow color tones brings morning sunshine into space.
Preferred type of bedroom: master bedroom, grandparent's bedroom.
.

Visual delights – Vintage:


Vintage-inspired floral wallpapers in lighter shades of blue-grey, creamy whites, beige and lilac are most significant. It restyles the space by balancing warm color tones like sunshine yellows, orchid pinks with cool color tones like aqua blues, spring greens and sky blue with timeless textures, fun patterns, and drapery designs and bed linens. The bronze finish on light fixtures, bold contrast velvet designs stand as statement pieces in the design.
Preferred type of bedroom: master bedroom, teenage girl's bedroom.
Additional color schemes according to the type of bedroom:
 Master bedroom:
Soothing lavender and champagne color tones emphasize refreshing white walls.
Periwinkle blue with pale yellow unveils the feel of rising and shine.
Peach and pewter color combination creates wow impact to the design.
Hunter green, ivory and earth tones balance different hue effects.
Deep plum and antique white create a royal look and calming vibes.
Guest bedroom:
Nature-inspired khaki green shades to fit into refreshing environs.
Grey and yellow pairing for popular bedroom design colors.
Terracotta, with pops of pastels, creates warmth and natures feel.
Teenage girl's bedroom:
Peach blush walls complemented with black or white hue wall decors.
Navy blue, blush pink with brass accents rejuvenates room décor.
Soft-creamy white tones blend with pops of aqua and gold to create a cheerful bedroom design.
Teenage boy's bedroom:
Brown and orange colors are known for their energetic and nature-friendly warm color effects.
Navy blue creates visual interest to space and adding warm-toned neutrals easily balances the richness.
Black and white hues complete the space designing with varied textures or patterns; adding green color to the combination enhances aesthetics with its natural look.
Kid's bedroom:
Fuchsia and jade green color schemes are exciting and fun to decorate with their varied color tones and shades.
Yellow and grey pair blends flawlessly for a lively and contemporary style that almost works for a variety of textures or patterns in design.
Grey wall coverings, white surfaces, red or yellow or aqua color furnishings and dark wooden or tile floorings create lively, energetic feel and visual interests.
Contact Noida Interiors for all your interior designing requirements