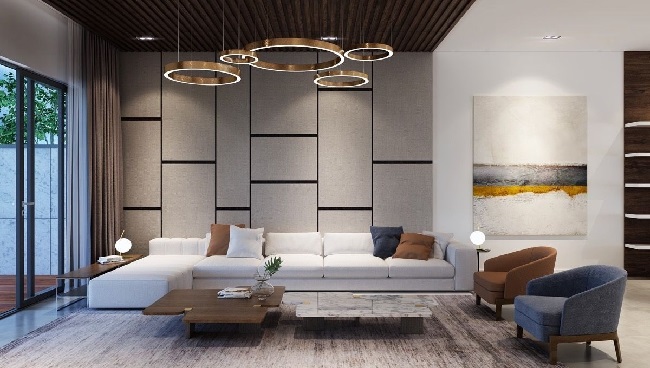 We're constantly quizzed on design dilemmas. What size should the dining table be? How do you de-clutter the living room? We recognized how rearranging a space or dressing up a new home can seem formidable, and we've got you covered! A holistic vision- we aim at crafting interiors that genuinely mirror your individuality. From consultations to culmination, we facilitate and custom-make each step of the way for you. For the best results, it's vital to locate the warmest natural lighting, gentlest breeze, and the most exquisite views of each room. Think room size, do you want your bedroom to feel cozy or grand? Do you wish to accentuate the height of your living room or create a more cocooning force? We have broken down all the expert services we are thrilled to offer that help your home reach elevated aesthetics.
Residential Services
Living Room / Drawing Room:
Stuffy and ceremonial living rooms are most certainly a thing of the past. We encourage you to build living spaces that are relaxing, engaging and entertaining. Want to increase interaction between your guests and make it an ideal Saturday night hangout? The key is in the strategy of the seating, comfort of the sofas and the mood your lighting sets! Even if formal is more your style, we can help design a living room that feels hearty and welcoming! Unsure of what to opt for- a larger than life art that adorns your living room wall, or jaunty wallpaper from top-to-toe? We are experts in color! We strive to create the best possible vibrations in your home through colors and just a splash of greens!
Kitchen Layout:
It doesn't matter if you live in a modest studio apartment or a sprawling mansion, you still need a kitchen! It is irrefutably the heart of a home and should feel so. After cramming all the appliances and tools into their rightful places, your kitchen should look stylish and personal. Do you go for hardware-less shutters or opt for bar-style heavy pulls? Wondering which colors will brighten up your kitchen? That's where we come in! From constructing sleek and streamlined modular cabinets that expedite stress-free fittings and offer optimal storage, to picking the ideal handles, we can point the way. Even the tiniest of kitchens can become functional and well-organized with excellent design. Lastly, may we hint at including a sprig of basil in a pot? A bonus of flavor along with cheer for your kitchen!
Bedroom Planning:
From heady headboards or minimalist side-table lamps, a bedroom must be intimate enough to make you feel sheltered and dreamy! We can help reflect your most romantic side through art on the wall or help you unwind between the fluffiest sheets! An azure blue of the oceans can dictate a revitalizing morning while a softer green can be a breath of fresh air! The right darker hues can inject both glamour and warmth. Like with the kitchen, we help design state-of-the-art modular wardrobes that awaken the starlet and provide maximum accessible space for all your trappings—choosing between the revived four-poster and a plush upholstered bed? We will make sure you love what you pick! Finally, teaming an alluring centerpiece light with the correct lamps will pull the look together.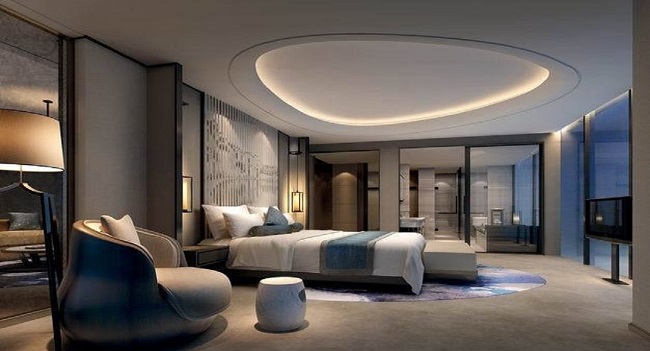 Modern Bathrooms:
Gone are the day when bathrooms were not in the grand interior design scheme of plans. With all the right moves, you can make your bathroom one of the swankiest rooms in your house. The trendiest textures of tiles, precise tiling patterns and exclusive bath fixtures, and as always, the most flattering lights- the bathroom can be the height of decadence! Polished plaster, marble slabs, accents of brass- armed with such endless choice of materials, we tick all the boxes to fashion for you a refined niche. A bathroom on point!
Ceilings, Curtains, Colors, Courtyard, and More:
Even if your house is flooded with natural daylight, interior lighting often is the eye candy of a space, its wow factor! Getting it right is often tricky, especially if you wish to cast a false ceiling with it! Why should walls have all the fun, eh? The height of a room is detrimental in lighting design, and your ceiling a blank canvas. Paints, wallpapers, metals sheet of burnished copper or gold, wooden panelling and French trimmings are few out-of-the-box finishes you can use to design a modern ceiling! When to consider a dimmer, how to avoid harsh lights and yet brighten up the area, and what suits you best, the traditional floor lamp or a modern ceiling pendant? Having an expert by your side, these decisions become smooth sailing!
Are you one of lucky few with expansive French windows, overlooking a small garden or terrace perhaps? Heavy velvet drapes for drama, elusive sheers that let the sunlight filter in, progressive layering to create full pleats or extra-long, luscious fabric to create a trailing beauty! The choice while endless has to be tailored perfectly to the size, vibe and need of the room. Along with style, we break down the fabric, from textured linen, rough linen, fluid suede to the perfect shade or patterns- botanical, self-prints, color-blocked, etc.
Layering the patio at different levels, planting bamboo shoots, and potting a climbing or trailing plant are few areas where we provide you with professional aid. Sprucing up your courtyard with the appropriate potted plants, living walls and maybe a lazy swing, can turn it into your favorite spot to enjoy a cup of coffee watching the sunset! If you are a water baby, adding a trickle of water can put your patio in the spotlight!
We thrive on prudent, striking interiors designs and constantly nudge clients in the right direction so that they wake up in their dream abodes every morning! Pieces of furniture that can, should you wish, be multifunctional. Think a wing chair in your bedroom that can double up as a dresser-chair, and a reading corner! A dash of paint can change the air of a room! Chandeliers that paint you in the best light! You must best utilize the quirks of your house, and illustrate it such that it feels like home! Like before, we've got you covered!
Contact Noida Interiors for all your interior designing requirements