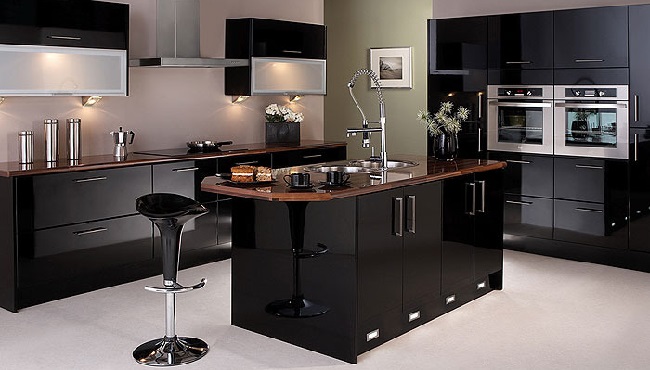 A small kitchen in no way should stop you from owning a beautiful kitchen! Homeowners are discovering the merits of small-space kitchens that are easy to maintain and cozy and leave bigger space for other home areas! There are tons of ways to maximize storage and efficiency within the available space only if you make the correct decisions, and we are here to show you how! We bring to you top ways and tricks to turn the smallest square-footage into a functional and useful Modular kitchen.
Small Kitchen Ideas
Layout:
Though the options of layout may be limited, optimizing it will maximize the space utilized. A corridor kitchen is one with counters on both sides and is ideal for a smaller kitchen. In a typical hassle-free modular kitchen format, countertops pre-fabricated to your kitchen size, where one counter has slots for services such as sink, and stove, while the other is open as a service counter, will be suitable for a small kitchen.
While one-wall counters may be constricted, there are available tricks such as drop-down or wall-mounted tables, roll-away tables, or pull-out countertops and cutting boards available within modular designs. Roll-away tables can provide an additional prep surface and be tucked away outside when not in use while offering extra storage inside for books, pans, and dishes. Similarly, an L-shaped or U-shaped kitchen layout can also prove to be useful while trying to get the best out of limited areas, and we can show you how!
When it comes to the materials of modular counter-tops, we have a world of varieties in innumerable shades and finishes! Whether picking the classic marble and granite, or the latest Corian and quartz counterparts, we recommend lighter shades to brighten your petite kitchen up! While a glossy finish adds appeal, matte is the all-new-darling of kitchen interior designs!
Finally, if planned carefully, we can work-out an open kitchen that will not only open up two rooms but also make one counter space double-up as a breakfast bar in a small home!
Cabinets and Shelves
In a small kitchen design where storage space is minimal, we have to use all the space. While a loftless kitchen can be airy, pushing cabinetry all-the-way to the ceiling can give an extra row of shelves. Another tip is to go with a colorful acrylic or PU finish for your modular cabinets to apply the classic mirror trick again and make the area appear bigger while bringing in some color. Finally, if glass is your thing, choosing plain or frosted glass shutters can never go wrong in a small kitchen! May we suggest adding a few cabinet lights for a warm glow? Restricting membrane and veneer finishes to the lower cabinets can make the kitchen look lighter and spacious. A good kitchen interior design aims to maintain the right balance of open versus shuttered cabinets to avoid a solemn mood in a limited space. You can swap shelves and cupboards under the counter with creative pullout drawers that maximize storage yet organizes utensils better. The latest trend of wicker baskets drawers can smoothly hold all dry vegetables while looking chic! Lastly, a spice- rack pull out consumes the least space, while neatly tucking away bottles and jars of condiments that could otherwise clutter your shelves.
Backslash:
Backsplashes, while protecting your precious walls from water, oil and curry spills, smoke, and grease from cooking, also provide a canvas to display your artistic talents! Backsplash or dado comes in various forms today from the most popular tiles to a single spread of luxury marble. Bright tiles in Moroccan patterns in teal, indigo, yellow, etc., while economical, are excellent ways to bring pops of colors into a small kitchen with no other available surface to embellish. The modern twist of using a mirror or stainless steel panel as backsplash helps to add depth to the kitchen. By reflecting light, it also doubles the natural light in the small room. Unsure if your dado will overwhelm your tiny kitchen? Option for a dado wall half in height is an ongoing trend that keeps up with space constraints.
As for the colors, while you may go all out and make your dado vibrant, choosing white tiles, stones, or marble as dado can complement darker shelves and will always remain a classic! Inversely, a black, darker grey or brown-hued dado can also add depth, if the rest of the kitchen is allowed to stay airy and light!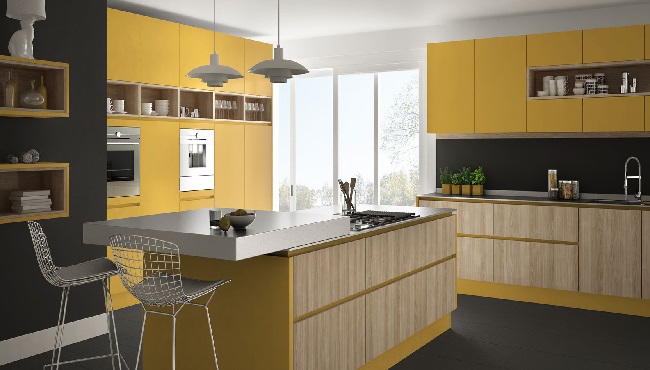 Color Codes:
If you are worried about the kitchen feeling stuffy due to full-length cabinets, we got your back. Go bright! Keeping the room white, then adding in splashes of color in the backsplash, display pottery, etc. can open up the room. A plush, marble countertop and an aquamarine glazed-backsplash with white-oak cabinets finish can look very oceanic and calming! At the same time, if you are not a fan of an all-white classic kitchen, you can stop your kitchen from looking dull by opting for 'color-blocking'. Colour-blocking in a modular kitchen can be achieved by keeping the top cabinets in lighter shades, camouflaging with the ceilings and walls, and giving the illusion of an open room. Meanwhile, the lower shelves are allowed to be in darker laminates or wooden finishes for an interesting mixed effect. However, kitchens, painted in single monotones such as powder blues, mint greens, light greys, etc., can look fluid and can make the space look clean and large. The focus can thus be on a statement backsplash. Open modular cubicles can also be pre-made in different colored laminates or acrylics.
Lighting:
We already spoke about in-cabinet lights if you have glass shutters, but let's look at other options. If you have the option of widening or adding windows, we recommend you get right to it! Sunlight makes everything look airy, bigger, and better! Don't have large windows? We got a few tricks up our sleeves! Task lighting is your next best bet. Along with regular ceiling lights, task lights add function and style to an otherwise restrained kitchen. For example, scones or spotlights above the sink and stove. Similarly, LED strip lighting under cabinets can illuminate your entire counter stretch. A suitably large statement chandelier in the middle of the ceiling can draw eyes away from the lack of space!
Remember to choose energy-efficient light fixtures to save more and go sustainable with your efficient kitchen!
Flooring Features:
The mantra is- always aim for larger floor tiles. While it may seem irrational on-face, smaller tiles will mean more tiles, making the room seem smaller and cluttered. On the other hand, bigger tiles or marble slabs provide an unbroken, large surface image.
Simultaneously, picking darker shades of tiles or darker wood for flooring will provide an excellent contrast to the lighter cabinets and make the room look bottomless or deeper.
Lastly, letting the kitchen tiles continue out from the room into the area outside gives the room an uninterrupted floor space!
Hardware:
When pressed for space, we suggest you avoid bulky handles and hardware on your shelves and drawers, making your room look trim and sleek. Avoiding such edges that jut out can prevent accidents in a small kitchen and make it less cluttered.
Tidy Up:
If you have a small boxy kitchen, rather than cramming all your bulky vessels into a deep cupboard, consider hanging pots and pans on pegs around the kitchen neatly. Hanging racks and hooks for cups and spoons under the upper cabinets is an easy method to free up a drawer! Similarly, baskets and cutlery trays can hold innumerable forks and knives inside a drawer and look organized. Stove-tops with built-in extractor hob are the latest substitute for bulky chimney hoods in small kitchens. You can save valuable space and add a shelf in place of the chimney unit! While a double-sink is attractive, we favor single- sinks for achieving visual flow and increased counter-space. Although, making sure the sink is not too tiny is vital to avoid a dirty counter. Similarly, tucking away toasters and mixers in tall –appliance-units are smart solutions in a small kitchen.
Plants in the Kitchen:
Plants make every space brighter—including small kitchens. Like we mentioned in the older posts, we are fans of home-grown herbs! They can not only be a source of spices for cooking, but they also require very little space and can add a pop of freshness and color into a small kitchen when plopped on the window sill or top of the fridge. You can also include a small bowl of pothos or bamboo on the service counter with minimum maintenance.
Embracing a small kitchen is easy when it's made to be practical and pretty! We can help you add enough storage, spruce up the corners, and bounce some light around. The smaller area, the cozier it can be! Whether you're building a new kitchen or simply renovating an old space, less is more when it comes to designing a small kitchen, and we know how to do precisely that.
Contact Noida Interiors for all your interior designing requirements