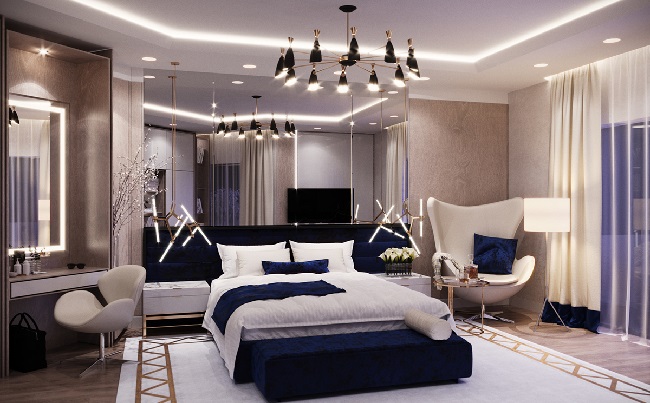 Home has never been more central to our lives than it is today! While we may not be at liberty to revel in the outdoors, we sure can make the space we live in better. Bedrooms, for instance, should expressly be your space to relax, unwind, and rejuvenate.
Most bedrooms tend to be typical and impersonal. However, with the overflow of unique styles, like modern, traditional, rustic, industrial, we realize that understanding each can be a bit daunting, and we are here to help!! Hence, we've broken down four-bedroom styles, and whether you like it sleek, and clean, or vibrant, and fun, we've got you covered. You may even find combining several styles gives you your ideal bedroom!
Popular Bedroom Styles
Industrial
Tracing back to the industrial era, this look is inspired by a warehouse or factory setting! An industrial look can give a masculine, moody, often rustic, yet minimal spirit to a bedroom. Usually achieved with ample use exposed ductwork or open metals pipes fittings, it can be complemented by distressed wood for beds and most popular choice for walls are bare bricks on walls sometimes painted white.
To add a touch of modern, you may opt blends copper—brass into lamps, light fixtures, etc. While the beds are usually dialed down with just a framework of metal or equipment like uncovered radiators, even black chalkboard walls are often opted for. But you may make a choice to soften the look by choosing sleek metal-work or go all out with heavy antiques and Edison bulbs. Usually left with a neutral palette, you may add some color to a feature wall or install statement photography or artwork piece in the room. Unfinished concrete surfaces for walls and ceilings are popular choices for this look. You can add the final touches by spreading area rugs on the polished concrete or wooden floor.
Mid-Century Modern
A throwback to mid-1900s—this style can bring a retro-minimalism to the bedroom. The furniture you should incorporate should be unfussy, functional and boast of a natural material palette. The furnishing should be straight-edged or organic shaped, like the popular egg-chair or Eames-chair, which can be used as a focal point of the bedroom. Using accents like a chest of drawers, wardrobe and nightstands all which have framed, or frameless legs, with little to no panelling or embellishments, is a prominent way to give your bedroom an instant Mid-Century feel. The bed too, should be a clean wooden frame or a sprawling platform.
To bring this style into your bedroom, you may add light fixtures and simple chandeliers that once again have brass finishes, and prop up a potted leafy plant or two around the room. The walls often a shade of whites, and natural light plentiful from sweeping windows, keep the eyes moving! That should not stop you from adding pops of color in the bedding, pillows, curtains, upholstered headboards, area rugs and most definitely throws. Again, sticking to textured natural materials such as linen, jute, burlap, faux furs, etc. will hit the bull's eye with this style. Thus, you can bring high-style comfort into your bedroom and blend it seamlessly with the outdoors in this look!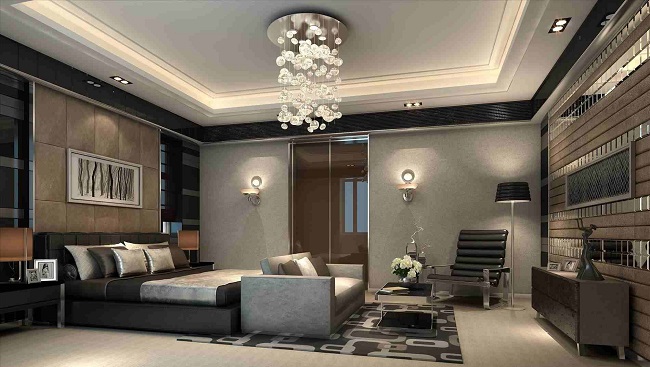 Bohemian
Reflecting a memory of Woodstock '69, Bohemian is as timeless as any other design! You can invoke the carefree, gypsy life of this style with a riot of colors. You may make abundant use of cushions, floor pillows, rugs and a big, comfortable wingchair in your bedroom. Throw around a few shawls and throws of globally inspired fabrics, weaves, and patchwork quilts on the bed or the wingchair!
You can also use vibrant colors like teal and pinks on the walls if you wish to go for demure white curtains and walls. A bohemian style is perfect for you if you have treasured collections from travels, treks and flea market scavenges that you have undertaken. The key is to put together a carefully "messy" vibe. Make use of quirky, artistic accents such as dream-catchers and exotic décor. Like with the Mid-century style, plants and natural materials for rugs like wool and linen are encouraged. For furnishing, you must look for pieces that possess ethnic or nomadic vibes. Accordingly, the bed and wardrobe can be wicker or raw wood. While the walls and floor are stone are mostly bare stone or wooden slates, you can also opt for coarse concrete!
Within the Bohemian style, there are no rules as long as it's from your heart!
Shabby Chic
A most recently popular design for homes, the Shabby chic draws inspirations from the raw natural and imperfect, while maintaining its feminine and delicate touch. It's an infusion of vintage-reclaimed, pale palette and hints of French air. You can flawlessly avail this look by sticking to the pastels like pale rose, minty greens and soft blues, with crisp whites and soft creams! Doesn't it evoke a sense of tranquillity already? Distressed antique-finish or chalk paints are the most popular choices for applying these colors on your dressers or study tables and wardrobes.
Opting for a distressed white four-poster bed can fit right in with this look! Another critical element is florals! Floral curtains, rugs throws and even wallpapers can bring the much-wanted gracefulness to your room! A carved study, detailed dresser or open or glass-fronted boutique-style wardrobe, with intricate carvings, used to show-off your pretty scarfs and bright dresses, all help bring this style into your bedroom! Layering your bedding, and adding ornate reclaimed frames on the walls are also excellent tips. While the light fixture may be embellished, you can also opt for trendier accessories in white metal or gold! A timeless vibe with a soft glow, it's essential to keep this style in check, since it easy to overdo florals and pastels in the bedroom, thanks to their allure. Hence Opting for contemporary bed or wardrobe with shabby chic accents is a foolproof way to ace this look!
No matter what your bedroom designing preferences are, a proper study, layout and execution can give you the bedroom that you have always wanted.
Contact Noida Interiors for all your interior designing requirements