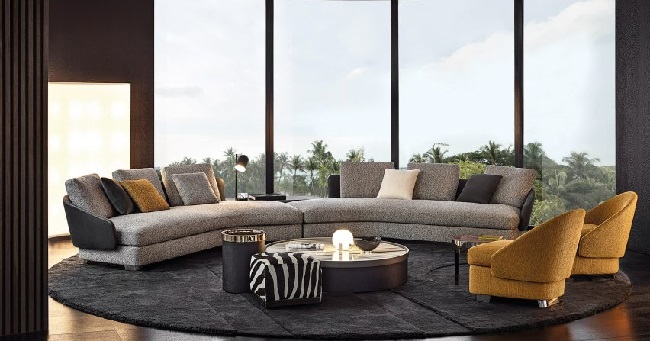 Do you walk into a space and the first thing you observe is the furnishing? Do you want to spend some time with your children in their rooms but there is no space to sit other than the bed? Is there a missing side-table to keep away your glass of water? Yes, furniture ultimately answers all your questions. It is an element without which our homes are incomplete. Furniture speaks a lot about your personality, space and character, and, most importantly, your design beliefs. It is an important design principle to align the style of your furniture with that of your home to create a seamless vibration.
Modern style is emerging as the "new cool" while we look around and observe its different forms in spaces with different uses and specific furnishings. After all, who doesn't like modern, its idea of clear lines and minimal ornamentations keeps our focus on simplicity. Modern furniture follows the ideology of 'form follows function' that could be easily distinguished in the furniture's clean, crisp lines and edged corners. Material specifications are an essential aspect of modern furniture design. Metals emerge as a single symbol of contemporary design with constant use of steel, wood, and aluminium exposed in the furniture. Functionality and multi-purpose use are the highest priorities of modern design, which can be observed in their products that offer flexible solutions for your abundant use.
Modern design strongly believes in the ideas of 'less is more' and creates an environment that follows openness and candidness. For instance, using low-heightened tables and couch in your living area will provide more space to your room's vertical perspective, thus creating a lively aura with enough space to breathe. Modern design is about using limited furniture while avoiding rough and dark, meaningless stuff. A neutral or a beige colored sofa would make the cut to modern style whereas jazzy purples and goldens might categorize themselves into another style. While we furnish our homes, it is essential to note the importance of each corner of our homes and their significance with the furniture we use. Let's have a peek into our home spaces and the type of furniture that should be used.
Modern Home Furniture designs
Living Room Furniture
Living Room is an area in your house where you would love to relax for a while or get together for an evening snack. This is situated in the prime location of your house where you invite over your guests', friends and colleagues for dinners and parties. Decorating your living room with a modern touch would require a simple color palette, clean lines for your TV unit, a contemporary style sofa with an accent table, a recliner and probably a bookshelf. The furniture all widespread with minimal cluttering will allow enough air to circulate and enhance your space to an utter modern style while defining your modernist personality. A modern sofa is the limelight of your living room, designed with ultra-clean lines, high-quality upholstery and tufted cushions, these sofas embark the modern approach to space. If you are a fan of delicate fabrics, a Chenille or Cotton-wrapped finish could be your choice, whereas faux leather, Synthetics and linen could also be used to add the modern touch to your sofa.
Modern accent chairs in the living room will always add the perfect charm to your space. It serves the multipurpose of additional seating and a different focal point in your living room complementing your sofa. These could vary from armchairs to recliners that blend in the space with possible exciting materials like velvet, suede, leather and twill. Staggered Ottomans and accent stools can fill up your space while adding a touch of drama to your living room. If you love reading books, this is probably the most exciting section for you – bookcases and shelves. These could be inbuilt or movable, a free-standing case or storage blocks underneath the table, intriguing ways to decorate your books will never end. Try using similar exposed metals for your bookshelf as your sofa. Last but not least, an accent centre table is a piece that sums it all up. A low-heightened, crisp-lined, sharp right corners with the minimal decoration of a perfect fusion of metal and glass is the specification you should eye.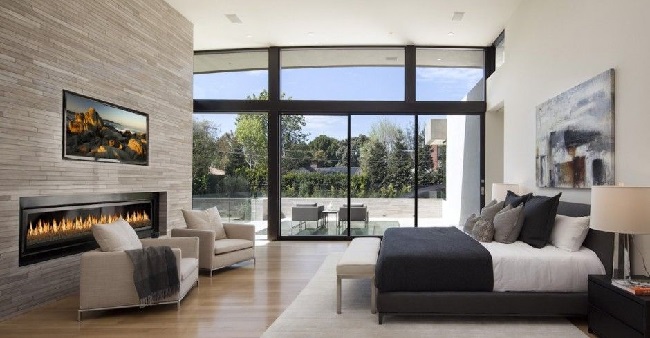 Bedroom Furniture
These are the dedicated personal spaces for each family member, that require specific furnishing products as per their needs. The most hassle-free option is to go for a bedroom set that specifies a theme for your bed, matching side tables and good-to-go headboard. This limits your selections and creates a seamless look for your bedroom. However, if you are particular about each piece of furnishing and its effect on your space, you definitely have some research and options exploring to take care of. You could either choose a low-heightened sleek wooden bed or an edged daybed for your use. Don't like bedframes? Just a fancy piece of thick mattress will, too define your modernist spirit. Bedroom benches can make your space look cluttered; however, if you have a considerable room size, try a contrasting fabric bench and observe how it enhances your space. Storage is a necessity in every bedroom that can be provided by our nightstands and dressers. You could find minimalist wooden, steel and glass finished wardrobes and dressers that complement your bedroom's theme. Placing a coffee table set opposite your bed can create a welcoming feel for your family members to sit and have a small chat while maintaining a cozy aura.
Kitchen and Dining Room Furniture
Dining tables are fortunate enough to have their multiple options to be placed around the house. It could be a dedicated room called your 'dining room' or be placed in your lobby and if space doesn't allow, it can be incorporated in your kitchens. The modern dining table would allow itself to mould into a clean, straight glass-topped product with minimal curves and exposed metal stands. Chair finish materials are blended into suede or cotton fabrics with metal or polished wooden touch to give them a thoroughly modern identity. You have to keep a note of the similarity in materials for your dining table and chairs. Dining areas can also be decorated by adding glass-finish china cabinets and buffets to decorate your fancy china and souvenir cups.
Baby Room Furniture
Chirpy and Lively furniture is the need of every kid's room. Selecting a modern yet colorful set of furniture can enlighten your baby's moods and add the aesthetic factor to it. There are multiple options for baby beds, depending on their age group – little wooden cribs, bunk beds, or small baby bed sets. Babies are known to have abundant belongings, from their diapers to their toys – plenty of storage closets and drawers are required in their room to fit in the requirements. Also, don't forget to add a couple of cushions and rugs on the floor along with their play items.
Outdoor Furniture
Are you confused about what furniture should be placed in your backyard or the protruded wooden deck? Do you have a balcony attached to your room or a folding door opening up to the front lawn? Do you ever wonder what materials to use for the furniture in these spaces? Plastic and metals are the two suitable materials that could be used for your outdoor furniture. Outdoor furniture could be as exciting as actually utilizing it. Fancy metal tables with glass tops and fabric woven chairs are an appropriate option that will add the playful environment to your garden. Some other fun options include lounge chairs, umbrellas, stools, cushions and covers. Make your yard an in-house picnic spot and sip in some margaritas while sunbathing on your favorite lounge chair.
Furniture holds more than what meets the eye. Strategically placing them can enhance your space's scale, making it look smaller (if you have a huge room) or more significant (for lower lofts and apartments). Choosing the appropriate material can create a seamless look in your house and give it a modern look. Modern furniture is the need of the hour and a more creative outlook is required to furnish your home. Modern furniture holds an upper hand in the longevity of its products. Due to its simple and subtle design approach, this furniture will never go out of style. These timeless products can be easily moulded and placed at any corner of your house without any contrast concerns. Often confused with contemporary style, these furniture products offer broader usability, an authentic aura and an ever-lasting effect.
Contact Noida Interiors for all your interior designing requirements